59%
of companies outsource to control costs
57%
of companies outsource to focus on business objectives
47%
of companies outsource to solve capacity issues
The
history of outsourcing

dates back to the 1700s in India. According to the latest reports, India ranked first in the list of the 'best outsourcing destinations' based on cost-effectiveness and availability of skilled talent.
It's time for you to decide. What do you want eLearning to be? Just learning, something engaging, or both? We choose BOTH!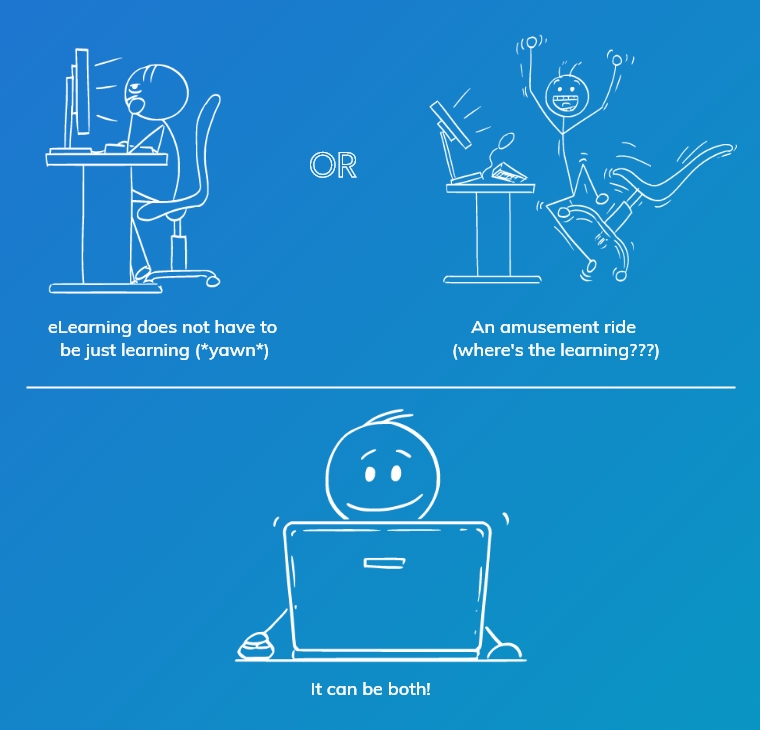 Why Outsource E-learning?
What do you need? State-of-the-art design, development support, and much more…
How do you get it? By outsourcing e-learning design and development.
Who should be your vendor? Of course, CommLab India!
Explore the advantages of outsourcing custom eLearning solutions.
Your outsourcing partner will be well-versed in the latest technology and e-learning trends. Having a wide talent pool of experts including instructional designers (IDs) and authoring tool experts leads to effectiveness and efficiency. Your outsourcing partner will help you curate, design, and develop innovative eLearning solutions, along with effective project management skills.
What Does E-learning Outsourcing Involve?
This page offers you a one-stop solution for all your eLearning outsourcing needs and answers to questions ranging from the risks involved in outsourcing to creating a budget. The journey of outsourcing eLearning involves various aspects such as identifying the right time and the elements to outsource, choosing the right vendor, ensuring a healthy relationship with the vendor, and more.
Custom eLearning services provider's main focus is developing e-learning courses. So, they can help you by taking the stress and offering freedom and flexibility. Now there is no need to compromise on the quality as the vendor will have robust quality analysis (QA) processes. You can also take advantage of value-added services such as eLearning translations and a Learning Management System (LMS).
As development is an eLearning outsourcing vendor's core business, you can be assured of a high-quality eLearning course in a short period. Your outsourcing partner can provide round-the-clock services with a time-zone benefit to meet your requirements. Every minute saved will translate into cost savings.
Benefits of Outsourcing eLearning Development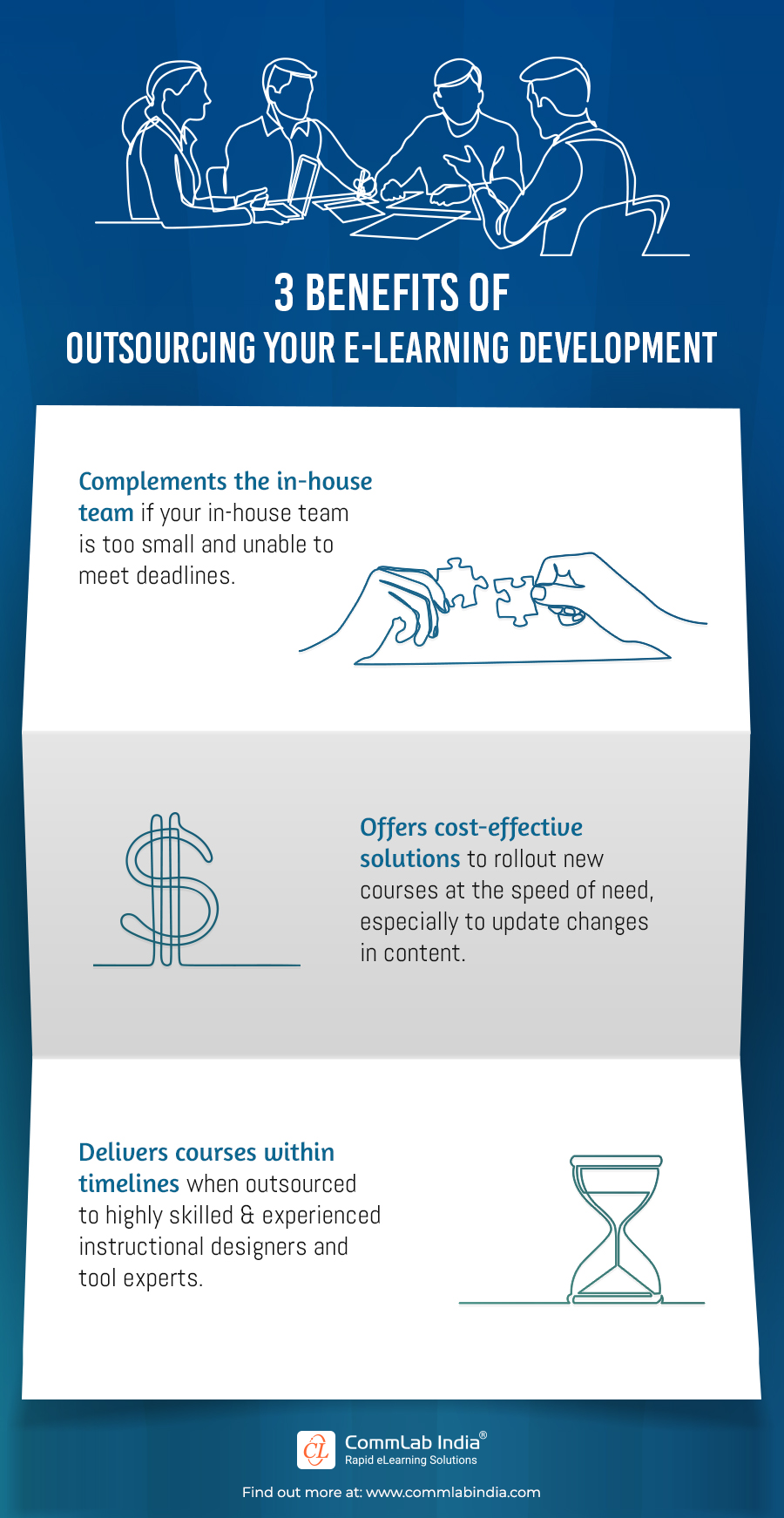 We know you have other concerns holding you back from outsourcing your eLearning development. If it's budget and cost, we've got solutions for that.
What's Holding You Back from Outsourcing E-learning Development?
Outsourcing eLearning development has become a viable option for businesses all over the globe. However, even with the many benefits of outsourcing, companies are still not making the move. Some businesses still have concerns that are preventing them from outsourcing. The good news is that we can tackle those concerns with eLearning development solutions designed to make your life easier.
Problems with Outsourcing
How to Tackle Them
How to have a perfect project management system in place?
Have a single point of contact, share all requirements upfront, have regular communication and rigorous quality checks
How to ensure effective communication?
Maintain verbal communication and emails and plan for regular status updates
How to deal with Confidentiality issues?
Have legal non-disclosure agreements
How to counteract lengthy drawn-out processes?
Ensure the vendor follows agile project management process and agree on regular milestones and deadlines
How to ensure quality?
Ensure

efficient quality assurance

(QA) processes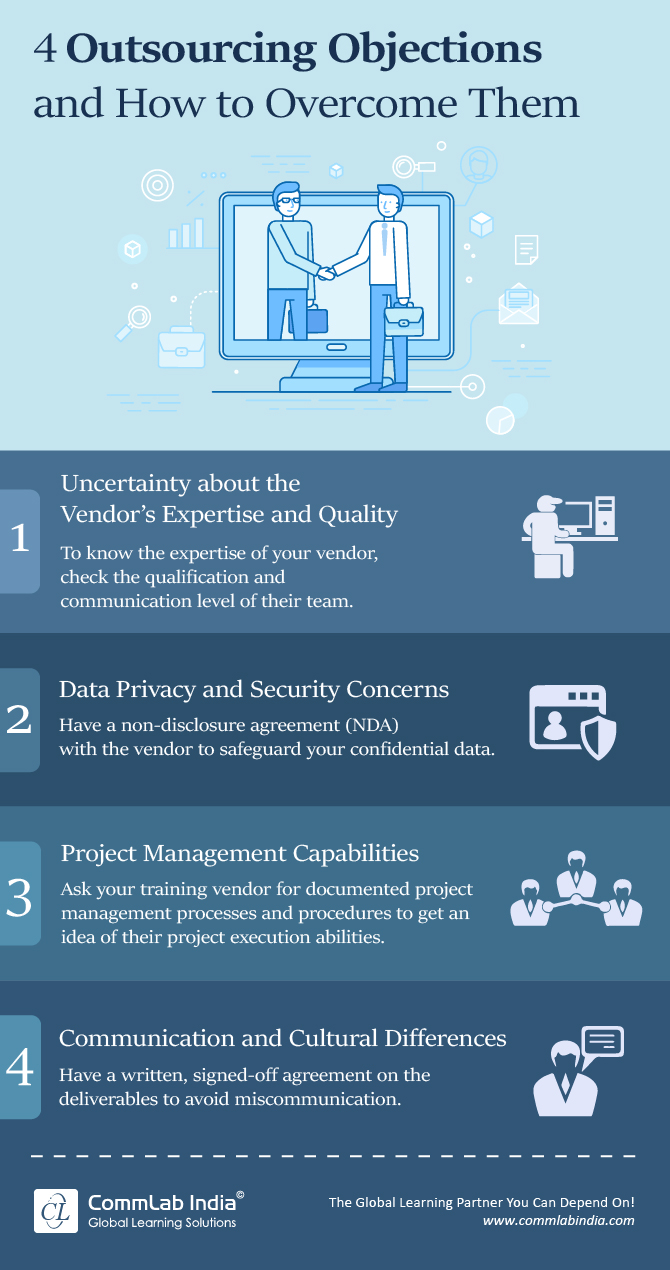 What is the Right Time to Outsource eLearning?
That's about how to tackle the arguments with outsourcing, but do you know when the time is appropriate for you to outsource your e-learning development?
The right time for outsourcing the design and development of corporate eLearning solutions is NOW!
You are not sure where
or how to begin
Are you new to eLearning? Does your in-house learning and development (L&D) team lack the required skills or talents? Are you finding it difficult to manage every aspect of eLearning development?
Then, Outsource!
You are in a time crunch
You may have a talented in-house team for eLearning development who are too busy to meet your timelines.
Outsource for faster turnaround times.
Your human resources
are maxed out
Have you exhausted your resources, manpower, time, and costs without getting the right output? Are you finding it difficult to put your employees' time and talents to good use?
Outsource eLearning for effective resource allocation.
You are unable to match
expectations with reality
Your in-house team may not be able to turn your training goals, objectives, and outcomes into reality.
Outsource to realize your vision!
So, you know when to outsource eLearning development! But what can you outsource?
What Can You Outsource in eLearning Design and Development?
Parts of E-learning Development that can be Outsourced
Here are the different parts of custom eLearning design and development you can outsource:
End-to-end E-learning Development
Rapid E-Learning Development
Flash to HTML5 Conversion
Training Decisions
Instructional Design
Multimedia Components
Course Development
Translation and Localization
Digital Assets for Performance Support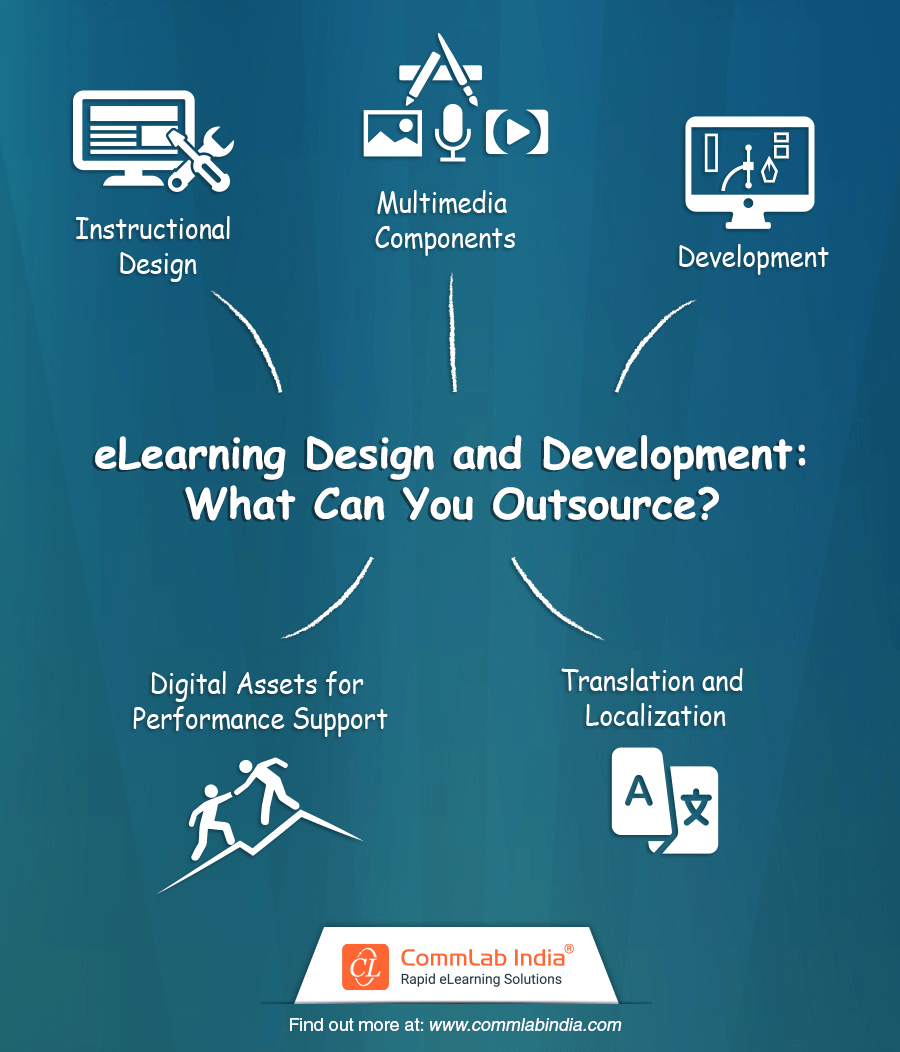 End-to-end E-learning Development
Have content ready to create a digital learning solution, but lack in-house ID and authoring tool skills, outsource eLearning content development?
Outsourcing end-to-end eLearning development will require more involvement from your Subject Matter Expert (SME) for review and clarification.
Rapid E-Learning Development
Facing difficulties with developing eLearning courses from raw material (PowerPoint presentations, ILT material, Word documents, videos).
eLearning outsourcing makes use of rapid authoring tools and requires minimum SME time, instructional design, and resources for the development of courses.
Flash to HTML5 Conversion
Confused! How to go about converting your Flash-based courses?
Outsourcing can help in quickly converting courses to HTML5 with the use of authoring tools effectively.
Training Decisions
If your in-house team cannot decide on the training format. Is blended learning the right choice? Or microlearning? Or a curriculum?
Outsourcing helps you determine the learning gaps and the right format of delivery of the course/s.
Instructional Design
Hassles with learning design capabilities and an understanding of adult learning principles?
Outsourcing helps you frame performance-based objectives, decide on the right instructional design strategy, and frame assessments.
Multimedia Components
Developing, customizing, or programming complex animations, interactivities, graphics, or videos can be a challenging task.
Outsourcing helps you save the costs of hiring people or purchasing tools for these jobs.
Course Development
Need expertise with authoring tools?
Your outsourcing vendor will have the required expertise to provide quality output on time.
Translation and Localization
Need translators with expertise in various languages and domains?
Outsourcing ensures your courses are translated by a network of competent professional native translators.
Digital Assets for Performance Support
Difficulties in developing engaging and compelling performance support assets?
A competent eLearning vendor like CommLab India will provide you with multiple digital assets to support the immediate performance of your learners.
How do You Build a Business Case for eLearning Outsourcing
Are you looking to outsource eLearning but find it difficult to convince your senior management of the benefits of outsourcing? Make an effective business case for outsourcing eLearning with these points in your arsenal:
Scalability
Outsourcing helps you scale up eLearning development on-demand, according to your needs, and at your convenience without worrying about the deadlines to roll out training.
Hassle-Free
A reliable eLearning vendor would have an agile process of development to streamline project management and illustrate business value. For e.g., The Successive Approximation Model (SAM). It will give you the flexibility to offer the vendor feedback at each stage of the process.
Enhanced Productivity
Outsourcing eLearning design and development provides you with a competitive edge. With quick access to effective learning, employees have shown better productivity. An expert eLearning vendor designs learning materials that facilitate learning and improve results, making learning engaging and enjoyable. This allows you to focus your energies on improving overall efficiencies.
Improved Quality Within Costs
Outsourcing helps meet the training needs of an ever-changing corporate scenario and also contains costs. Though eLearning outsourcing might entail high costs initially, they decrease over time with the reusability of assets. You can equip yourselves with the latest technologies, trends, and best practices through outsourcing.
How Can You Create a Budget for eLearning Outsourcing?
One thing that might make you rethink your decision of outsourcing is the budget. But don't worry we have a few tips on how to create an outsourcing eLearning budget.
1. Have Clear Training Goals
Training goals dictate almost every aspect of an eLearning program. The cost of an eLearning course depends on elements such as the course duration, level of interactivity, and translations. You need to ask yourself if you need:
A plain user interface or a customized one?
Short modules

or lengthy courses?
Basic or complex interactivities or simulations?
A simple quiz or more engaging training activities?
Translations?
Once you have this clarity, it becomes easier to decide how much you want to spend on what.
2. Understand the E-learning Development Process
Once you know the process It becomes easier to assess how much time and money you will need to spend on the development.
If the process requires your review and feedback only after the development, it may cost comparatively more.
If your vendor uses an iterative process of review (like SAM), you are sure to cut down costs.
3. Set the Right Timeframe for the Rollout of the Courses
Faster development may mean more cost.
Taking too long to create the course can also see increased costs.
Setting a realistic timeframe will enable you to optimize costs for eLearning.
4. Leverage Your In-House Resources
Make maximum use of your in-house resources, ensuring that your vendor uses the resources and authoring tools you already have. Doing so will help you save costs and also allow you to update the course when there are changes to be implemented.
Having your own LMS (Learning Management System) also comes with some benefits, however, you can always outsource its support and administration.
5. Outsource Only Part of the E-learning Development
Outsourcing only part of eLearning development is a good way to lower costs. While the rest of the eLearning development can be done by leveraging your in-house team.
Choosing the Right Vendor to Outsource eLearning Development?
Choosing the right vendor is half the job done. But with many options available in the market, how do you go about it?
1. Shortlist a few Vendors from the list of top eLearning companies' vendors vetted by:
eLearning Industry
ATD
Brandon Hall
Training Industry
Also, check for their experience, thought leadership, and customer education initiatives.
2. Evaluate their websites and select the top 3 vendors and assess their understanding of the subject matter. Ensure the vendor's core business is eLearning development. Review the company's team members. You can ask for resumes of the team members you will be working with.
3. Ask for a Prototype and carefully evaluate their instructional design (ID) and project management skills and how well it is aligned with your expectations.
Here's a checklist that can help
What is their expertise in Instructional Design?
What is their proficiency in using authoring tools?
Is their project management process streamlined?
Do they provide additional services (e.g., translations, LMS)?
Do they have experience in handling global clients?
Groundwork To Do Before Outsourcing?
Set Measurable Learning Objectives
Make your intended outcomes very clear to help your eLearning vendor create digital learning programs efficiently. Your instructional objectives should contain 3 components – Performance, Condition, and Criteria. Learning Objectives help decide the instructional method and scope of the content for eLearning development.
Check the Availability of Content
Segregate and filter content based on the set learning objectives. Try not to include content that is not aligned with the set learning objectives. You will then be able to identify and adequately fill any gaps present in the content.
Get SMEs On-board
Plan for curriculums and discuss with the subject matter expert (SME) the time needed from them for reviewing and validating eLearning projects. Ensure SMEs keep all propriety information handy for your eLearning partner.
How Can You Support Your eLearning Outsourcing Partner?
Have an Approved Project Plan
Have an approved project plan with important project milestones. This helps the project to be completed within timelines.
Establish a Communication Pattern
Establish a communication pattern right (weekly status calls) at the beginning of the project. Understand how your vendor manages outsourced tasks.
Have a Single Point of Contact
Have a project manager from your side to manage the development of eLearning. A single point of contact from both sides helps ease the flow of information and monitor the progress.
Use Your Existing Resources
Provide your vendor with your existing resources so they can repurpose them. Standardizing and reusing templates and style guides is one way to do it.
Educate Your Subject Matter Experts
If there are multiple SMEs/reviewers, use online review tools to make the review process simple and manageable. SMEs are instrumental in bridging the learning gaps and defining learning objectives. You can educate SMEs about the processes used by your vendor to make outsourcing effective.
Provide Your Vendor with the Learner Profile
Giving your eLearning vendor a clear picture of your learners – their learning needs, demographics, and challenges at work – will help the vendor design learning that meets the learners' needs.
Make eLearning Outsourcing a Success?
Nurturing the relationship with your eLearning outsourcing partner offers you many benefits, not the least of which is that the vendor is already familiar with your processes and standards. This saves a lot of time and increases the quality of the output.
Make Time for Closure Meetings
Closure meetings help you identify what went right and what went wrong in the project. You can continue the things that went right and correct those that went wrong in future projects. Use feedback forms to ensure you communicate your observations and criticisms to the vendor.
Understand and Manage Risks
Understanding what went wrong (pain points) helps you focus on problem areas. The insights gained from the closure meetings help improve the efficiency of future projects.
Enter into a Master Service Agreement (MSA)
An MSA makes the negotiation process for future projects easier and quicker for both you and your eLearning vendor and also ensures better rates.
Case Studies on eLearning Outsourcing?
That was all about outsourcing eLearning. Here are a couple of case studies for you to understand how CommLab India has been a trusted vendor for its clients.
Outsourcing Video Development for Product Training
About the Client: Global leader of precision instruments for laboratory, industrial, and food retailing applications
Requirement: Develop engaging online training on the product portfolio of highly complex products
Target Audience: Sales reps, service technicians, and distributors
Solution: We developed explainer videos to facilitate a better and accurate understanding of products.
Videos had live photographs and 2D animations to depict product assembly and functions.
Gamified assessments were used instead of the usual assessment formats for better learner engagement.
Outsourcing ILT and eLearning Development for Software Training
About the Client: Leading US biopharmaceutical company that works on innovative medicines for patients with life-threatening diseases.
Requirement: Develop a blend of classroom, eLearning, and performance support on a new regulatory document management system (RDMS)
Target Audience: Employees across the organization, based on their usage of the RDMS
Solution: We developed role-based eLearning simulations to help employees master task in the software – based on their role.
For employees not comfortable with eLearning, we developed ILT material; users had the flexibility of taking either that or eLearning courses.
We developed quick reference guides (PDFs) that showed the execution of each task with succinct instructions and screenshots – to be accessed at the point of need.