eLearning can be defined as LEARNING FACILITATED BY TECHNOLOGY – for its design, development, delivery, administration, and evaluation.
There's a popular misconception that you can create eLearning by simply adding audio to PowerPoint presentations and publishing them online. But in truth, eLearning is much more than that. And web pages, eBooks, videos, or PDFs are NOT eLearning. And neither is:
Publishing a PowerPoint slide deck to HTML
Adding audio to a PowerPoint slide deck and upload it online
And why is that? Because 'Instructional Design' (creating learning experiences that result in the learner acquiring and applying the newly learned knowledge and skills to the job), an integral part of eLearning, is missing in all these pseudo-eLearning formats.
eLearning is the 2nd most popular training method, accounting for about 30% of training budgets.
And its self-paced, anytime, anywhere accessibility is fast making it the most preferred mode of training. With more and more organizations having their workforces dispersed all around the globe, training employees the traditional way is becoming too much of a hassle, taking too much time and cost to organize. Organizations that rely heavily on classroom training can now ensure uninterrupted training, thanks to rapid eLearning solutions.
With the COVID 19 pandemic playing havoc with employee training worldwide, eLearning seems to be our best bet!

Is cost effective for training larger audiences
Reduces time for learning by almost 60%
Provides 24/7 access for a global workforce
Ensures better retention with interactive and engaging content
Provides consistent training, regardless of location, for all employees
Can be leveraged to provide just-in-time and on-going support and reinforcement
Enables employees to learn in a risk-free environment
Allows employees to collaborate with each other when deployed through an LMS
Can be scaled up quickly and rolled out simultaneously in multiple languages
Leaves a smaller carbon footprint
Considerations for eLearning
What is eLearning?
eLearning can be defined as learning facilitated by technology – for its design, development, delivery, administration, and evaluation. And its self-paced, anytime, anywhere accessibility is fast making it the most preferred mode of training.
Here are a few considerations for eLearning that will shape the approach, design, and treatment of your eLearning solutions.
Learning Objectives
A Learning Objective is a statement, in specific and measurable terms, that describes what the learners will be able to do at the end of the course. Each learning objective has 3 components: Performance, Condition, and Criteria.
The importance of learning objectives lies in the fact that they form the basis for deciding the scope of the content, choice of instruction method, assessments, course duration, and cost.
Learning objectives should be SMART – specific, measurable, achievable, relevant, and time bound. Bloom's Taxonomy is a very useful guide for framing learning objectives.
ID Strategies
Simply put, an instructional design strategy is a high-level approach of how a topic must be taught to a particular audience. The right instructional design strategy works like a magic potion to engage learners in the learning experience, taking into consideration the:
Here's an infographic that highlights four creative instructional design strategies that can be used in your eLearning courses.
Other important eLearning strategies include guided learning and game-based learning.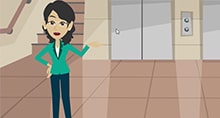 Sales Training

Software Training

Process Training

Performance Management Training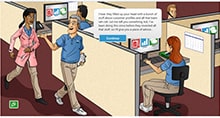 Scenario-based Learning
for
Compliance Training

Sales Training

Code of Conduct Training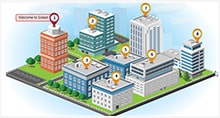 Learning through Exploration and Discovery (LEAD)
Learning through Exploration and Discovery
for
Employee Onboarding

Safety Training

Product Training

Site Training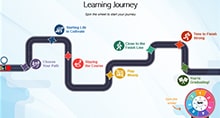 Information Security Training

Code of Conduct Training

Sales/Product Training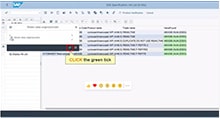 ERP/Software Training

Product Training

Safety Training
eLearning Assessments
The most important thing about assessments is that they should be aligned with the learning objectives. Each E-learning assessments are of two types – formative and summative.
Formative Assessments reinforce learning, come after every enabling objective during the course, are diagnostic in nature, and always provide feedback.
Summative Assessments indicate the learner's final achievement in the course, are evaluative, grade learners with "Pass or Fail", and sometimes provide feedback.
The eLearning seat time determines the cost and time for course development. It is also an important factor that decides whether the learner remains engaged with the course or disengages from it. So, what exactly impacts the seat time of your eLearning course?
Number of words of audio in the course – The general rule of thumb is 125 words/minute.
Presentation of on-screen text – Bullets, infographics, etc. take less time than long paragraphs.
Type of activities – Standard knowledge recall type of interactions take very little time, while those requiring critical thinking will demand more of the learner's time.
Familiarity with the medium – First time adopters of eLearning will take longer to go through the course than those comfortable with online learning.
When converting Instructor-Led Training (ILT) into eLearning:
8 hours of ILT will equal 2 to 2.5 hours of eLearning.
A 20-slide PPT deck would be developed into 20-30 minutes of eLearning.
3. Level of Interactivities
In the absence of an instructor, the engagement quotient of the course will depend on the interactivities in it. Interactivities are opportunities in the course for learners to engage with the content in terms of an action they need to take (such as selecting the right answer). They capture and engage learners' attention, give them the opportunity to interact with the content, and help them participate actively in the learning process.
There are 4 levels of interactivities, depending on the type of content and degree of learner involvement.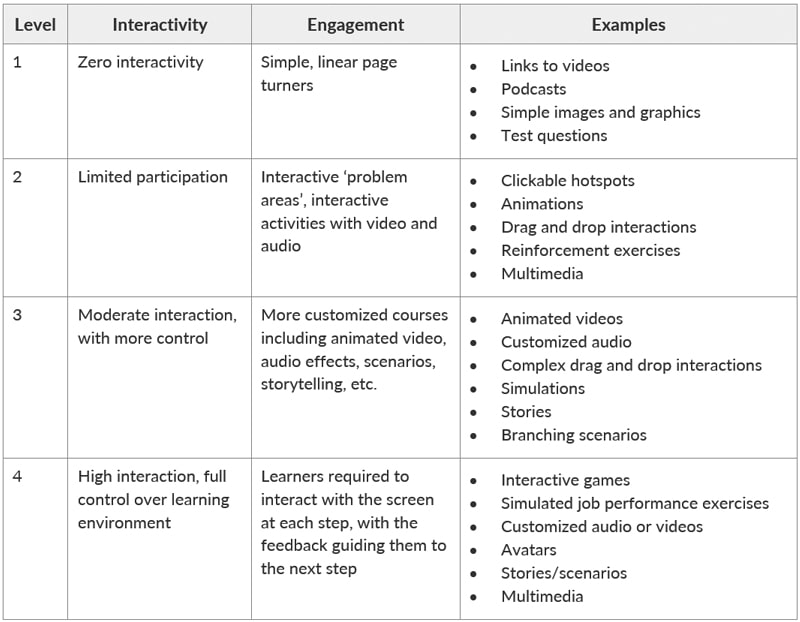 eLearning Design & Development
The blueprint of the course is created in the design phase – its look and feel and the instructional strategies for the best possible learning outcomes for your learners. The course is developed with the help of authoring tools in the development phase and is then deployed on the LMS.
The Process of eLearning Design & Development
Earlier, the ADDIE model (Analysis, Design, Development, Implementation, Evaluation), a sequential design process, was used extensively for eLearning design and development. But today, it is being replaced by an agile and iterative process.
Successive Approximation Model (SAM)
The agile Successive Approximation Model (SAM) was created by Michael Allen as an alternative to the linear ADDIE model. It is an iterative process that overcomes the drawbacks of the linear ADDIE model. It has three phases – preparation, design, development. Each phase follows an iterative process with constant communication between the design team and the stakeholders.
ADDIE Model + Rapid Prototyping = SAM

Phase 1:
Preparation
This phase includes Information Gathering and Savvy Start where:
Business challenges and

goals

are identified.
The

audience

and their

learning environment
Authoring tool

is decided.
Learning Objectives

are set
The

GUI

is finalized.
The

instructional strategy

and level of

interactivities

are decided.
Phase 2:
Iterative Design
This phase consists of Project Planning and Additional Design where:
Project development and other considerations affecting the project are agreed on.
A fully

functional prototype

is created and sent to the stakeholders.

Only on approval of the prototype does the process go into the next phase.
Phase 3:
Iterative Development
This phase has 4 steps:
Design Proof

: The complete storyboard is sent for review.

Alpha:

The fully functional 'Alpha' course with audio script is sent for review.

Beta:

Next, Beta version with audio narration is sent.

Gold

: The final version is checked for SCORM/ AICC/TinCan compatibility and hosted on the LMS.
The Role of Authoring Tools in eLearning Development
Authoring tools are eLearning content development tools that help create engaging and interactive online training programs – not just create, but also edit, review, and design assessments.
Authoring Tools:
Speed up eLearning course development through inbuilt and customizable templates, themes, and interactivities.
Make it easy for your in-house L&D team or SMEs to make quick updates to your existing eLearning course/s.
Support eLearning content translation as they allow exporting the content in text format. The translated file can then be imported into the course.
Make multi-device compatible learning a reality as they produce HTML5 output making the eLearning course accessible on multiple devices.
Here are some popular eLearning authoring tools and how they help in rapid eLearning.
Authoring Tool

Features & Advantages

Articulate Storyline 360 and Rise

Storyline 360 helps create high-quality eLearning courses with custom interactivities. Courses can be made multi-device compatible with a single click.

Rise 360 is a fully responsive web-based authoring tool, ideal for digitizing text-based content.

Adobe Captivate

Adobe Captivate 2019 is the tool to create simulations in eLearning courses.

Lectora Online

Lectora Online is a web-based as well as a desktop-based authoring tool. It offers collaborative features that enable creating and reviewing eLearning content anytime, anywhere.

iSpring Suite

iSpring Suite is a very popular authoring tool to convert PowerPoint decks to eLearning. The tool is integrated with PowerPoint, making it simple and user-friendly.
Technology and innovation have made eLearning a sustainable alternative to traditional learning and have also led to some very learner friendly avatars of eLearning.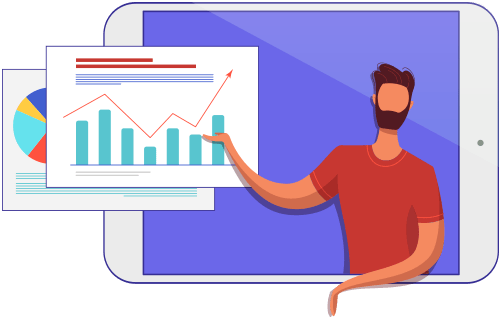 Microlearning
Microlearning delivers short bites of learning, each addressing a single learning objective.It allows for easy absorption and retention, and helps quickly close skill and knowledge gaps, just-in-time. It can be used in a variety of ways to enhance individual and organizational performance. It helps:
Beat the forgetting curve
Prepare learners for the core training
Create a learning culture
Offer performance support and learning on-demand
Microlearning assets can be configured in a variety of formats – whiteboard animations, digital flashcards, concept and process maps, quiz-based modules, etc., depending on their function.

Mobile Learning & Learning Apps
Mobile learning is learning that can be accessed by learners through mobile devices from any location. It makes the concept of 'learn anything, anywhere, anytime' a reality and can be an effective and accessible option for your organization to support employees (without taking them out of their workflow) and accelerate their time to proficiency.
Studies show that 74% employees use their mobile devices to access training resources, so it's all the more important to harness the power of mobile devices for your employee training. Mobile learning is especially useful to train 'always on the move' employees – salespeople, field service technicians, remote workers, and others who use the mobile extensively in their work.
Mobile learning is also 'microlearning' because of its short duration. So, all the benefits of microlearning apply to mobile learning as well:
Flexibility of access due to multi-device delivery
Shorter duration leading to higher retention
Just-in-time availability – serving both as teaching material and performance support.
Additionally, learning Apps:
Enable easy push notifications
Support offline content, in any format
Introducing eLearning In Your Company
Stages in the eLearning Journey
Getting started – Start with a training that appeals to most employees
Scaling up – Focus on standardization
Centralizing training – Create an organization-wide learning community
Advanced – Move toward becoming a learning organization
Organizations face many challenges when it comes to successful eLearning implementation, and that includes resistance from both the management and employees. Your biggest challenge will be the "It-may-be-good-but-it-will-not-work-in-our-company" syndrome. Different groups will have different concerns – about security, effectiveness, development, and infrastructure costs, and so on.
Here are some factors you need to check before implementing eLearning in your organization.
Need for eLearning
Where eLearning can help sell your products, improve efficiencies, or ensure compliance.
Learners' readiness
If they are not very tech-savvy, have an action plan to build that skill first.
Infrastructure
Required LMS technology and other infrastructure to launch eLearning.
Readiness of content
Available content that is clearly aligned to your training objectives.
Where and How to Start
Set Up an LMS. You can start with an open source yet robust LMS like Moodle at little or no expense.
Start with Mandatory and High-Profile Courses Introduce eLearning to your learners through mandatory training programs.
Identify ILT Material for Conversion Identify ILT materials best suited for eLearning and decide on how best to present them in an eLearning format with suitable interactive instructional design, media strategies, and engaging functionality.
Decide on the Authoring Tool

Choose the tool based on your training need, the expertise of your internal team with using the tool, and the state of eLearning adoption in the organization.

Pilot Test the eLearning Pilot test the eLearning with an eclectic mix of learners to evaluate the course.


Challenges to eLearning Implementation
Organizations face many challenges when it comes to successful eLearning implementation. And there are different challenges at each stage.
Challenges
Getting buy-in for eLearning
Trying to fit eLearning fit in your training strategy
Identifying the best way to get started with eLearning
Deciding on: The best authoring tool for your organization and The LMS
Solution
Start small with a training that appeals to most employees like compliance or safety.
Challenges
Promoting eLearning and increasing its adoption in the organization
Taking a call on standardization vs. creativity
Designing blended solutions
Adding microlearning/mobile learning in your training strategy
Deciding on outsourcing LMS administration and support
Minimizing SMEs' involvement in eLearning
Solution
Focus on standardization and processes.
Finalize a preferred training partner.
Challenges
Increasing the usage of LMS in the organization
Ensuring courses are responsive and future-proof
Converting courses developed in Flash and older versions of authoring tools
Bringing down translation cost and time
Solution
Identify eLearning Champions across locations/units and create an organization-wide learning community.
Challenges
Implementing learning analytics to measure ROI
Implementing change management for new initiatives
Solution
Identify 'Learning Innovators' to move the company towards becoming a learning organization.
Should you Develop the eLearning In-house or Outsource?
To develop your eLearning in-house or outsource to an eLearning vendor? That is the question!
If you have an internal team of instructional designers, it makes sense to outsource only that component where your inhouse lacks expertise, for instance:
Flash to HTML5 conversion
eLearning translation
Rapid development from production-ready storyboards
Development of videos and other media assets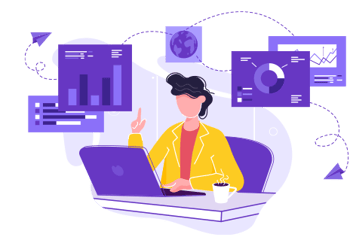 But in case of huge projects or tight timelines, or if you are just starting eLearning in your organization, it might be better to outsource the entire project.
When you outsource eLearning design and development, you get access to experts in training, instructional design, authoring tools expertise, and more. Their pool of resources will make it easy to scale up development. And their strong project management and robust QA processes will ensure development proceeds smoothly, without any unexpected delays.
Selecting the Right eLearning Partner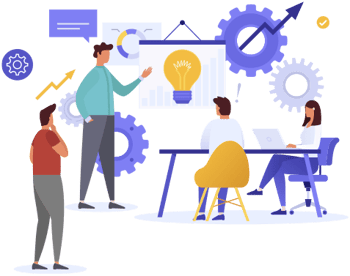 With eLearning becoming increasingly popular as a cost-effective and efficient training method for businesses, and with hundreds of players in the market, it is becoming more and more difficult to find a good outsourcing vendor. But these questions will help you find the right one:
Does the company specialize in eLearning or is eLearning just one of the services the company offers along with web designing, graphics art, software services, etc.?

Always go for the specialist!
Does the company have experience in corporate training?
How long has the company been in business?
How good is their portfolio of customers and testimonials?
Is the company willing to submit a proof of concept or have samples to show you?
Do they have robust Project Management and Design & Development processes in place?