Virtual Instructor-led Training for Collaborative Learning
Replicate the Classroom Training Experience, Online!
Take your classroom with you in this era of digitization – with Virtual Instructor-led Training.
Offer your learners the opportunity to learn and collaborate, while retaining that 'classroom vibe'. Increase reach without worrying about
location or costs.
Transport learners to the 'virtual' classroom to interact with peers and instructors for more immersive and effective learning.
We will work with you from scratch to adapt classroom material for the digital space and convert classroom activities to their best digital equivalents.
We will create facilitator guides, participant materials, material for activities and post training job aids, for a holistic learning experience.
With our expertise in designing learning solutions for the virtual classroom, you can be sure your learners will stay motivated and invested in the training.
Partner with us and rollout engaging VILT sessions leveraging all its collaborative features – annotation tools, chats, breakout rooms, polls, and quizzes.
Leadership Training for First Time Managers
Learn how CommLab India used VILT to help a global food safety company continue their highly successful leadership training for managers, even during the COVID-19 pandemic.
Explore how we reviewed their huge amount of classroom material and redesigned them for the virtual platform – all within 3 weeks.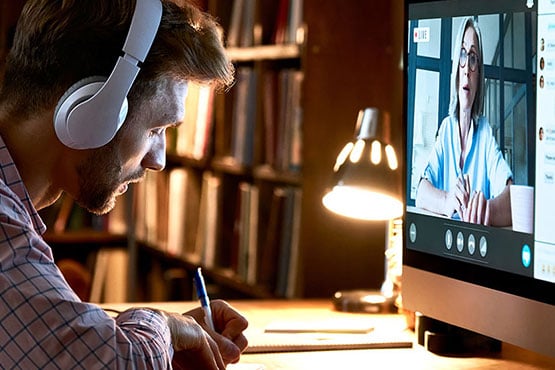 Work with the top providers of Virtual Training Solutions for 2021 and 2022!
Offer Seamless VILT Sessions
Leverage our expertise and experience in instructional design – for classroom and online training.
Use VILT as is, or in a Blend
Use VILT sessions for standalone training or along with eLearning in a blended format.
"Great organization, communication and eye for detail. The team we worked with at CommLab India went above and beyond for the project"
It's Time to Go Virtual!
Get started with VILT and make learning interactive.