Introducing Blended Learning
What is Blended Learning?
Blended learning is a combination of classroom training and online learning. It offers a plethora of instructional methods to help learners. Using a mix of face-to-face classroom-based training and online training programs is an effective strategy to address various learning phases to maximize learning.
Blended learning = Instructor-Led Training + Online Learning (synchronous and asynchronous) + Performance Support
And as blended learning is basically a hybrid of traditional classroom training and eLearning, it's a given that a well-thought-out blended solution will also offer the benefits of both training formats.
Classroom Training
Presence of SMEs and coaches
Live group interactions, collaborations, role-modeling, and mentoring
Hands-on experience with physical devices and equipment
Face-to-face sharing of experiences and social interaction
Dedicated time in a controlled environment, away from work demands/distractions
Closer simulation of actual work performance, particularly soft skills
eLearning
Self-directed learners
Convenient, flexible, available on-demand (24x7x365), even in remote locations
Scalable, with simultaneous audiences and/or enterprise-wide rollouts possible
Consistency in format and delivery of content
No logistic hassles, reduced time away from work
Easy-to-manage administration and analytics
Ideal in a multi-cultural/-lingual context
Blended Learning – The Learning Journey
What is Blended Learning?
Blended Learning offers a variety of training formats based on the training need, the learner's profile, and the learning environment. It offers a combination of in-person and virtual training formats that offers an engaging and highly immersive learning experience to the learners.
Learning is a process, not an event!
Blended Learning offers a variety of training formats based on your learner's training need, their profile, and the learning environment. This combination of in-person and virtual training formats offers learners an engaging and highly immersive learning experience.
Though most organizations consider employee training and learning an annual or semi-annual event, learning is more of a process. It is a journey… where the learner goes from a stage of ignorance to awareness to mastery of the subject, bringing about "a relatively permanent change in an individual's behaviour arising from experience".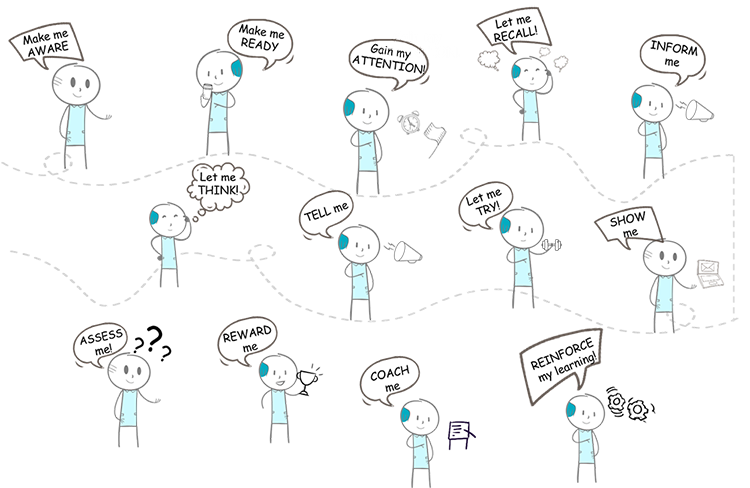 Inform Me:

Present new information and content
Show Me:

Demonstrate/model new information for desired knowledge and performance
Challenge Me (Let Me Try):

Allow practice with guidance, coaching, and feedback
Assess Me (Final Challenge):

Assess learning
Reinforce my Learning:

Provide learning at spaced intervals to improve recall
Benefits of Blended Learning
Blended Learning offers an array of benefits that can scale your corporate training to new heights. It offers numerous advantages for both learners and organizations.
Provides Flexibility in Learning
Blended learning offers greater flexibility to learners on how, where, and what they want to learn. Which is especially useful for a globally dispersed workforce. Learners also have the freedom to choose the format they are most comfortable with.
Promotes Collaborative Learning
Blended learning supports collaborative learning in the physical and virtual classroom, and also through online discussion forums. These forums enable learners and instructors to share ideas, opinions, and experiences and help allay any apprehensions learners might have.
Caters to Different Learning Styles
Different learners have different learning styles. Some prefer the classroom and others an online course. A blended learning program with a combination of various visual, auditory, and kinaesthetic elements engages learners with different learning styles and ensures better training outcomes.
Bids Goodbye to Scheduling Hassles
A major problem with one-size-fits-all classroom training or a pre-scheduled virtual classroom session is that not everyone may be available to attend training at the same time. Blended learning could be a solution to resolve most of those scheduling problems.
Cuts Training Costs and Improves ROI
With most of the training being done online, there are huge cost savings on a classroom setting up. Also, setting up an online learning solution is much more scalable with rapid authoring tools. Development time and costs can also be cut by repurposing digital assets from existing classroom material and online courses.
Blended Learning offers an array of benefits that can scale your corporate training to new heights.
Formats of Blended Learning
Live Formats
Instructor-led (classroom) training
On-the-Job training
Social Learning
Discussion boards
Online forums
Virtual Collaboration: Synchronous
Live eLearning classes
E-mentoring
Virtual Collaboration: Asynchronous
Email
Bulletin boards
Online communities
Self-Paced Learning
Web learning modules
Online resource links
Simulations
Scenarios
Video and audio CD/DVD
Online self-assessments
Workbooks
Performance Support Systems (EPSS)
Help systems
Job-aids
How-to videos
Knowledge databases
Mobile applications
Performance or decision support tools


Digital Assets of Blended Learning

Why Blended Learning for Employee Training?
Few good reasons to opt for blended learning for employee training:
1. To Leverage the Cone of Learning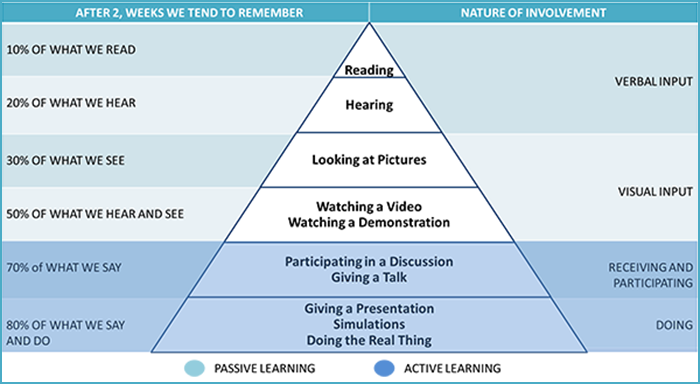 The Cone of Learning shows that recall is highest during active learning represented in the last two segments (at the bottom) of the pyramid – participating in a discussion or giving a talk, or working in simulated environments or real-life job situations that typically happens during on-the-job training, hands-on workshops, or in scenario-based or game-based eLearning courses.
When learners are allowed to participate in the learning, even the most complex topics can be retained better. This makes blended learning very effective for learning as it combines traditional classroom with online, interactivity-based learning and performance support.
2. To Apply the 55:25:20 Model of Learning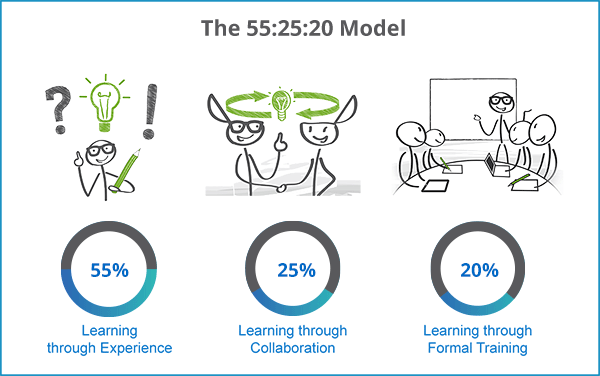 Blended learning is ideal to deliver training according to the updated 55:25:20 model for learning and development (55% experiential, 25% social, and 20% formal learning).
The 55% experiential learning can be facilitated through:
Scenario-based learning
Online software simulations
How-to-videos
The 25% social learning can be offered through:
Discussion forums
Live chat
User-generated content
The 20% formal training can be provided through:
Virtual Instructor-led Training (VILT)
eLearning
Microlearning
3. To Beat the Forgetting Curve
A typical graph of the forgetting curve shows that almost half the newly learned knowledge is lost within days or weeks unless it is reviewed or reinforced.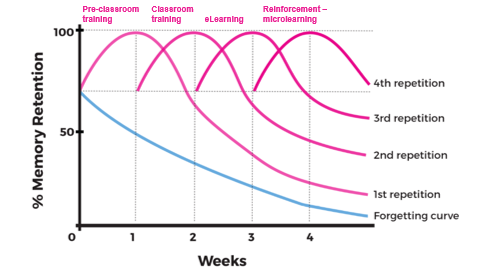 The forgetting curve is propped when learning is reinforced in spaced intervals. With blended learning, various training formats (eLearning, just-in-time microlearning assets, and performance support tools such as job aids) can be used as shown here – boosting learning, recall, and on-the-job application.
Blended Learning For Personalized Learning
If personalization is the goal, then blended learning is the means to achieve that goal!
Here's how blended learning can help tailor a personalized learning experience.
Instant Access to Training:
Blended learning enables organizations to offer – along with a blend of instructor-led training and self-paced eLearning courses – searchable microlearning assets and job aids for instant access to the required content (performance support).
Learner Control over Training:
Learners who are content with traditional training can attend the instructor-led training sessions; and those who would like to learn at their own place, time, and schedule, can do so by accessing the self-paced eLearning courses.
Freedom to Learn and Practice with Peers and Colleagues:
With blended learning, learners can be encouraged to discuss the training on a message forum/board on the LMS. Collaboration between learners and colleagues/seniors is possible even with eLearning. A link to the organization's internal social network allows learners to clarify, discuss or share learning points. Web conferencing tools such as Zoom, Skype, and Google Meet also help facilitate collaboration between learners and their instructors/peers/colleagues.
Training Adapted for the Needs of Different Learners:
Before training, learners can take an online pre-test to identify their preferences and proficiencies. This allows instructors to skip content learners are already familiar with and focus on the knowledge gaps. Classroom time may be devoted to discussions, coaching, and one-on-one teaching followed by self-paced eLearning course/s for in-depth knowledge about the concepts.
Training that Relates to Problems Learners Face at Work:
The instructor in the classroom uses examples/anecdotes/best practices from his/her own experience to drive home points and engage learners. This can be followed by eLearning with different instructional strategies (scenarios, simulations, virtual reality, augmented reality) to challenge learners with problems they face every day on the job. The learner is then given opportunities to solve them the right way, in a safe, risk-free environment.
Getting Started With Blended Learning Blended Learning Models
One popular misconception about blended learning is that it always has to start with classroom training followed by online training or with online training followed by classroom.
That is so not true! There are many blended learning models that can be leveraged for effective training. Here are four core models of blended learning.
Blended Learning Models & Their Features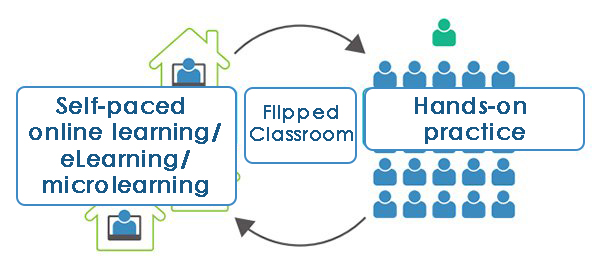 Rotation Model
A fixed schedule with a smaller online component that 'rotates' among classroom training, eLearning, collaborative group activities, and discussions.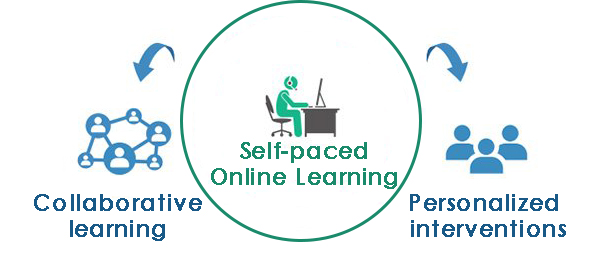 Flex Model
Customized training schedule with online training + group activities/ personalized interventions and one-on-one support and individual tutoring interventions.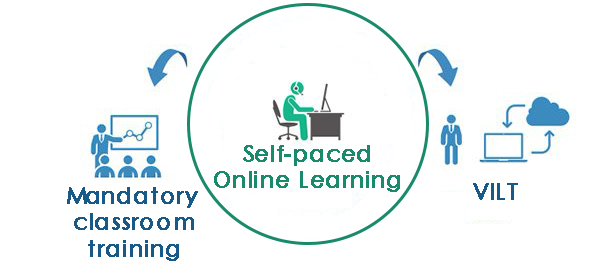 Enriched Virtual Model
Primarily online learning + mandatory classroom training (physical or VILT).
Very useful when there are few instructors available.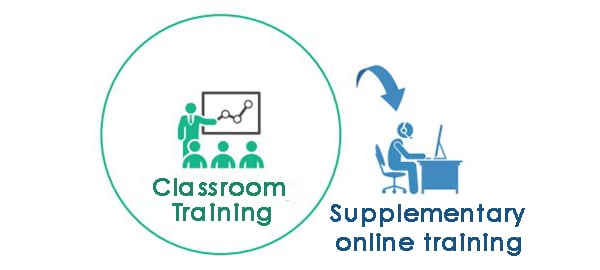 À La Carte Model
Primarily classroom training supplemented before and after by online training (microlearning formats such as videos, infographics, interactive eBooks).
Plan Your Blended Learning Approach
Step 1: Validate learning objectives and assessment techniques
The first thing to start with is to have a clear picture of what you want to train your learners on. Then come questions like why you are teaching it in the first place and how you would like to teach and evaluate your learners when you have imparted this training.
Step 2: Map learning objectives to deliver technologies
Once you have figured out what your learning objectives are and how you want to assess your learners, it's time to determine which mode of instruction would be best for each of the learning objectives.
Step 3: Flip the classroom to maximize collaborative impact
A flipped classroom is one where the training part occurs online, while the in-class time is devoted to activities such as discussions, exercises, and assessments. The flipped classroom model draws from the concept of active learning, which increases learner engagement and promotes collaboration.
Challenges of Blended Learning
Despite having an edge over conventional training methods, implementing blended learning does have several challenges that can sabotage its success. Here are some challenges and their solutions.
Challenge

Solution

Difficulty with Technology

Employees might face problems with installation, compatibility, and other technical aspects that might make them averse to digital modes.

Start Small and Scale Up

Start eLearning gradually and scale up slowly based on learners' feedback and acceptance. Ensure IT support and availability of facilitators.

Resistance from Management

Management might resist the implementation of blended learning due to misconceptions that technology-enabled learning is not as effective as traditional learning.

Let the Results Speak for Themselves

Management should be:

Educated on the learning difficulties employees might be experiencing
Provided with a cost-benefit analysis of reducing classroom training and including online through a high visibility blended learning program

Deciding on the Best Delivery Medium

Matching the best delivery medium with the performance objective is essential for your training to create maximum impact.

Let the Training Needs Dictate the Choice of Training Modalities, Not the Technology

Determined appropriate blended learning methods after a thorough evaluation of your business goals and learning objectives.
Best Practices for a Blended Learning Approach
Popular Blended Learning Models
Rotation model – A fixed schedule with a smaller online component
Flex model – Customized online training + group activities/one-on-one support
Enriched virtual model – Online learning + mandatory classroom training (physical or VILT)
À la carte model – Classroom training supplemented before and after by online training
1. Evaluate Content for the Online Format
Take stock of all your learning material and decide on components you wish to move online.
Identify the training material that already exists.
Review the content with the help of SMEs and see if the existing content is adequate to meet the learning objectives.
Determine which components need to be enhanced or updated to make them online-ready.
Decide on new content that needs to be created to bridge gaps in existing content.
2. Base your Design on the Learning Objectives, NOT Technologies
Blended learning is about using technology to achieve the desired learning outcomes. Use the learning objectives as a road map to design your blended learning strategy, aligning the content, assessments, and activities for the most optimal learning experience.
Consider the function before choosing the form (the digital learning method) rather than going for the latest technology.
3. Consider Microlearning for the Online Component
To address the modern learner's short attention spans, use a curriculum of microlearning modules in your blended learning, each dealing with one learning objective – short enough for learners to retain the information and use it to improve their work performance.

Here's how microlearning can be used in the blended learning strategy:
Pre-training: Introduce basic concepts via microlearning videos or case studies.
During training: Augment classroom sessions with short learning videos and infographics.
Post-training: Provide performance support after the completion of the training – micro-FAQ modules, 'how to' micro demo videos or simple explainers.
4. Leverage Rapid Authoring Tool Templates for Quick eLearning Development
Rapid authoring tools come with their own media library and ready-to-use templates. There are standardized templates for the GUI, introductory slides, summaries, assessments, and more to be reused across courses. These templates can be customized and reused to meet your requirements.
5. Evaluate the Online Component with a Pilot
Use a pilot run to test the technology, instructions, content, activities, and user experience, so that any problems can be fixed before the final launch. Here are some tips on how to pilot your online learning:
Determine the length of the pilot
Select your audience to represent the full spectrum of the workforce for whom the training is being designed.
Allow the sample group to test the course/s in different locations to get an idea of the bandwidth and Internet most learners will have access to.
Blended Learning in Action
Product Training
Let's say you need to deliver product training to your sales personnel who are constantly on the move. It is very important for them to have comprehensive, up-to-date knowledge about their products and access to learning resources for handy reference.
So, they need initial training in the classroom, followed by self-paced learning, periodic refresher activities, and performance support.
Here's a sample blending learning framework you can try: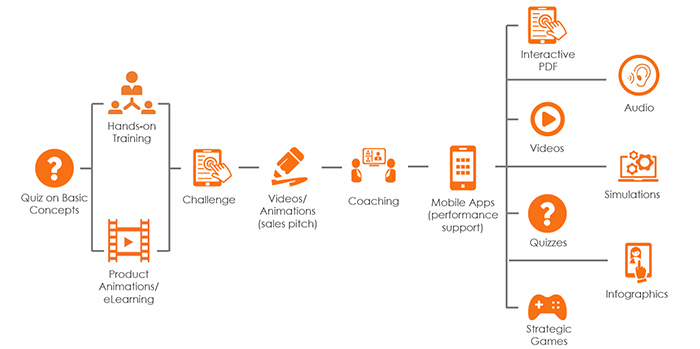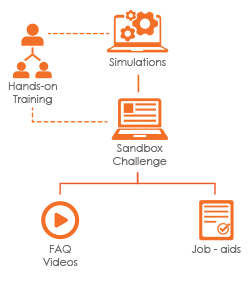 Training users on software is very important as they will need to become proficient in using the system – before it goes live. And just theory won't do as they will need to execute tasks using the application without errors.
So, offer hands-on training, followed by access to support resources.
Compliance training is much more than mere certification, as employees have to understand, interpret, and apply the rules/policies in their daily work to avoid non-compliance.
Apart from the mandatory training, they need reflection activities for practice and reinforcement.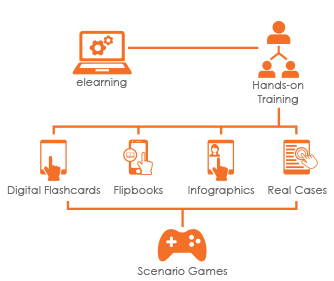 No doubt that blended learning is becoming one of the most popular corporate training formats. And it's not that hard to believe, it has scaled L&D to greater heights. And now that you know popular formats that can enhance your blended learning initiatives, make the most of it to offer a rich learning experience to your learners. Connect with our experts today and find out what blend will work for you!