The Need for Rapid eLearning
Has the current global pandemic hit a 'pause' button on your training initiatives?
Are you looking to quicky develop online training programs and digital assets, (with the constant refrain of "not enough time to develop eLearning" ringing in your ears)?
We have just the solution for you! Rapid eLearning!
In this time of shrinking budgets and timelines, rapid eLearning is the reliable partner you've been looking for. Whether for ten courses or a thousand, rapid eLearning can take care of everything – converting instructor-led (ILT) to online training, eLearning translations, legacy course conversions, and more.
Interested?
If you are, here's the what, the why, and the how of rapid eLearning, along with everything else you need to know about rapid eLearning design and development.
What is Rapid eLearning (& What is it not)?
Rapid eLearning offers the know-how to design, develop, and rollout eLearning courses within weeks, unlike conventional eLearning projects that can take months. What's the secret? And what makes it so much better than conventional eLearning development? Let's find out!
All of us will agree that for training to be effective and positively impact business goals, it should be aligned with the desired goals.
And how do we do that? We aim for the required performance through the all-important performance-based learning objectives!

A performance-based learning objective states in specific and measurable terms what the learner will be able to do by the end of the eLearning course.
Rapid eLearning design is based on those very same performance-based learning objectives, linking the training with performance and ultimately, the desired business goals. It leverages existing training content (ILT material, manuals, videos, old courses, etc.) and stays away from the ornamental fluff so commonly seen in conventional eLearning courses, thus saving instructional designers and SMEs a lot of time (and ultimately, a lot of cost for the organization).
Rapid eLearning:
Takes less time and cost to develop
Leverages the power of authoring tools
Incorporates new-age learning strategies to engage learners, offering ample scope for game-based learning, storytelling, and more.
What is Rapid eLearning?
Rapid eLearning is a method of developing eLearning courses quickly, leveraging the power of authoring tools. It eliminates the fancy frills while adhering to the principles of instructional design. And contrary to popular misconceptions, it doesn't compromise on course quality.
What isn't Rapid eLearning?
Ever since rapid eLearning made its entry into corporate training, it has been a hot topic for debate among eLearning pundits. For some, rapid eLearning is all about using authoring tools that enable quick development; for others, rapid eLearning equals sub-standard courses.
So, first let's get some things straight!
Rapid eLearning does NOT compromise on quality or instructional design.
Rapid eLearning does NOT mean throwing creativity out of the window.
Rapid eLearning does NOT do away with efficient project management.
Role of Instructional Design in Rapid eLearning
Though it doesn't seem like it, rapid eLearning is built on the bedrock of instructional design and the principles of adult learning. For instance, it uses:
Learning objectives to inform learners what's in it for them
Free navigation to enable self-directed learning
New-age learning strategies to provide memorable learning experiences
You can create a memorable learning experience with rapid eLearning through:
Personalization
Address learners by name
Let learners choose an avatar
Stories
Scenarios
Metaphors and analogies
Empathy
Open navigation
Clear instructions
Diagnostic feedback

Why & When Should you Opt for Rapid eLearning?
Benefits of Rapid eLearning
Quick development and reduced costs
Easy updating of course
New learning strategies
Enhanced training ROI
Better Costing and Faster Turnaround
We know rapid eLearning development takes less time and hence costs much less than conventional eLearning. But what makes rapid eLearning 'rapid'?
Existing, readily available content
Agile processes that eliminate costly rework
Use of rapid authoring tools (with in-built asset libraries and templates) that don't need programming skills
Easy Updates
Rapid authoring tools — such as Storyline 360, Adobe Captivate, Lectora, iSpring, dominKnow — make it easy to update existing courses and help provide up to date training for employees even when there are changes in regulations, policies, or market trends. Moreover, because of their ease of use, you can do the updates in-house rather than going to the vendor.
Another major advantage of authoring tools is that they publish to HTML5, making makes them ideal for Flash to HTML5 conversion. Authoring tools will help you:
Create courses that are multi-device and multi-platform compatible
Record and salvage courses that don't have source files
Recreate Flash-like interactivities
Translate courses easily
New-age Learning
For today's multigenerational workforce (Baby Boomers, Generation X, Millennials, and Generation Z), a "one-size fits all" conventional training strategy will not work. And developing eLearning courses that cater to the needs of this multigenerational workforce doesn't have to be next to impossible, not with rapid eLearning! Rapid eLearning helps make learning engaging by incorporating modern-day learning strategies while offering anytime anywhere access on mobile devices. You can go for:
Microlearning that offers bite-sized learning nuggets – ideal for time-pressed learners. Though there are a variety of microlearning assets to choose from, the choice of format should depend on what the course needs to achieve, not anything else. Always ensure form follows function!

Social learning to allow learning with and from others. Social learning doesn't necessarily have to happen face-to-face, it can also be incorporated in online learning. The interactions in a live classroom can be emulated online using social learning approaches via video conferencing tools. Discussion forums and chat rooms are another great way to facilitate social learning.
Virtual training to beat training disruptions caused by COVID-19. Rapid eLearning makes it easy to develop digital assets that can be used in both self-paced eLearning and virtual classrooms.
Enhanced ROI
"ROI" is the stuff of every training manager's nightmare! Simply put, ROI is proof that your training is getting the desired returns. But proving that to management can be next to impossible.
But with rapid eLearning, you can show enhanced ROI, because rapid eLearning:
Delivers effective eLearning courses backed by robust instructional design and adult learning principles
Accelerates time to proficiency
Cuts down development time by almost 40%
Allows easy updates and changes
Enables quick rollout of responsive courses
When Should you Opt for Rapid eLearning?
Rapid eLearning development is a better option than conventional eLearning development:
| When | Example |
| --- | --- |
| There are frequent content changes | Sales training on market trends, product features, policies, and so on. |
| Content has short shelf-life | Courses on dealing with epidemics (such as on Ebola, Zika, etc.) for medical professionals. |
And when there are tight deadlines and budgets (as is the usual scenario with most training), rapid eLearning saves on cost and time by:
Standardizing and reusing templates
Using rapid eLearning authoring tools
Making use of online review links
How does Rapid eLearning work?
The 3 pillars of rapid eLearning are the content, the 4 R strategy, and rapid authoring tools.
The Content
Rapid eLearning uses existing training material – classroom material or legacy courses – and leverages the power of authoring tools to convert it into:
Online courses
Microlearning assets
Digital performance support solutions
Whatever form the content is in the form of SOPs, PDFs, eBooks, documents, or ILT handouts, it can be converted to eLearning, as long as it is aligned with the learning objectives.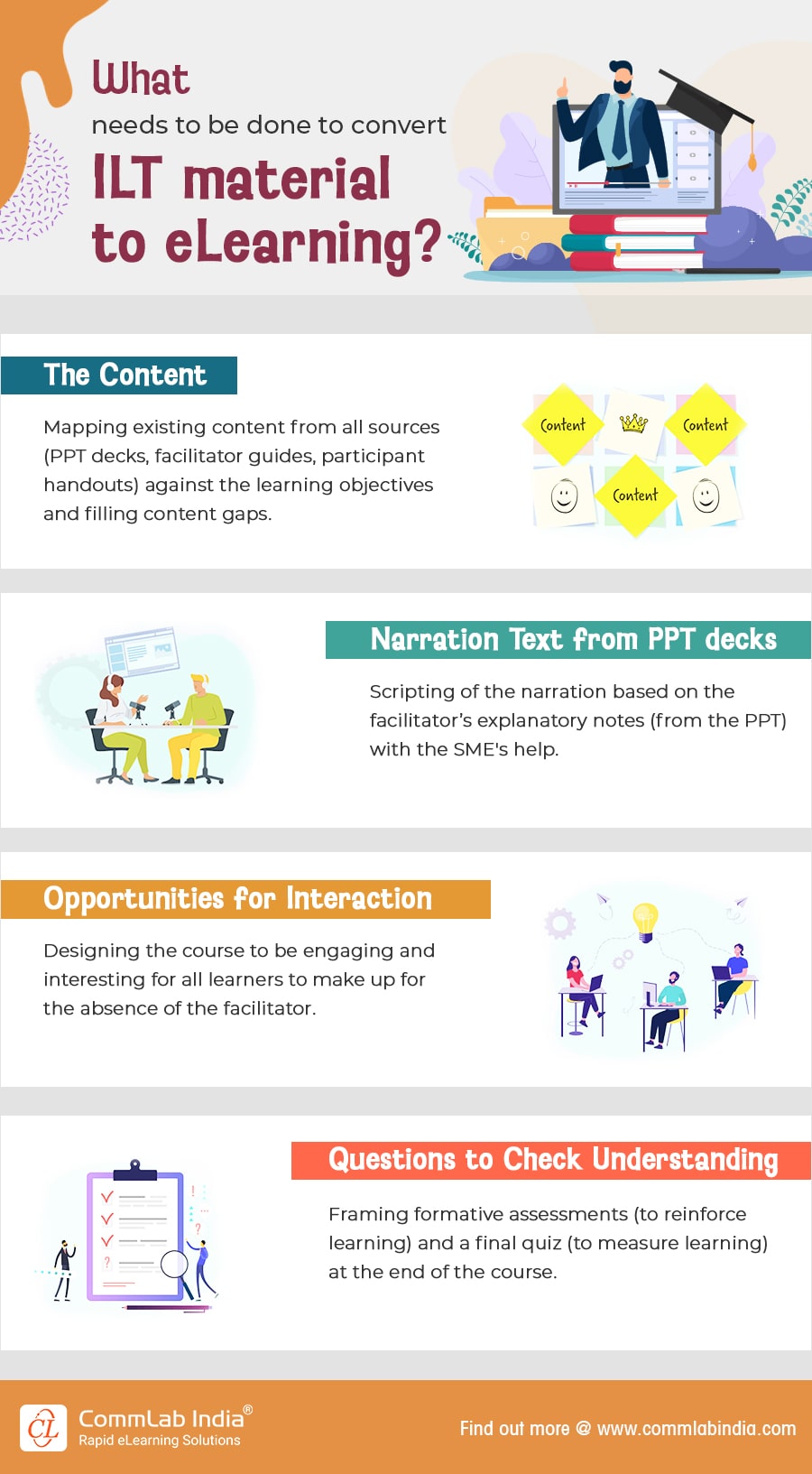 The Strategy: The 4 'R's of Rapid eLearning
Rapid eLearning offers a 4-pronged strategy – Record, Republish, Rebuild, and Redesign!

1. Redesign Classroom Material to Online Learning
Classroom Instructor-Led Training (ILT) has a lot of challenges—high logistics cost (travel, venue, and so on), non-availability of trainers, the difficulty in gathering learners and instructors at one place at the scheduled time, etc. And with the uncertainties around COVID-19, classroom training doesn't really seem to be a viable option anymore. Migrating from classroom to online training would ensure you reach a larger audience with a smaller investment. But how do you do that painlessly?
Through our Redesign strategy of rapid eLearning development that helps you convert classroom training materials to online training:
Asynchronous training (eLearning, mobile learning, blended learning, job-aids)
Synchronous (Virtual Instructor-Led Training)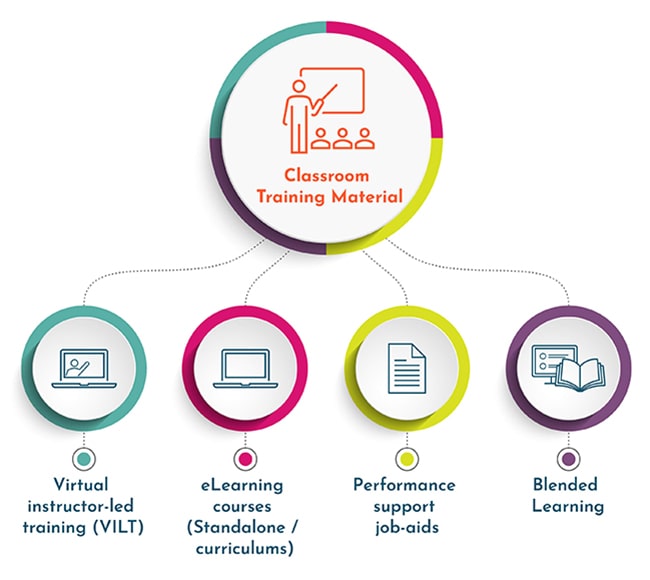 2. Record to Save SME Time
The Record strategy will help reduce SME touchpoints in the eLearning design and development from the 9 (for conventional eLearning design & development) to a mere 3.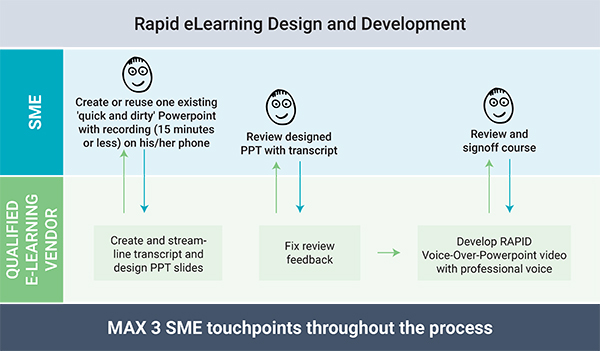 Step 1: The SME puts together a rough PPT deck of relevant content and records the explanation for each slide (highlighting important points) on the mobile phone or any audio recording app/software.
Step 2: The ID team works on the PPT deck to enhance it instructionally, transcribes the SME's audio into the narration script, and finalizes it.
Step 3: The SME reviews the narration script and the enhanced PPT storyboard.
Step 4: The eLearning team develops the final eLearning course with audio.
Here is a mini guide with 10 handy tips to reduce SME time.
3. Rebuild Legacy Courses into Microlearning Assets
Courses developed a few years ago might have a seat time anywhere between 45 minutes to an hour. Such lengthy courses don't fit into the busy schedules of today's employees anymore. With our Rebuild strategy of rapid eLearning development, these lengthy eLearning courses or curriculums can be broken down logically into short and crisp microlearning nuggets for easy assimilation and better recall. The key is to ensure one microlearning module addresses one learning objective.
4. Republish for Mobile Compatibility
If your organization has been using eLearning for some time, you might be saddled with a library of legacy courses developed in obsolete software such as Flash or older versions of authoring tools that are not compatible with mobile devices. Our Republish strategy of rapid eLearning development enables you to:
Upgrade the course to a newer version of an authoring tool (with new interactivities, assessments)
Update content or branding
Revamp the look and feel of text-heavy, visually unappealing courses
Make courses compatible with mobile devices
The Tools: Rapid Authoring Tools for Rapid eLearning
Rapid authoring tools (desktop or web-based) enable eLearning developers to create meaningful learning experiences, quickly and effectively – from creating interactive modules and multimedia assets to making them mobile-compatible.
Here are some of the popular eLearning authoring tools and how they help in rapid eLearning.
Authoring Tools

In Rapid eLearning

Articulate Storyline 360 and Rise

Articulate 360 includes Storyline 360, Rise 360, and other authoring apps. We call it the "Swiss army knife" of eLearning development that offers everything you need to develop effective courses, rapidly.

Storyline 360 helps create high-quality eLearning courses with custom interactivities at unprecedented speed. Courses can be made multi-device compatible with a single click.

Rise from the stable of Articulate 360, is a fully responsive web-based authoring tool. All you need is a web browser to create beautiful courses optimized for every screen size. Rise 360 is ideal for text-based courses that need to be digitized.

Adobe Captivate

Adobe Captivate 2019, is the tool if you want a lot of simulations in your eLearning courses. The latest version makes designing immersive learning experiences a reality. All you need is 360̊ images and videos to get started with virtual reality courses.

Lectora Online

Lectora Online is a web-based authoring tool that also harnesses the power of the desktop-based authoring tool. It offers collaborative features that enable creating and reviewing eLearning content anytime, anywhere. Lectora is the perfect tool for text heavy courses.

iSpring Suite

iSpring Suite is one of the most popular authoring tools to convert PowerPoint decks to eLearning. The tool is integrated with PowerPoint, making it very user-friendly and simple to use.
Why use rapid authoring tools?
Because they:
Enable delivery of courses

across different platforms and mobile devices. Learners can access courses seamlessly on any mobile device with any operating system (Windows RT, Android, iOS, or modern-day browsers Mozilla, Chrome). These tools are also frequently updated based on the latest technology, so you don't have to worry about keeping up with the latest eLearning trends.
Allow easy updates and scaling up. If in future, you want to update or change some elements of your eLearning course, you can simply import the existing course in the rapid eLearning dashboard and make the appropriate changes. It's as simple as that!
Allow templates to be standardized and reused. Most eLearning authoring tools offer an array of pre-built themes, templates, and interfaces that can be tweaked to suit your corporate branding and saved in an eLibrary.
Make eLearning translations simple

and quick with options to export course content as XML files. Once the content is translated, it can be imported back into the tool, synced with audio, and published. Check this blog for insights on tools that simplify eLearning translation.
Rapid eLearning empowers you to bid adieu to inefficient development processes, puffed up bills, and stretching timelines. All this without compromising on learner engagement! It's your one-stop solution to keep up with ever-changing business demands and deliver efficient and up to date training.
So, Are you Ready for Rapid eLearning Development?
Let's check!
Content
Do you have the content ready to meet the learning objectives?
SME
Is an SME available for reviews for the rapid eLearning project?
Vendor
Does your vendor have the expertise & resources for rapid eLearning?
LMS
Is your LMS SCORM compliant?
If your answer is "Yes" to all questions, you're good to go!
5 Best Practices for Rapid eLearning Development
Rapid eLearning development might seem simple; however, to take it to the finish line, you need expertise in robust instructional design, set communication channels, proficiency in authoring tools, quality assurance processes, resources for easy scale up, and so on. So, what should you do to ensure a successful rapid eLearning project?
1. Set Clear, Realistic Goals
This is the most important (and unfortunately, the most ignored) step in the rapid e-learning development process.
Asking these 4 questions will help you in this:
What do you expect learners to achieve after this training?
How relevant is the training program to the learners?
Will the training be a single e-learning module or a curriculum offering of courses on a specific subject?
Do you need to evaluate learners' understanding of the subject?
2. Get the Content Ready
Once you answer these four questions, you will need get the learning content ready. Rapid e-learning development leverages existing classroom and other training materials, and in most cases, there are content gaps in the material. So, start by identifying resources needed to achieve the set learning objectives. For resources that need to be updated, the SME can quickly record an audio track to fill the gap.
3. Plan for Curriculums
Whether eLearning or microlearning, curriculums offer a lot of scope for standardization and save SME time.
A curriculum consists of small, interrelated, or standalone modules that can be put together to cover one topic comprehensively, leading to mastery in the said topic. Curriculums usually provide access to modules sequentially, where learners need to complete one module to move to the next. However, free navigation can be offered for experienced employees who might need the courses only for refresher training.
Also with curriculums, all the content related to one topic can be made available at a single, centralized repository using the LMS. This helps learners easily access the content they need. Managing content also becomes hassle-free when it is stored in a single place.
4. Go for Online Reviews
eLearning development can be really streamlined with online reviews. Thanks to modern authoring tools that offer scope for online collaboration, giving (or receiving) feedback is no longer a chore. SMEs don't need to work with bulky PPTs, and the design team doesn't need to deal with contradictory feedback from multiple SMEs or missing emails containing feedback.
With authoring tools that enable online reviews, all you have to do is share the course link with SMEs or stakeholders who can then log in and review the courses – even from their mobiles – without having to install the software. Reviewers can flag issues, view each other's comments, and streamline feedback; the design team can implement the final feedback or add comments – which can be checked by the reviewers again online.
A few popular Online Review links:
ReviewLink by Lectora
Review 360 by Articulate 360
Captivate Reviewer by Adobe Captivate
iSpring Space
Review My eLearning
dominKnow | ONE
zipBoard
5. Assign Roles and Responsibilities
It is also important to designate roles and responsibilities at the start of the project. Decide who will be responsible for:
Reviews
Tracking the review process
Making decisions
Gathering feedback and resolving conflicts
Quality checks