Introducing Microlearning
According to a survey by Software Advice, 58% of employees would feel more engaged in technology-enabled learning if the content is delivered in the form of short lessons.
92% of the surveyed organizations currently using microlearning believed its usage would increase in the future according to ATD's 2017 research.
And learning architect Ray Jimenez, PhD, in his book 3-Minute eLearning, states that creating micro courses can help learning developers reduce development costs by 50% and increase development speed by 300%.
Microlearning is proving to be one of the most effective forms of training that can be used in a variety of ways to enhance individual and organizational performance. Microlearning helps deliver information in short bite-sized learning modules, while each learning module focuses on a single learning objective. It can be standalone or be part of a blend and is the ideal way to offer learning at the moment of need.
Microlearning is becoming increasingly popular in organizations, especially with the modern workforce who come with limited attention spans, are more tech-savvy, and are used to accessing information instantly.
Features of Microlearning
Along with brevity which is its hallmark, microlearning has several distinguishing features:
Addresses a single learning objective
Leverages existing training content
Follows a minimalist design trend (short & useful content with relevant visuals)
Uses a variety of formats
Offers a mobile-friendly design
What is NOT Microlearning?
Well, there are a lot of misconceptions about microlearning. What are they? Let's find out!
Microlearning:
Is not just chopping the course into smaller units.
Is not limited to videos.
Is not a replacement for eLearning or for every learning situation.
Is not the same as

Nanolearning: All nanolearning is microlearning but all microlearning isn't nanolearning!
Is not the same as

Mobile Learning: Microlearning can be on mobile and Mobile learning can be micro, but both are not the same!
Let's be honest. There is a question that has been around for quite some time and always will be there, "Can we train people faster?" The days of chalk and duster are far behind us and also days long training sessions are history now. Microlearning has been buzzing in the learning industry. But what is this hype all about?
Let's take a look at some reasons for its popularity:
Microlearning is flexible – It offers the learners the freedom that they wanted for a long time now. Learners can learn from anywhere, at any time, and using any device. Learners now learn at their own pace.
Microlearning offers just-in-time information – It offers information to learners in their time of need. It is very common for people to watch a five minutes video and learn a new task. All thanks to these short bits of information that are readily available.
Microlearning offers practice and revision – It is easy to repeat and revise, thanks to the short length of courses. Learners can access these microlearning bits as and when required. It keeps them motivated and helps them retain information better.
Not only this. Microlearning has proven to be beneficial for learners as well as organizations.
For Learners
It helps learners access information in real-time needs.
It helps learners learn and apply the knowledge with immediate effect.
Any time spent on learning and development is time well spent. Thanks to microlearning the learning modules are not lengthy.
For organizations
Microlearning modules are short engaging learning modules. It has helped in better learner engagement.
These learning bits take lesser time and cost to develop.
The modules focus on the need-to-know information rather than nice-to-know information thus narrowing the focus of learning.
Looks like a win-win situation for all!
Why do you Need Microlearning in Corporate Training?
Benefits of Microlearning in Corporate Training
Negates the effect of the

forgetting curve
Preps learners for online/classroom training
Helps time-pressed employees make time for training
Promotes a learning culture
Offers performance support/refresher training
Implementing Microlearning
When to Use Microlearning
Microlearning has proven to be a great driver of learner engagement, perhaps more than any other form of training. When employees need quick help to perform a specific task, 'micro' is the way to go as it provides short, concise, need-to-know information to achieve one specific learning objective.
When to Say "No!" to Microlearning
Just like how training is not the answer for every problem with employee performance, microlearning may not be the solution for all your corporate training challenges. Here are a few situations where it is definitely not the best training solution.
As a Replacement for eLearning: While it may be tempting to replace all eLearning with microlearning, it will not work when there is a lot of content requiring detailed explanations. In such cases, microlearning cannot be used as a standalone solution but can be very effective when used as part of a blended approach. It can also be used to supplement your existing eLearning program.
To Train on Complex Content: When your training program deals with complex content or content that's highly technical, microlearning cannot be a standalone solution but can be used to reinforce formal learning
To Gain Mastery Over a Topic: Mastery requires in-depth study, practice, and a lot of time. For instance, training on new software or leadership skills cannot happen overnight. It requires opportunities to practice, which is why watching a 5-minute micro video or listening to a podcast is not enough. The more in-depth the learning, the less appropriate microlearning is.
So, How do you Decide When to Use Microlearning?
The training aims to provide employees with the ability to perform tasks that will help attain organizational objectives. A job task inventory will help identify what you want employees to do as part of their jobs and choose the best way to help them learn to do those tasks.
Once you have identified the job tasks, you need to categorize them based on four critical parameters, which are ranked from 1 (low) to 4 (high):
Frequency:

How often the task is performed on the job
Importance:

How important the task is to the overall effectiveness of performing the job
Learning:

How difficult the task is to learn
Risk:

What is the risk associated with performing the task incorrectly
Microlearning can used for training on tasks that are:
Performed very rarely or very often

(Frequency 1 or 4)
Not important or very important

(Importance 1 or 4)
Relatively easy to learn (Learning

1)
Associated with low risk when NOT performed correctly (Risk 1)

Trending Microlearning Formats
Microlearning solutions can be used to address a wide variety of learning needs across the learning journey – right from creating awareness about the scheduled training to offering practice opportunities and refresher bytes.
Here's a brief look at microlearning assets or formats that are trending this 2023.

It's important to choose the format based on the training need, learner profile, and the learning environment – form should always follow function (and not the other way around)!

These learning nuggets can be used in a variety of ways (such as explainer videos, infographics, flashcards, or GIFs) to support eLearning through pre-training, refresher training, assessments, and performance support in spaced intervals. Here are a few situations where microlearning can help.
Create Awareness
Trailers, infographics, GIFs, animations
Gain Attention
Videos, animations
Stimulate Recall
Games, quizzes
Inform or Teach
Infographics, podcasts, process maps
Show or Demonstrate
Explainer videos
Assess or Test
Quizzes, micro-assessments
Microlearning Trends for Modern-Day Corporate Training
One of the most significant trends in microlearning is mobile learning. People carry their mobile devices everywhere they go. Organizations have recognized the importance of this trend and now they are taking advantage of it.
Organizations are creating microlearning content that is easily accessible on mobile devices. Learners can now access learning materials anywhere and anytime and on any device, making it easy for them to fit learning into their busy schedules.
Gamification is another trend that is gaining popularity recently. Gamification enhances the training making it more competitive in a healthy way. Incorporating gamified elements, such as points, badges, and leaderboards make the whole learning experience more engaging and motivating for employees.
Video-based learning's versatility and flexibility is making it a popular choice. Microlearning videos are informative, and engaging, and also help the employees learn effectively. Video-based learning is an effective way to engage employees and improve knowledge retention.
Virtual reality is a trend in microlearning that has gained popularity and is not planning to stop. Virtual reality (VR) is when a simulated environment is created and employees can interact with it. Organizations are using virtual reality to provide employees with realistic simulations of different work scenarios making learning more engaging and helping learners to prepare for real-life situations in a risk-free environment.
Social learning is trending as it involves learning from others through collaboration and interaction. Organizations around the world are encouraging their employees to use social learning platforms to share their knowledge and skills with others. Social learning makes learning more fun, and interactive helping employees learn from their peers.
Personalized learning is trusted by organizations. Personalized learning is when the learning is tailored according to the needs and requirements of learners. Personalized learning is an effective approach as it gives the learners the freedom to learn at their own pace and focus on the areas that they need to improve.
Authoring Tools for Microlearning Development
All popular authoring tools can be used to develop microlearning assets. Each has its strengths and lends more to the development of certain formats.
While all tools can be used to develop microlearning, here are a few recommendations.
| | |
| --- | --- |
| Microlearning Format | Best Authoring Tool |
| Digital Flashcards | Storyline 360, Adobe Captivate |
| Whiteboard Animations | Storyline 360, Adobe Captivate |
| Infographics | Photoshop, Illustrator |
| Games | Storyline 360 |
| Simulations | Adobe Captivate |
| Videos | Adobe Premiere |
| Scenarios | iSpring |
| eBooks | InDesign |
| Quizzes | Lectora Inspire |
Connect with us to know about more microlearning formats and the preferred authoring tool to develop them.
Best Microlearning Platforms – 2023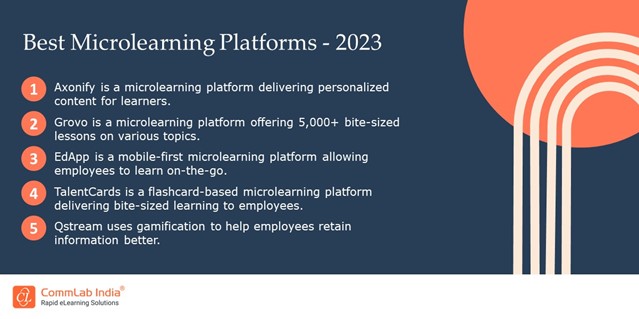 Applications of Microlearning
Microlearning is an evolving trend, it can be leveraged for different types of training to improve employee performance. Here are a few design models with suitable examples that can be used for various training types.
Sales Training
Microlearning is your best bet when it comes training your sales personnel. As sales reps are constantly traveling, microlearning is ideal for them, being short, focused on a single learning objective, and compatible with mobile devices.
Provides just-in-time learning
Offers crisp learning nuggets
Offers a virtual hands-on experience
Enables learning on mobile devices
How microlearning can be used for Sales Training: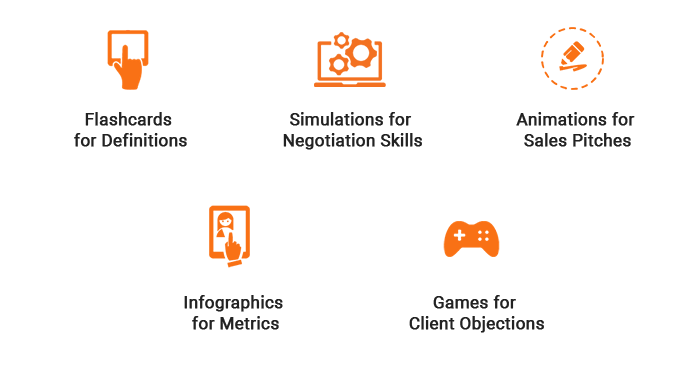 Product Training
Microlearning makes the training manager's life much easier when your organization is launching a new product or updating existing products and when employees need to be trained on these updates and new products even before they are introduced to the market. In such cases, classroom training or online training might not be feasible.
In such a scenario, Microlearning works best for product training as it:
Is easier to update and faster to develop
Offers quick access on mobile devices
Offers short practice and revision opportunities
How microlearning assets can be used for Product Training:

Onboarding
Handing your new hires voluminous handbooks in a classroom or making them sit through lengthy eLearning courses would not be a great way to welcome them into the organization, would it? Engaging your adult learners with your onboarding program is the real challenge. But you can make the best impression on your new hires by leveraging microlearning, as it:
Causes no information overload – small digestible nuggets
Helps beat the forgetting curve – spaced learning
Provides scope for employee-centric personalized learning
How microlearning assets can be used for Onboarding Training needs: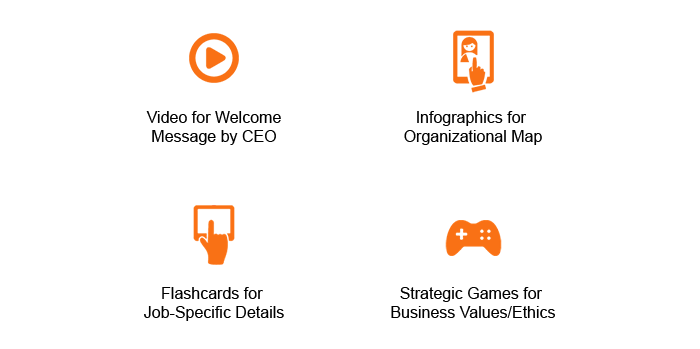 Software Training
Although software training appears too complex a topic to be handled by microlearning solutions, you can use it to train learners on various tasks they need to do using the software. You can also use microlearning for regular refresher training because it:
Enables mastery of complex tasks in small bites
Offers virtual practice opportunities
Offers performance support and knowledge reinforcement
How microlearning assets can be used for Software Training:

Latest Trends in Microlearning
It's not surprising that microlearning is a hot favourite with corporate organizations because it uses the modern learner's attention span optimally to deliver training that is focused on a single learning objective. Microlearning as an evolving trend is becoming quite popular. If you want to know what's happening with microlearning, here are the latest microlearning trends
Microlearning + Mobile Learning
Mobile learning for corporate training is the most efficient platform for hosting and delivering microlearning for learners. The wide range of mobile devices (smartphones and tablets) being used today globally has made 'microlearning with mobile learning' the best solution for employees' training needs. Given that everyone is constantly with their mobile phones most (if not all) of the day, it makes sense for performance support or just-in-time training in the form of small nuggets to be delivered via these very same mobile devices.
Microlearning + Gamification
Like any other format of learning, microlearning also benefits from game-based learning and elements of gamification.
An effective microlearning course consists of engaging elements like videos and images, infographics and podcasts, games and interactivities. Thanks to the support of mobile learning, it's become very simple to add small educational games that help achieve the learning objective in microlearning.
Apart from games and gamified assessments, gamification elements like leaderboards, scoresheets, rankings, level ups, rewards (even nicknames and gamer tags), etc. can be added to add an element of edutainment.
Microlearning + Augmented and Virtual Reality
According to the latest marketresearch.com report, the global VR market (including all immersive and semi-immersive mixed reality applications) is expected to grow from USD 13 billion in 2020 to USD 47 billion in 2025. AR and VR applications in corporate training have shown phenomenal growth in recent years. AR is being increasingly implemented in training, especially for impromptu product training (where pointing the phone camera towards the product will reveal relevant information) or sales training.
Microlearning + Artificial Intelligence
Artificial learning (AI) can be used to create customized learning paths for learners when automatic suggestions of microlearning modules are sent to learners based on their preferences.
Microlearning Strategies for Effective Bite-Sized Content
Narrow your focus
Microlearning offers short digestible learning modules. You need to narrow your focus as what you need is the need-to-know information rather than the nice-to-know information. This makes microlearning modules best for quick and focused learning.
Make the most of Interactivity
There is a misconception that microlearning is breaking down a course into smaller chunks, but that's not what microlearning is. Before developing microlearning modules you should plan the type of experience you want to provide to your learners. You should analyse the learning requirements of your learners and make use of interactivities. Then you have for yourself an effective training module.
Connect Content
While microlearning can be standalone, sometimes it is important to decide how it will work best for you. Microlearning can also be used as an addition to your training strategy and help enhance your entire training program.
Create mobile-friendly content
While working with the modern workforce you should ensure that your content is mobile-friendly. Learning on the go has always been helpful and will always be. Providing your employees with the opportunity to learn on the go help create an effective learning environment.
Work with experts
Being L&D pros and training managers, you have a lot on your plate. Sometimes it gets tiring to manage everything at once. What you need to do is find yourself an expert. And if you have decided to say yes to the microlearning strategy, explore the benefits if working with CommLab India. We are experts in our domain and strive to provide you with the best.
We take care of all your training needs!
Here is how we have helped many of our clients.
Microlearning for Evacuation Training for a Manufacturing Major
The Client
Our client is a multinational plant equipment manufacturer based in Switzerland, with a mission to provide healthy food and clean mobility through their three divisions – Grains & Food Solutions, Consumer Foods Solutions, and Advanced Materials.
The Requirement
Our client wanted to train more than 2500 employees effectively on site, safety, and evacuation procedures.
Our Solution
Our solution to this was Microlearning!
The team that worked on the project included an instructional designer, a dedicated project manager, and a course developer.
We developed short 8-10 minutes learning modules. We developed the course in German with English subtitles, supported by audio narration by a single professional narrator. The course was highly interactive and was developed with the authoring tool Adobe Captivate, compliant with SCORM 2004.
Click here for complete case study.
Microlearning Curriculum for Product Sales Training for a Pharma Major
The Client: A manufacturer of special footwear and accessories for workplace safety
The Client
Our client, a subsidiary of a reputed global healthcare company, employs around 113,000 people and has a presence in over 160 countries. It is one of the oldest and most admired healthcare companies in India.
The Requirement
Our client wanted to train their new sales representative on their huge portfolio of medicines. The client wanted their sales team to do better marketing of their brands to medical practitioners while reducing the training duration.
The client was looking to transform their product and sales training with the aim to:
Reduce the duration of their training sessions
Improve how their sales reps market their brands to medical practitioners
Help their sales personnel handle doctors' queries and objections better
Our Solution
Considering how vast the information was and how limited time the sales rep have we decided on a microlearning approach. We created a curriculum of approximately 5 to 6 microlearning modules for each drug, each around 10-15 minutes in duration. The modules were developed in Articulate Storyline and were accessible on a range of devices.
Click here for complete case study.
So, we hope you are ready to harness the power of small in your training framework and experience big game-changing results! While doing so, trust CommLab India, one of the best microlearning companies as your learning partner for your every training need.