Staff Augmentation for Rapid, Scalable Digital Learning Solutions
Enhance Productivity with Resources that Work & Integrate with Your Team – Seamlessly!
Free yourself from the shackles of tight timelines, lack of in-house expertise, or hiring issues.
Create the perfect learning solutions by augmenting your team with highly skilled and experienced professionals working as an extension of your own team.
Add our resources to your team, virtually, to manage workloads and meet deadlines, and focus on your business goals.
Use our resources, experienced in different areas, to help enhance your team's capabilities – instructional designers, authoring tool experts, visual designers, project managers, and translators.
The resources you get will be completely aligned with your organization's staffing needs and objectives, and a perfect match for your team and culture – whether you need them for short-term assignments or long term projects.
Convenience, affordability, and efficiency are what you get with staff augmentation. And more learning per training dollar!
Craft immersive learning solutions,
with your team + our resources, for hassle-
free upskilling and reskilling!
Whatever you need to create online training – we have you covered!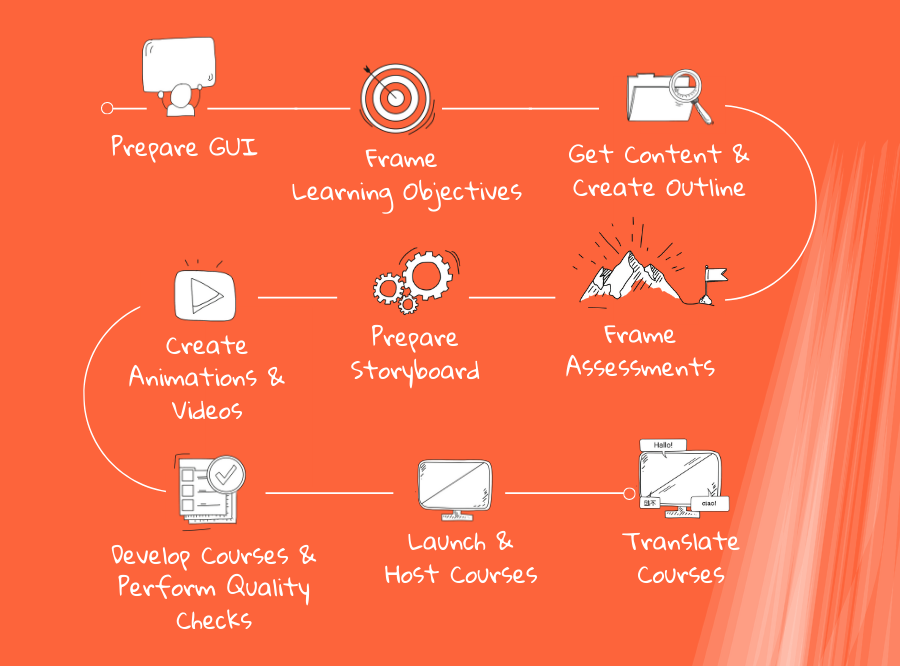 Designing

Images, icons, GUIs, storyboards
Instructional material for VILT
PPTs for classroom and webinars
Assessments/ question banks

Developing

Courses using authoring tools
Scripts for courses, scenarios, videos
Animations/graphics
Reusable templates
Videos using AI-enabled tools

Others

All LMS Services
Translating eLearning courses
Working with text-to-speech software, and other AI tools
Say NO to Multiple Vendors
We provide all services under one roof to help you create digital learning solutions, without the hassle of working with multiple vendors.
We have more than 20 years' experience and hands-on expertise in instructional design and learning technology.
Avail our Thought Leadership
Ranked among the top providers of Online Learning Solutions since 2019, our thought leadership will keep you current on the latest in Training.
Common Questions Answered
Will I be able to find the right the resources?

Yes, from our large pool of skilled and experienced eLearning designers, developers, linguists, and domain experts.
Is there any minimum duration for augmentation?

No! Whether for a short assignment of a few hours or a year-long project, you get to pick from the best L&D talent!
Will onboarding the resources be a problem?

No. Our resources have a lot of experience working with different international clients, so their onboarding won't be a problem.
Will communication be a problem?

Not at all! Our 24/7 availability, proficiency in English, and agile processes ensure smooth communication.
Will your resources work in my time zone?

Yes, our resources will be available to work with your team in your time zones – just like your other employees.
Will I find experts related to my industry?

Most probably yes, as we have experience working with different industries – Pharma, Healthcare, Manufacturing, IT, F&B, etc.
Share Your Need
All you have to do is reach out to us with your requirement.
Come on a Call
We will talk with you to understand your team and needs, and get back to you with the best talent to add to your team.
Sign the NDA
asses the resources. Get started only if you are satisfied. You get a new team member and we get a delighted partner!
"Fast, technically competent & extension of our own L&D team."
Get the Best Fit for Your Team!
Manage workloads and meet deadlines, easily.