Hyderabad, India – December 11, 2019
CommLab India Celebrates Thanksgiving by Feeding the Poor in the Twin Cities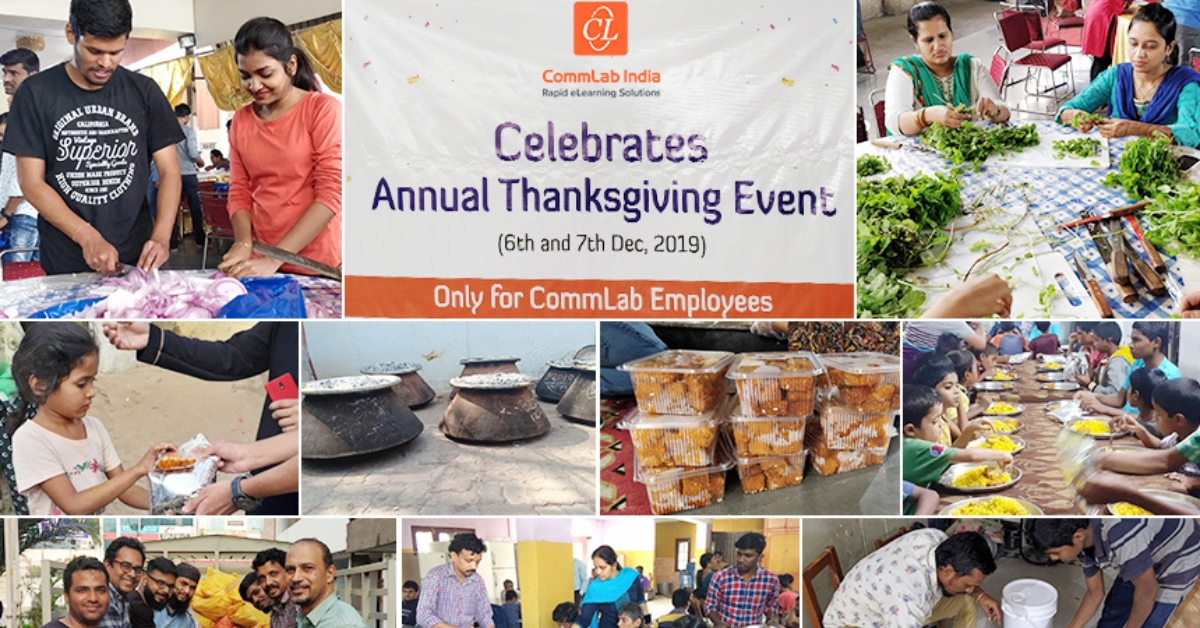 CommLab India, the most sought-after rapid eLearning solutions provider and authoring tools expert marked the end of yet another successful, productive year by celebrating Thanksgiving on December 6 and 7, 2019. The two-day annual event saw the entire CommLab family join hands to prepare and distribute authentic Hyderabadi food to 8000 less fortunate people in the twin cities of Hyderabad and Secunderabad.
What started with feeding a hundred people every December evolved into an annual tradition and now with its new bunch of enthusiastic millennials, CommLab has bettered its record of feeding 5000 people in the last 2 years. Apart from hospitals, orphanages, old age homes, shelters for the homeless, and slums, the CommLab family shares lovingly prepared Chicken Biryani and Double ka Meetha (a dessert) with the poor on the streets.
On day 1, prep work proceeded at full throttle – bread was sliced into cubes and fried, milk flavored with fragrant spices, onions chopped and fried, mint chopped, fresh lemon juice extracted, chicken cleaned and marinated. Once the team finished this, bread pieces were mixed with the flavored milk, allowed to cool, and packed. A labor-intensive day thus ended on a sweet note. On day 2, the elite team of in-house cooks arrived with the dawn to get started with the Biryani. Huge cauldrons bubbling away with aromatic Basmati rice for the Biryani on open stoves conjured glimpses of idyllic rustic charm.
With the food ready, it was swiftly packed into individual packets and containers for bulk distribution – showcasing CommLab India's esprit de corps. Then came the moment everyone looks forward to – groups of 4 stepped out to serve food in hospitals, orphanages, and other shelters. Smaller groups of 2 set out to distribute on the streets. The glow of happiness on the faces of kids, the elderly, and the destitute instantly wiped away stress and reinforced the many reasons to be thankful for.
Thanksgiving at CommLab India is an event much anticipated the whole year. It is one of their core values and the team spends a good amount of time scouring for a suitable venue for cooking on a large scale, procures the best ingredients in the market, and most important of all, everyone lends a hand to make the event a success. It blurs barriers across teams, departments, and hierarchies as everyone works under the able guidance of the kitchen staff.
"We believe in abundance and sharing. 'The more we share, the more we have' has been our philosophy and we celebrate our success every year by sharing with our less fortunate brethren. This two-day event is a great team bonding exercise, an amazing way for youngsters to experience the satisfaction that comes from hard toil and make new friends. It reminds us of the plentiful blessings we've had and prepares us to approach the new year with a spring in our step. We wish everyone a Merry Christmas and a happy, prosperous New Year" signs off Dr. Ayesha Habeeb Omer, COO & Co-Founder CommLab India.
About CommLab India:
CommLab India is the most sought-after global leader for its rapid eLearning solutions. The company has 100 International customers in 30+ countries. It has adjudged winner of the Silver Award among the top eLearning content development companies for 2019 by eLearning Industry.
With our formidable authoring tools expertise and decades of experience in corporate training and instructional design, we offer rapid eLearning solutions for speed, scale and value with any authoring tool:
ILT material conversion into instructionally sound, visually appealing, engaging eLearning curriculums and other digital learning formats.
Legacy Course Conversions from Flash or any other authoring tool to HTML5, even if you do not have source files.
eLearning Translation of English eLearning course into 35 international languages – both text and audio.