Hyderabad, India – September 07, 2023
CommLab India Celebrates Excellence and Innovation on Their 23rd Anniversary!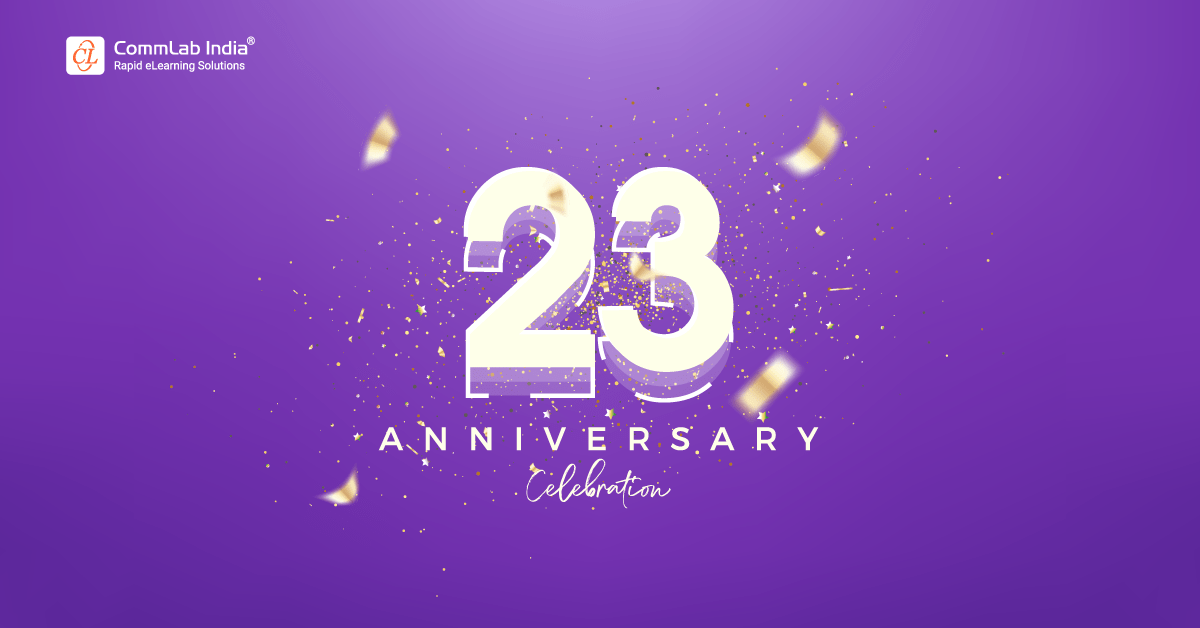 CommLab India, the leading provider of rapid eLearning solutions for corporate training is proudly celebrating its 23rd anniversary. Over the past two decades, CommLab India has solidified its position as the leading rapid eLearning service provider, earning the trust and loyalty of clients worldwide.
From its humble beginnings, CommLab India has grown to become an industry powerhouse, thanks to its commitment to innovation, quality, and client satisfaction. The company's remarkable journey has been marked by numerous accolades and recognition from industry experts.
During this time of celebration at CommLab India. Dr. Ayesha Habeeb Omer, COO, and co-founder, of CommLab India, expressed gratitude for the journey so far "This 23-year milestone is a testament to the hard work and dedication of our talented team and the trust our clients have placed in us. We are thrilled.
Here is a glimpse of a few of their many achievements in the last 23 years:
Over 300 satisfied clients globally.
23 years of unwavering commitment to eLearning excellence.
A passionate team of industry experts.
Pioneering eLearning innovations.
CommLab India's impact stretches across various industries, including manufacturing, pharmaceuticals, healthcare, logistics, IT, finance, training organizations, and more. They have transformed training programs, enhanced employee performance, and contributed to organizational success worldwide.
How CommLab India Marked 23 Years of Success!
On their 23rd anniversary, CommLab India is excited to announce the opening of a new office space in Austin, Texas. This expansion shows the company's commitment to meeting the growing demands of the eLearning industry in the United States.
CommLab India's CEO and co-founder, Dr. RK Prasad said "Our presence in Texas, is a strategic move to enhance our services and support for clients in the US. We look forward to building new partnerships and creating innovative eLearning solutions from our new office."
CommLab India also successfully revamped their Learning Management System (LMS) – EffectusLMS. This major upgrade represents their commitment to providing an enhanced and more user-friendly learning experience for learners and administrators. The revamped EffectusLMS incorporates cutting-edge features, an intuitive interface, and improved functionality, making it easier than ever to access and engage with training content. They believe this transformation will empower their users to maximize their learning potential and streamline administrative tasks, ultimately contributing to a more efficient and effective learning environment.
A Sneak Peek into the Future
CommLab India's steadfast dedication and commitment to its clients have been the driving force behind its success. Over the last 23 years, they have not only remained at the top of the industry but have also nurtured loyal client relationships.
As CommLab India looks to the future, they do so with a team that is more tightly knit, knowledgeable and inspired than ever before. The 23rd-anniversary celebration was not just a milestone but proof of their unwavering commitment to excellence, teamwork, and continuous learning.
CommLab India has and will stand out with its promise of delivering rapid eLearning solutions that seamlessly blend scale, speed, and quality. As CommLab India enters its 24th year, the company remains dedicated to pushing the boundaries of eLearning excellence, delivering top-notch solutions, and fostering client success. Here's to many more years of success and innovation!
About CommLab India
CommLab India serves 300 delighted international customers in 30+ countries, and ranks FIRST among the top providers of Rapid eLearning and Blended Learning Solutions by eLearning Industry.
With its expertise in corporate training, instructional design, and authoring tools, CommLab India offers rapid eLearning solutions for corporate training at speed, scale, and value.
CommLab India offers the complete spectrum of online training needs, including:
Converting classroom training to eLearning curriculums and virtual sessions
Designing and delivering microlearning assets
Developing video-based learning
Converting legacy courses to HTML5
Translating English eLearning courses into 35 international languages
Enhancing internal teams with its staff augmentation services
Offering LMS installation and admin support services