Hyderabad, India – December 18, 2019
CommLab India Launches eBook on the eLearning Trends for 2020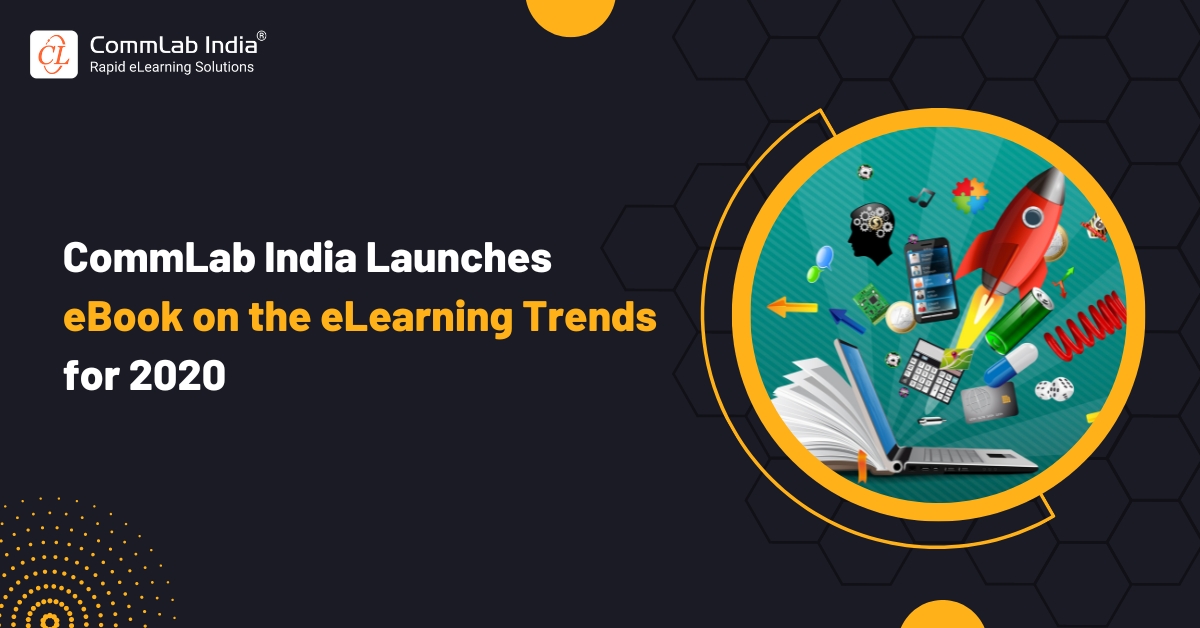 CommLab India, a trusted provider of rapid eLearning solutions and authoring tools expert has capped off a successful 2019 by launching an eBook on the real eLearning trends for 2020 based on its experience working with best-in-class global organizations.
The eBook explores trends which are making inroads in corporate training. It highlights the fact that it's not just the buzz words such as AR/VR and AI; rather, the technology and learning strategies that are the need of the hour – based on specific organizational and employee training requirements.
For instance, while AI is being used in eLearning to reduce translation costs, existing strategies such as microlearning are being increasingly used for offbeat topics such as visitor training and culture building. The LMS is being customized and enhanced to serve as a repository of data to enable learning analytics while blended learning is being used to ramp up onboarding. It's all about the symphony between instructional design, technology, and tools.
All trends in the eBook have been picked because of their proven efficacy. Top-performing organizations have started doing them – with positive results. And it becomes easy for others to match their training requirements and pick the best from what the best are doing.
Organizations looking for signposts to guide their online training initiatives in 2020 would surely benefit from downloading the eBook 'eLearning Trends for 2020: 21 Cool Ideas Picks You Can Try!' For more details and to download, visit CommLab India eBooks.
Training managers can check what will serve their training needs and reconnaissance whether their training strategies are heading in the right direction. This is very important as training consumes a lot of resources in terms of time & effort, and success lies in adopting what will help achieve the bottom line – training that's aligned with and contributes to the set goals.
"This eBook is based on our personal experience helping clients solve their training challenges and keep the modern workforce engaged using the latest in technology and learning strategies. We are sure organizations will benefit by seeing the trends in action – the proof is in the pudding after all. We are also planning to ring in the new year by launching a webinar on the same topic – watch this space for details. Have a merry Christmas and a Happy New Year!" signed off Dr. Ayesha Habeeb Omer, COO & Co-Founder CommLab India, at the launch.
About CommLab India:
CommLab India is the most sought-after global leader for its rapid eLearning solutions. The company has 100 International customers in 30+ countries. It has adjudged winner of the Silver Award among the top eLearning content development companies for 2019 by eLearning Industry.
With our formidable authoring tools expertise and decades of experience in corporate training and instructional design, we offer rapid eLearning solutions for speed, scale and value with any authoring tool:
ILT material conversion into instructionally sound, visually appealing, engaging eLearning curriculums and other digital learning formats.
Legacy Course Conversions from Flash or any other authoring tool to HTML5, even if you do not have source files.
eLearning Translation of English eLearning course into 35 international languages – both text and audio.