Hyderabad, India – November 10, 2022
CommLab India's Online Store for eLearning Champions – Rapid eLearning Accelerators!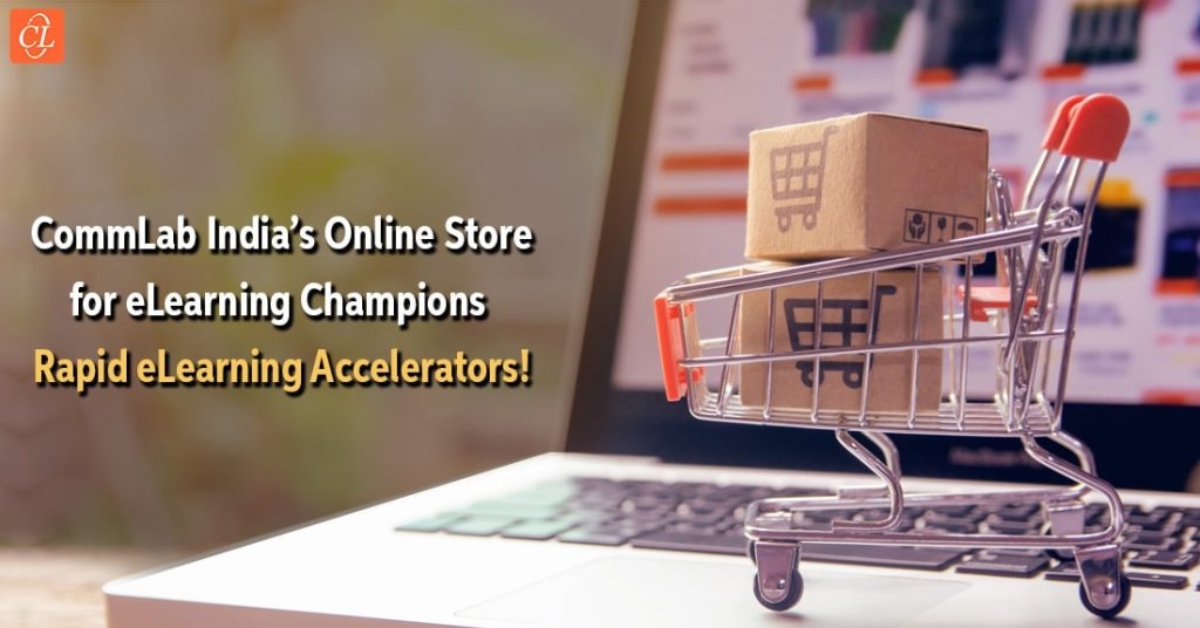 CommLab India has launched its online store for eLearning Champions, on November 01, 2022! The Store which offers rapid eLearning accelerators will help L&D Professionals, Training Managers, Instructional Designers, and eLearning Enthusiasts – improve their training initiatives, saving time and cost.
Ready to use plug and play templates, ready reckoners, catalog courses, kits, and more are available in the Store. Templates are fully customizable – visually appealing and based on sound instructional design. Kits offer well-researched, proven insights and hacks to design engaging eLearning, VILT programs, and more. Catalog courses will engage learners with their interactivities and eBooks will help Training Managers implement digital training, the right way.
This is just a glimpse of what the Store offers. Organizations looking to support in-house development with ready to use assets, individual contributors looking to improve their training initiatives, teams wanting to infuse a fresh look in their training programs, organizations wanting to implement the best and latest in online training – the Store has something for all of them.
All resources can be accessed on the click of a mouse, without any waiting. The Store is also currently offering discounts and never-before-seen deals on its resources to celebrate the launch and Thanksgiving.
The launch of the Store was announced by RK Prasad, CEO & Co-Founder, CommLab India, at the end of LearnFlux, in October. This is what he had to say. "The Store is a milestone in our journey toward our Vision2025. We are witnessing the demand for the rapid rollout of training resources to upskill/reskill workforce, and the Store is our endeavor to help our customers and L&D teams, meet this goal successfully."
Ayesha Habeeb Omer, COO & Co-Founder, CommLab India, shared, "Today's L&D teams and organizations are keen to invest in tools that minimize human effort, thereby reducing costs and time, and that is where CommLab India' Store comes into picture. The Store contains tools and templates which are simple to use. We invite the L&D fraternity to get their hands on these resources that will help develop effective and engaging training programs."
To explore rapid accelerators and get them for teams, visit CommLab India's Store for Rapid eLearning Accelerators.
CommLab India, with more than two decades' experience in the learning industry serving 100 International customers in 30+ countries, is one of the most sought-after global leaders for rapid eLearning solutions. It has been among the top providers of Rapid eLearning and Blended Learning Solutions for 2021 by eLearning Industry.
With its formidable authoring tool expertise and decades of experience in corporate training and instructional design, CommLab India offers rapid eLearning solutions for speed, scale, and value… with any authoring tool for:
Converting of ILT material into instructionally sound, visually appealing, engaging eLearning curriculums, virtual sessions, and other digital learning formats.
Converting legacy courses (from Flash or any other authoring tool) to HTML5, even when source files are not available.

Translating English eLearning courses into 35 international languages – both text and audio.