Hyderabad, India – April 06, 2023
CommLab India Partners with Synthesia to Offer Corporate Customers the Best of AI-Powered Learning Videos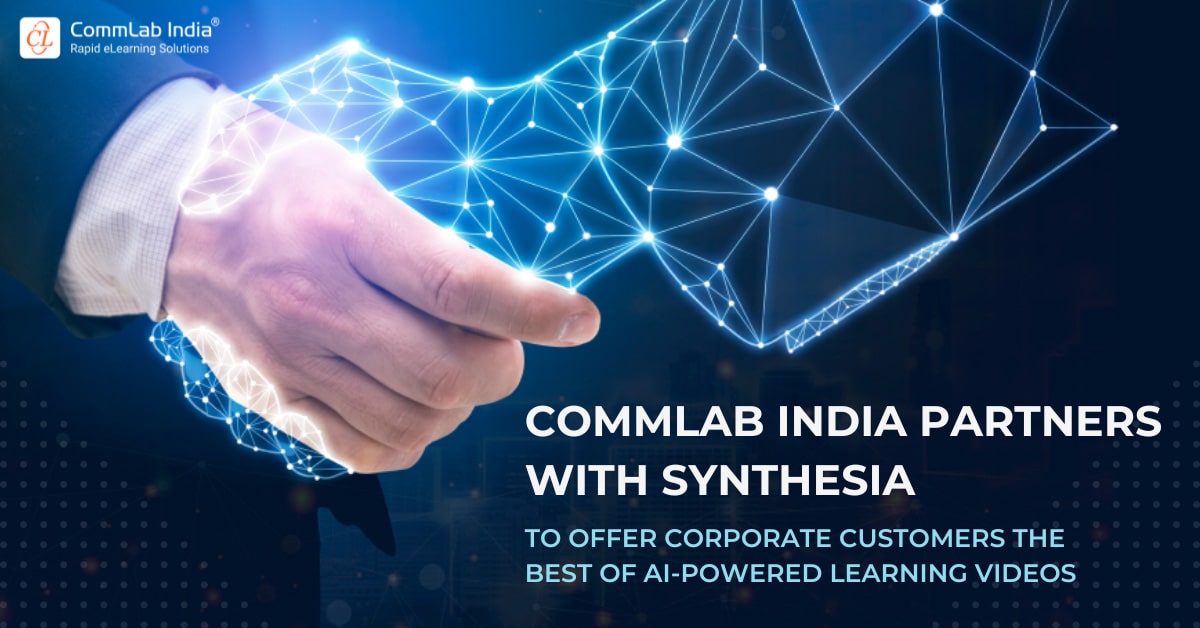 CommLab India, the leading global provider of rapid eLearning solutions, is proud to announce their partnership with Synthesia, the #1 AI-powered video generation platform. This new strategic alliance will offer corporate organizations learning videos that leverage the best of CommLab India's design capabilities and the AI capabilities of Synthesia. This translates to video-based learning that is in sync with today's learner preferences and organizational requirements.
CommLab India believes video is the future of learning and wants customers to get the best of it. As the #1 rapid eLearning provider, it also wants customers to reap the cost and time-saving benefits offered by AI-powered tools. This quest has led to the partnership with Synthesia – which offers AI-generated avatars, voiceovers in over 120+ languages and accents, an intuitive interface, video templates, and more. CommLab India is now Synthesia's Course Creation partner.
For organizations wanting to leverage learning videos, CommLab India will draw on its instructional design strengths to develop storyboards, and their pool of developers proficient in working with Synthesia will bring the video to life using the tool. Compared to traditional video platforms, Synthesia is responsive and can transform plain text to video content quickly; apart from Word documents, Synthesia can also convert PowerPoint presentations and PDFs to interactive videos.
"We are excited to partner with Synthesia and leverage their AI-powered technology to enhance our eLearning offerings. I personally advocate the use of videos in digital learning to offer learning interventions learners will find easy to access and consume. With Synthesia, we can now develop personalized and interactive videos 10X faster than before while ensuring they are engaging and effective," said Dr Ayesha Habeeb Omer, Ph.D. – COO and Co-Founder of CommLab India.
Using Synthesia, CommLab India will offer their customers personalized training videos, product demos, explainer videos, and much more. Synthesia uses 100+ digital AI avatars (digital twins of real actors) and clones the voice of real actors, ensuring natural audio quality and creates a 'guided-learning' experience. "At CommLab India, we constantly look for innovative technologies which help us enhance learner experience and make learning more impactful, adding to the bottom line. Our partnership with Synthesia will allow us to take video development to the next level and meet our customers' unique, emerging needs," signs off RK Prasad, Ph.D. – CEO and Co-Founder of CommLab India.
About Synthesia
Synthesia is the world's leading AI-powered video content creation platform. It empowers organizations to create high-quality, personalized video content at scale quickly. Using Synthesia's cutting-edge technology, businesses can create video content quickly and efficiently, while engaging their audience with personalized and interactive video experiences for the clients. Leading companies across various industries, including BBC, Reuters, Accenture, and Novo Nordisk, have used Synthesia's platform.
About CommLab India:
CommLab India, with more than two decades' experience in the learning industry serving 100 International customers in 30+ countries, is one of the most sought-after global leaders for rapid eLearning solutions. It has been among the top providers of Rapid eLearning and Blended Learning Solutions since 2020 by eLearning Industry.
With its formidable authoring tool expertise and decades of experience in corporate training and instructional design, CommLab India offers rapid eLearning solutions for speed, scale, and value… with any authoring tool for:
Converting of ILT material into instructionally sound, visually appealing, engaging eLearning curriculums, virtual sessions, and other digital learning formats

Converting legacy courses (from Flash or any other authoring tool) to HTML5, even when source files are not available

Translating English eLearning courses into 35 international languages – both text and audio