Hyderabad, India – March 23, 2023
CommLab India is the TOP Provider of Rapid eLearning Solutions for 2023 and Scores a Hat-trick of Prestigious Awards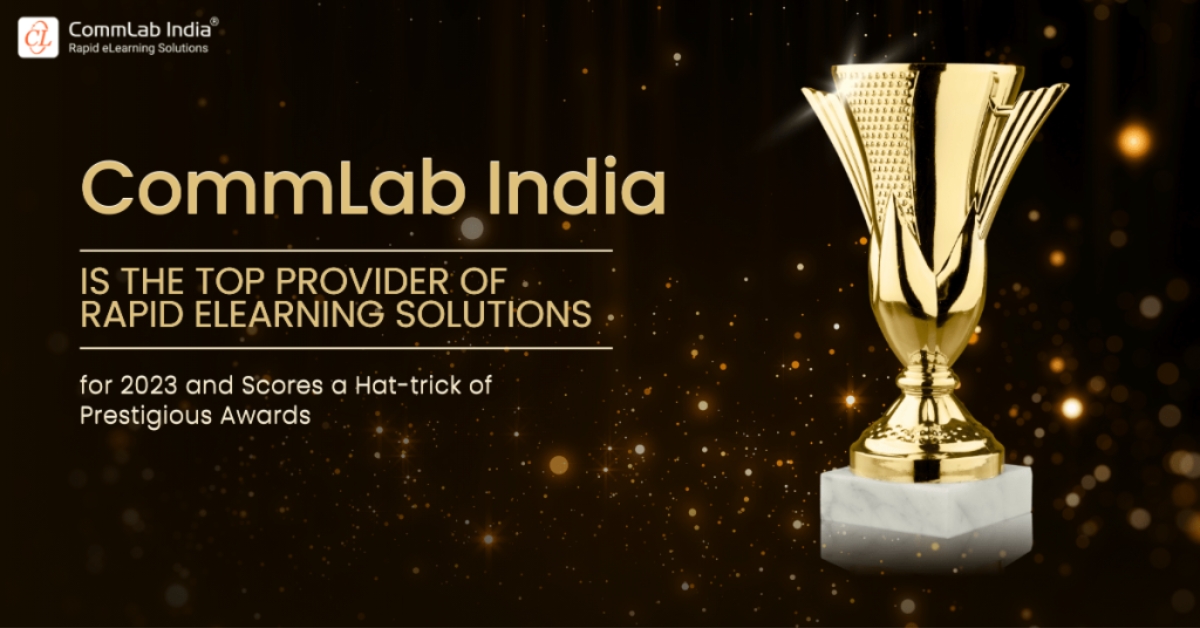 CommLab India, the global champ in offering rapid eLearning solutions for corporate training retained its
#1
spot among the
Top Rapid eLearning Solution Providers
, for 2023, accredited by eLearning Industry.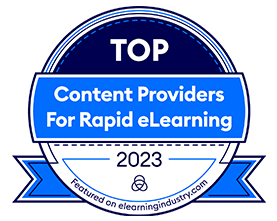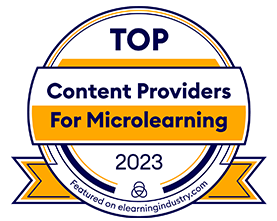 This laurel comes just after a few weeks of CommLab India bagging the second spot among the
Top Providers of Microlearning Solutions
. Earlier this year, CommLab India ranked second among the Top Mobile Learning Content Providers too.
And these awards are a testimony to CommLab India's commitment to help
eLearning Champions
and L&D units impact bottom line through learner-centric online learning solutions that are in sync with the times and learner preferences, without compromisng the efficacy of training.
"Retaining the top spots in all major categories since 2019 is a remarkable achievement and demonstrates our commitment to providing innovative and effective rapid eLearning solutions to our customers", said Dr. Ayesha Habeeb Omer, CommLab India's Co-Founder, and COO.
CommLab India offers rapid eLearning solutions to meet the training requirements of diverse industries on all major topics, such as product and sales, onboarding, software, and compliance training. In 2022, the company developed 13,550 hours of rapid eLearning and 2,210 hours of Microlearning for Fortune 500 customers from industries such as food and beverage, manufacturing, chemical, pharma, tourism, healthcare, and NGOs. Their projects included 4500 courses of rapid Flash to HTML5 conversion, 9 million words translated into 30+ languages, microlearning solutions in various formats for more than 90,000 learners, 6500 hours of LMS administration, and more.
With its proven track record, CommLab India seeks to enrich the L&D community to make training the primary tool for improving human performance. Experienced instructional designers, multimedia specialists, and project managers work together to deliver high-quality, engaging, and effective learning solutions to top global organizations.
"Demand for rapid eLearning solutions will continue to increase, and we are proud to be at the forefront of offering them," said Dr. RK Prasad, Co-Founder and CEO of the company founded in 2000. He added, "We look forward to working with our customers in the coming years to provide innovative and effective eLearning solutions and to build on our success.
About CommLab India:
CommLab India, with more than two decades' experience in the learning industry serving 100 International customers in 30+ countries, is one of the most sought-after global leaders for rapid eLearning solutions. It has been among the top providers of Rapid eLearning and Blended Learning Solutions since 2020 by eLearning Industry.
With its formidable authoring tool expertise and decades of experience in corporate training and instructional design, CommLab India offers rapid eLearning solutions for speed, scale, and value… with any authoring tool for:
Converting of ILT material into instructionally sound, visually appealing, engaging eLearning curriculums, virtual sessions, and other digital learning formats.
Converting legacy courses (from Flash or any other authoring tool) to HTML5, even when source files are not available.

Translating English eLearning c

ourses into 35 international languages – both text and audio.