Hyderabad, India – August 05, 2021
CommLab India Ranks THIRD among the Top Custom eLearning Providers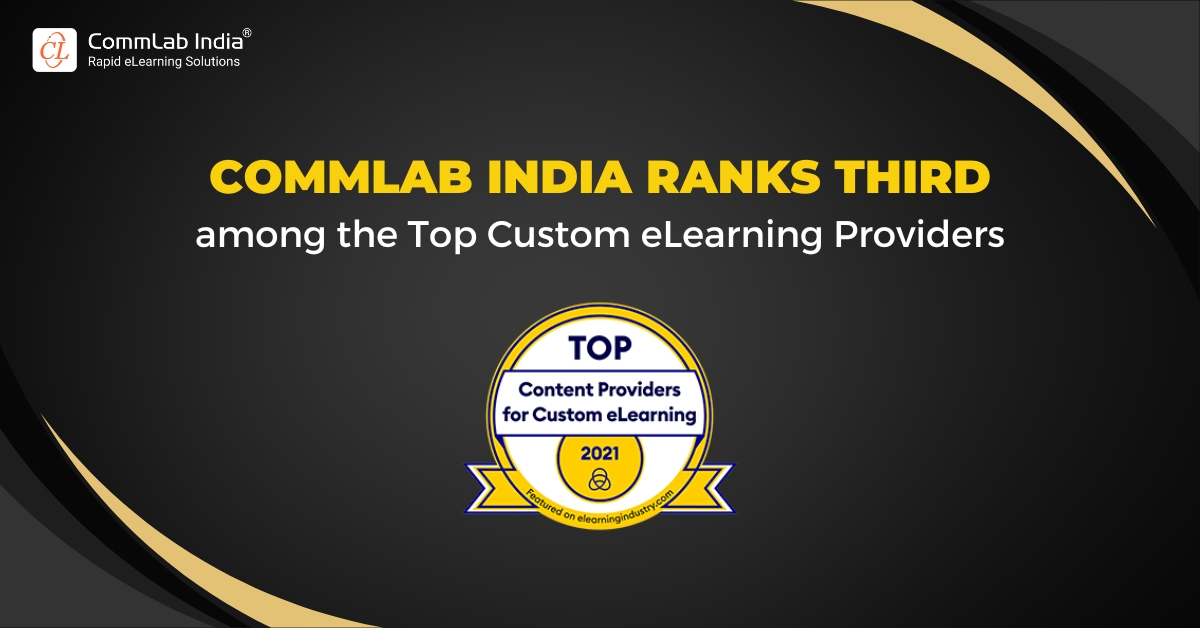 Your organization and your employees are unique! So why settle for generic, off-the-shelf courses? eLearning solutions that are custom made just for your learners will be much appreciated and will also help achieve your organizational goals. CommLab India, the global leader in rapid eLearning, has been ranked third among the top providers of custom eLearning solutions by eLearning Industry! This is a testimony to CommLab India's two decades of experience and expertise in designing and developing learner-centric eLearning solutions.
Among others, eLearning Industry recommends custom eLearning to:
Roll out training that reflects the organization's culture, values, processes, branding
Reuse existing training material and save on cost and time

Help improve learner performance and meet organizational goals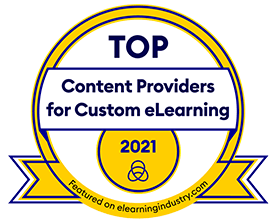 The CommLab India Advantage
CommLab India's USP – rapid eLearning – helps them provide custom eLearning courses at scale and speed without compromising on quality or creativity. CommLab India does that through agile project management and solid instructional design, and by leveraging rapid authoring tools to ensure custom eLearning courses are rolled out within time and well within budget. Their huge pool of project managers, instructional designers, and developers allows organizations to benefit from the services of a dedicated project manager and design team that functions like an extension of their own.
The Consulting Partner
CommLab India consults with the organization, ensures a thorough training needs analysis, and confirms that training is the solution for the performance gap identified through the TNA. They work closely with project stakeholders to decide on the requirement for blended learning solutions or custom eLearning supplemented by digital performance support tools as might be required – based on the training topic and learner demographics.
Custom eLearning Solutions
CommLab India designs and develops custom courses for organizations using the content from their existing classroom training material – all the while ensuring accuracy and engagement aren't lost during the conversion. CommLab India will work with the organization's subject matter experts to fill content gaps, frame appropriate learning objectives, choose the relevant need-to-know content, add formative and summative assessments, include just the right amount of audio – all this according to adult learning principles – to ensure courses are as effective as classroom training, even in the absence of an instructor.
CommLab India offers immersive custom eLearning courses that help learners go from being passive recipients to active participants in their learning, positively impacting learners' knowledge, skills, and behavior. They use popular instructional strategies such as scenarios, Watch-Try-Do simulations, guided learning, game-based learning, and learning through exploration and discovery (LEAD), along with new-age engagement elements such as personalization, open navigation, and empathy.
Value-add Services
Apart from custom eLearning solutions, CommLab India offers the entire gamut of online training solutions:
eLearning translation and localization
Conversion of Flash (or legacy) courses to HTML5
LMS administration services
When you choose CommLab India, you will no longer have to worry about dealing with multiple vendors or missing timelines, or inefficient pricing, or lack of efficient processes.
This is what Dr. Ayesha Habeeb Omer, COO &Co-Founder, CommLab India has to say on receiving the award. "We have witnessed the growth of eLearning, right from its inception in 2000. This versatile learning format has evolved to address changing learner preferences by accommodating strategies such as storytelling and immersive technologies such as VR. We are confident that eLearning will take centerstage in corporate training and are happy to offer organizations custom eLearning solutions that are just right for their employee training – without compromising on quality!"
About CommLab India:
CommLab India, with more than two decades' experience in the learning industry serving 100 International customers in 30+ countries, is one of the most sought-after global leaders for rapid eLearning solutions. It has been ranked first among top providers of Rapid eLearning for 2021 and Blended Learning Solutions for 2020 by eLearning Industry.
With its formidable authoring tool expertise and decades of experience in corporate training and instructional design, CommLab India offers rapid eLearning solutions for speed, scale, and value… with any authoring tool for:
Converting of ILT material into instructionally sound, visually appealing, engaging eLearning curriculums, virtual sessions, and other digital learning formats
Converting legacy courses (from Flash or any other authoring tool) to HTML5, even when source files are not available

Translating English eLearning courses into 35 international languages – both text and audio