Hyderabad, India – June 08, 2017
Effectus LMS Launched by CommLab India With a Focus on Ease of Use and Training ROI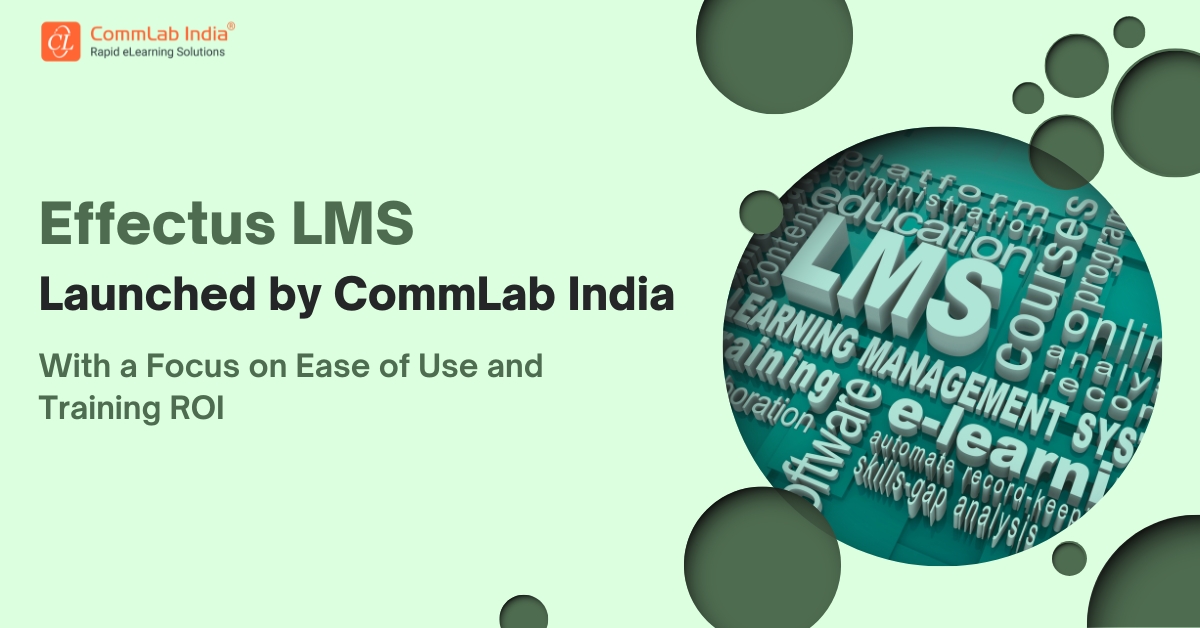 CommLab India, a global leader in technology-enhanced learning solutions, launched a one-of-its kind Learning Management System (LMS) – Effectus – to make online training management easy for both learners and administrators. The LMS is expected to provide a truly user-centric system that focuses on providing the best training ROI.
Though most organizations invest substantially in an LMS, it is often the case that these systems are not utilized fully by administrators, managers, and employees, because the interface is too complicated to navigate.
Dr. Ayesha Habeeb Omer, COO and Co-Founder of CommLab India says, "We have consistently seen that organizations invest in an LMS, only to find it has no takers… those who are willing to explore and utilize it. This is largely because the interface is cumbersome and difficult to navigate, be it for administrators or learners. This negatively impacts training ROI as the LMS becomes just an expensive repository of digital learning resources."
Dr. Ayesha further adds that CommLab India's Effectus LMS has intuitive navigation and visually appealing dashboards that enable users to do any task on the LMS in just a few clicks. As a result, users don't get intimidated by the system, but enjoy using it and benefit from it.
Effectus LMS has exiting features in store:
Gamification features to engage learners and increase LMS usage
Social collaboration features to help learners connect and interact with peers
Mobile and offline access to training resources, for anytime, anywhere learning
Ease in completing administration tasks
Real-time reporting and data export
Effectus LMS is available in 3 pricing options to suit all business requirements and budgets.
To learn more about features and pricing options, visit this site.
About CommLab India:
CommLab India
is a custom eLearning solutions company based in India. Since 2000, it has been providing state-of-the-art eLearning services to organizations across the world in the areas of Custom Courseware, Catalogue Courses and Learning Technology. Some of its reputed clients are BC Hydro, George Washington University, Kawasaki and Deloitte. They are preferred vendors to some Fortune 500 companies such as Alcoa, Unilever and Pepco Holding Inc. If you'd like more information on this topic, please
Contact Us
.