Hyderabad, India – December 27, 2019
CommLab India Collaborates with iSpring for a Webinar on eLearning Trends 2020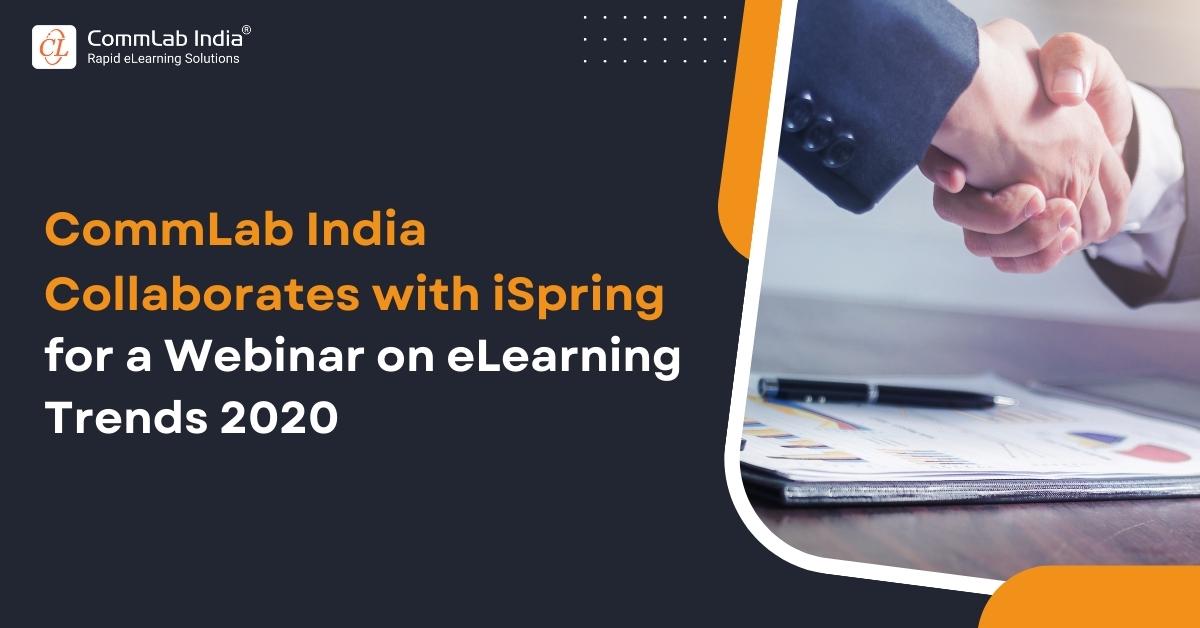 CommLab India, a global industry leader in rapid eLearning solutions will team up with iSpring to present a webinar on the promising eLearning trends for 2020. iSpring is a global leader in providing world-class content authoring technology for eLearning.
A couple of trends in eLearning have evolved by leaps and bounds over the years and this webinar titled 'The Real eLearning Trends for 2020' aims to educate L&D professionals on the eLearning trends that are being increasingly adopted by top-performing companies across the globe. The webinar will be hosted on January 9th, 2020 between 12:00pm – 1:00pm EST.
CommLab India's experience in working with global clientele places the company in a formidable position to identify eLearning trends that offer real value to corporate training. The webinar will be presented by Tarun Johnson, Director – Customer Experience (Americas), CommLab India, and aims to particularly pay attention to the following trends:
Leveraging blended learning for onboarding
Designing eLearning for right-brainers
Practising empathy in learning through virtual reality
Enhancing learning experiences with artificial intelligence
Utilizing the LMS for artificial intelligence
CommLab India believes that these eLearning trends will make a remarkable difference to employee performance and organizational development. The webinar focuses on some key training challenges that organizations face.
Organizations welcoming millennials and Gen Z into their workforce would benefit from onboarding programs that move away from the standard brick and mortar classroom training and introduce a blend of classroom and online training.
The creative economy demands that learners capitalize on the right side of their brain to create a productive workplace. Keeping this in mind, this webinar plans to address how to create eLearning that's aligned with the six senses of right-brain thinking.
Learners learn better when they are emotionally involved in the learning process and this can be achieved by weaving empathy in training. With an increasing number of organizations looking at latest technologies such as virtual reality (VR) and artificial intelligence to deliver learning that appeals to learners emotionally and adapts itself to learners' learning needs, this webinar plans to explore the aspect of using these technologies in eLearning.
Measuring the effectiveness of training, a perennial challenge that organizations face, can be dealt with effectively by the use of learning analytics. For organizations looking at learning analytics with minimum investment, this webinar takes a look at leveraging the LMS for effective training. The webinar will also look at the metrics that a customized LMS can report on.
Registrations for this webinar can be completed using this link.
Here's what Dr. Ayesha Habeeb Omer, COO and Co-Founder, CommLab India, has to say on this upcoming webinar, "The knowledge that will be shared in this webinar on eLearning trends is going to be handy for L&D professionals as it comes from the experience that we've had working with organizations across the globe, while at the same time focusing on the latest technology. I am extremely happy that we're collaborating with iSpring on a webinar that aims to educate L&D professionals on the trends that will enhance learning in 2020."
About CommLab India:
CommLab India is the most sought-after global leader for its rapid eLearning solutions. The company has 100 International customers in 30+ countries. It has adjudged winner of the Silver Award among the top eLearning content development companies for 2019 by eLearning Industry.
With our formidable authoring tools expertise and decades of experience in corporate training and instructional design, we offer rapid eLearning solutions for speed, scale and value with any authoring tool:
ILT material conversion into instructionally sound, visually appealing, engaging eLearning curriculums and other digital learning formats.
Legacy Course Conversions from Flash or any other authoring tool to HTML5, even if you do not have source files.
eLearning Translation of English eLearning course into 35 international languages – both text and audio.