Hyderabad, India – June 25, 2019
Discover the Perfect Means to Beat the Impact of 'End of Flash' on Your Current Training Live Webinar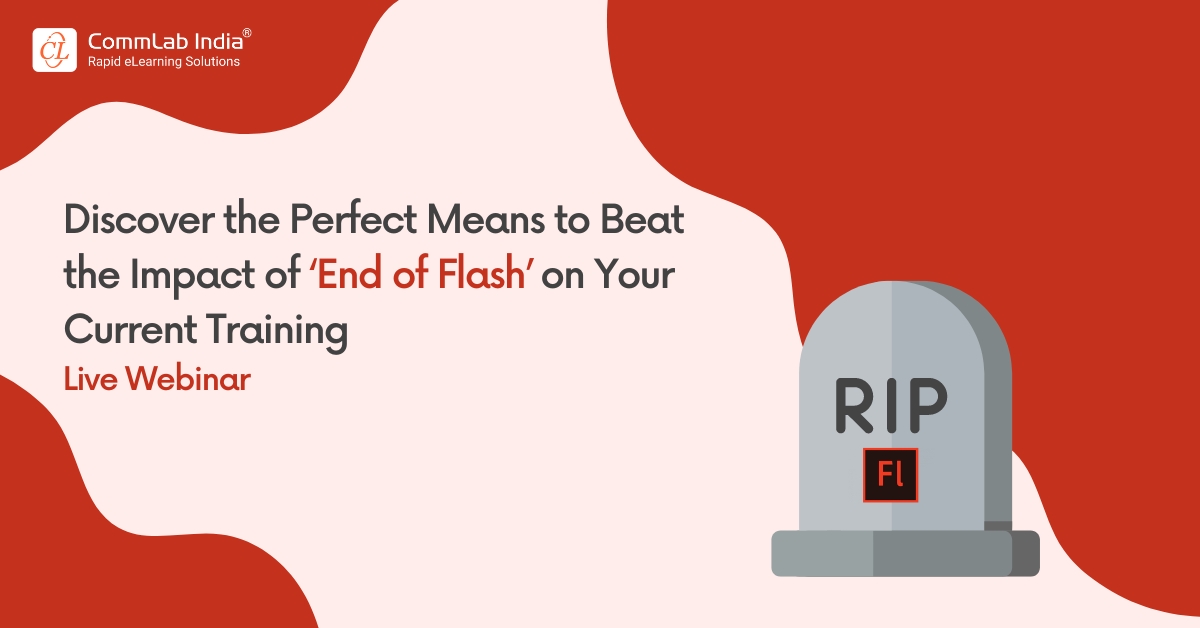 CommLab India, the most sought-after provider of rapid eLearning solutions and authoring tools expert is hosting a much needed webinar on a topic that's foremost in the minds of training managers across the global – the effect of the 2020 end of Flash on current training offerings and what is at hand to ensure uninterrupted learning.
Organizations using eLearning for training since the last decade are bound to have courses developed in Flash or courses with Flash components (such as animations). With Adobe pulling the plug on Flash by the end of 2020 and major browsers such as Chrome and Mozilla blocking Flash output, these Flash courses will become unusable and interrupt training.
Forward-looking organizations are migrating to a new technology (HTML5) to overcome the interruption caused by the phase out of Flash and are future-proofing their eLearning courses. Others staring at this abyss, still on the lookout for a solution are often beset by questions such as:
How will the end of Flash affect our training?
What about courses developed in obsolete software?
Is there an alternative to extend the usability of Flash courses?
Can Flash courses be converted to a new format, even if we don't have the source files?
Will the conversion also give an opportunity to update courses for content and instructional treatment?
CommLab India is hosting a one-hour webinar 'About CommLab India the 2020 Phase Out of Adobe Flash – What's the Impact On Your Training?' to help organizations find answers to these questions, and more. With its experience in converting close to 5000 Flash courses to HTML5, CommLab India has hands-on experience in dealing with every contingency, right from helping organizations identify their Flash-based assets to converting courses without source files, converting courses developed in obsolete software, following robust quality check processes, and achieving scale quickly for rapid conversion.
The webinar draws on this expertise of CommLab India to deliver practical insights such as:
Ways to identify Flash assets
Alternative to Flash to reuse existing courses
4 conversion strategies – Record, Republish, Rebuild, Redesign – that take care of every conversion requirement
Pre-conversion steps and the conversion process
Also gain insights on prioritizing your conversion requirements, the opportunities for updates the conversion offers, the role of authoring tools, and not to mention, the advantages of making courses multi-device, multi-browser compatible.
Join the webinar on July 17, 2019 – 10:00 AM EST, 4:00 PM CEST.
"This webinar is part of our initiative to educate the L&D fraternity on the repercussions of failing to react in a timely manner to the end of Flash and to introduce the alternate technology at hand – to not just convert but also enhance Flash courses. We also want to dispel common myths and perceived notions about the restrictions surrounding the conversion and give organizations the true picture" signs off Dr. Ayesha Habeeb Omer, CEO & Co-Founder, CommLab India.
About CommLab India:
CommLab India is the most sought-after global leader for its rapid eLearning solutions. The company has 100 International customers in 30+ countries.
With our formidable authoring tools expertise and decades of experience in corporate training and instructional design, we offer rapid eLearning solutions for speed, scale and value with any authoring tool:
ILT material conversion into instructionally sound, visually appealing, engaging eLearning curriculums and other digital learning formats.
Legacy Course Conversions from Flash or any other authoring tool to HTML5, even if you do not have source files.
eLearning Translation of English eLearning course into 35 international languages – both text and audio.