Hyderabad, India – December 04, 2018
Annual Thanksgiving Celebrations of
CommLab India - 2018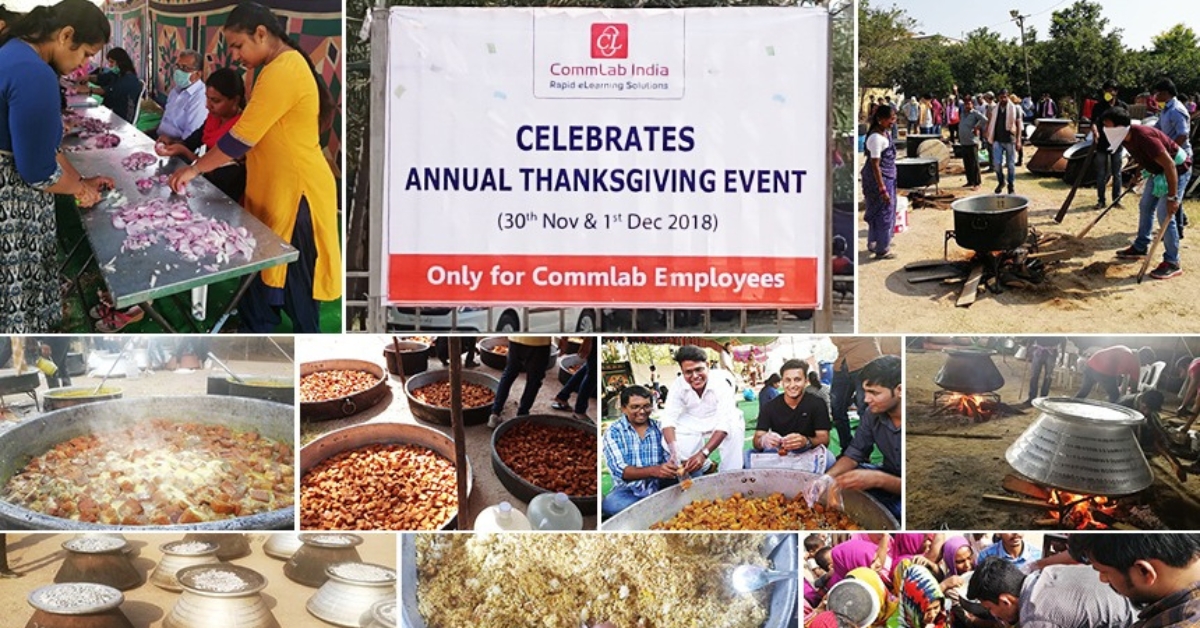 CommLab India, one of the most sought-after rapid eLearning solutions providers and authoring tools experts, has marked the completion of yet another successful year by extending a helping hand to the underprivileged in its immediate community – the bustling twin cities of Hyderabad and Secunderabad.
Every year, we celebrate Thanksgiving by feeding the needy, a practice that started 13 years ago, reaching 500 people in the first year. In its 14th year this December, the event was held across two days during which we distributed piping hot food to 8000 people in slums, orphanages, old-age homes, and shelters for the homeless.
Everyone from CommLab India took part in the massive task, with the first day being dedicated to the preparation of Double Ka Meetha (a dessert made with spice-infused milk and fried bread) and prep work for Chicken Biryani – 2 Hyderabadi delicacies. The second day started very early, with CommLab India's in-house cooks kicking off the first batch of Biryani at 3 in the morning.
The rest of the day unfolded at a brisk pace with one group involved in the cooking, another in packing the food for distribution, while another group set out in pairs in autorickshaws to distribute the food at pre-identified slums, orphanages, old-age homes, and other localities. The smiles on the recipients' faces were well worth the sweat and toil put into ensuring this huge endeavour was a success.
Apart from giving employees the fulfilling opportunity to help the downtrodden, this 2-day event also gave them the opportunity to make new friends and renew old friendships. "It was a great team-building and team-bonding exercise that gave us the chance to work with colleagues from various departments", shared a senior member of the Technology team.
"Inspired by Mother Teresa's adage to feed just one, if not a hundred, we dedicate two days every year to make a difference in the lives of our less fortunate brethren and bring a smile to their faces. This sensitizes us to our blessings and enables us to share the same with our fellow beings. What could be a better way to express our gratitude for the successes enjoyed through the year", signs off RK Prasad, CEO & Co-Founder CommLab India.
About CommLab India:
CommLab India is the most sought-after global leader for its rapid eLearning solutions. The company has 100 International customers in 30+ countries.
With our formidable authoring tools expertise and decades of experience in corporate training and instructional design, we offer rapid eLearning solutions for speed, scale and value with any authoring tool:
ILT material conversion into instructionally sound, visually appealing, engaging eLearning curriculums and other digital learning formats.
Legacy Course Conversions from Flash or any other authoring tool to HTML5, even if you do not have source files.
eLearning Translation of English eLearning course into 35 international languages – both text and audio