Who is an eLearning Champion?
Today, technology-enabled learning contributes more strategically than ever before to the achievement of organisational objectives. To put in simple words, any learning which is facilitated by technology is eLearning and anyone with a passion for eLearning may become an eLearning Champion. If you are someone who has used eLearning in your training approach before that may also qualify you to become an eLearning Champion.
Who is an eLearning Champion?
A eLearning champion is someone who:
Helps you understand the fundamentals of online training.
Aids you in planning, creating, developing, and implementing eLearning in your organisation.
Convinces stakeholders of the importance of eLearning.
How can you succeed in this fast-paced, constantly evolving profession given the various changes and verify that your online training meets all of the business objectives? Given the multiple changes impacting the L&D sector, how can you flourish in this fast-paced, always developing profession? Prepare for a makeover as the role and image of L&D change! Investing in yourself is the most certain way to achieve, but do you realize why implementing eLearning in your business is critical? How will it benefit you personally and the company as a whole? Continue reading to learn more.
Trivia Time!
Did You Know?
Global eLearning market to value is USD 1 trillion by 2028
Average percentage of formal learning hours available using technology are 80.3%
Source: gminsights
WHAT ARE YOUR CAREER GOALS?
To lay a strong foundation to you becoming an eLearning champion in your organization, understand your career paths and know how you may advance, no matter where you are in this industry—at the bottom, the middle, or the top. There are two choices examined in the L&D professional work path:
One part is a professional track. You may begin as a practitioner, an instructional designer, a project manager, or a classroom trainer. As you advance in your career, you gain additional skills, certifications, and experience and eventually become a programme leader. The professional track is where a person excels or achieves expertise in their subject matter. It goes from being a practitioner to a senior practitioner to a program manager to an L&D leader. And some of them may even branch off and become consultants, authors, or move to critical advisory roles in large corporations or organizations like the UN.
The second track is the managerial or executive track, where L&D professionals go into functional areas. You start your career and grow at some level, then make a kind of horizontal shift into functions. For example, you may begin at HR or move into operations, marketing, or sales and then advance in your career and then become an executive manager.
Whether you're just starting out in this profession, halfway in the midst, or even at the end, I'd like you to get your notepads out and start writing. I'd like you to jot down your professional objectives – for the next three to five years or perhaps a single year. Connect it to your financial and personal growth goals. What do you want to achieve in the next five years? 10, 15, 20 years? Setting a goal is a good starting point. Always have three goals: career, financial, and personal growth
Do you want to be a professional or an executive? What do you want to focus on? The professional track is one option, while the management or executive track is another. People prosper on both paths/tracks. Just scribble your goals because one cannot underscore how important it is to jot such things down. You may return to them later to edit, polish, and make them smart objectives. However, we seldom revisit them; instead, by just putting them down, our subconscious minds take over and guide our behaviour toward achieving those objectives. So please write out your goals.
Finally, what are your priorities for 2023? When you write down your objectives, ensure your goals are detailed, quantifiable, achievable, practical, and time-bound. Your smart objectives!
Here's is a quick guide and steps to begin eLearning in your organizations
Determine the Need for eLearning
Examine your learners' preparedness
Determine the infrastructure needs
Examine the content's readiness.

Choose a plan for implementation.
CHALLENGES AND OPPORTUNITIES
Globalization, changing demographics, information explosion and enabling technology impact all business, making a level playing ground for small and big companies, national and international organizations. Globalization, changing demographics, and changing technology or the role of technology in learning and development are three categories of challenges and opportunities that the L&D and training communities confront today. When we see these three enormous glacial shifts in our society's economic practices, we can also see that any company may benefit from all three possibilities. What is a company's competitive edge in this fast-paced environment? What sets a firm apart from its competitors in an era where globalization, technology, and labour are available to both large and small businesses?
The answer is YOU! The competitive advantage is people. Because it is you, various L&D functional heads and corporate training leaders, who help your organization set apart from its competitors despite the challenges and help achieve the business goals in the long run.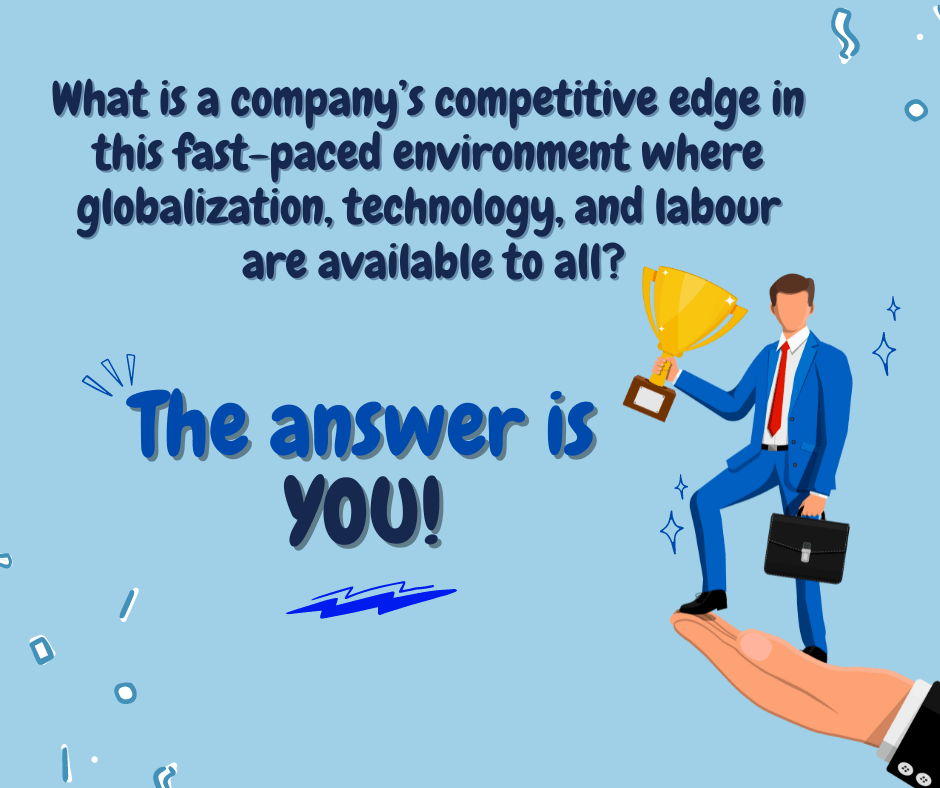 That is a distinct advantage of a company, and L&D professionals, play an important part in building it by:
Recognizing the best eLearning solutions to deploy in your training platforms with the aid of eLearning
Improving learning results through improved training efforts
Identifying the appropriate tools and technologies for eLearning development implementation
Grab a copy of the comprehensive guide that will assist YOU with all aspects of eLearning implementation right now!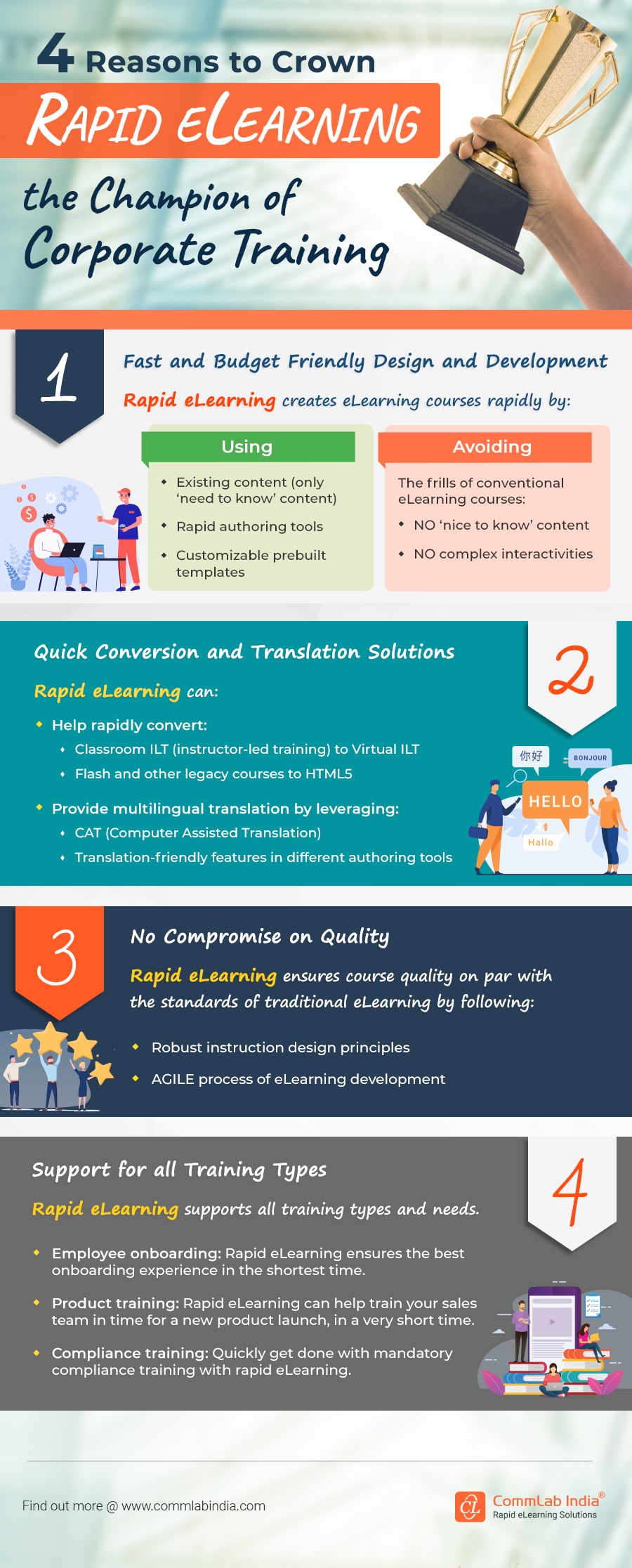 PEOPLE HAVE A COMPETITIVE ADVANTAGE BECAUSE THE ODDS ARE IN THEIR FAVOR
The environment for a training professional is quite expensive; consequently, one can witness a lot of little internal ecosystem aspects both inside and outside the business, like self-organized courses, online communities, professional learning network, and numerous company resources. Every month, hundreds of resources, technologies, and tools arrive, many of which are free, allowing us to pick and choose what we want to provide to our workforce who work with a variety of components such as professional learning networks, online communities, online resources, and physical and virtual events.
The road map is everything you need to know about organizing, training, and branding yourself and advance your profession in the following ways:
Please prioritize your company first and foremost.
Be as knowledgeable about your organization as anybody in sales, marketing, manufacturing, research and development, or senior management.
Be knowledgeable about your goods, customers, rivals, and difficulties. How many of you have pulled out your annual report, downloaded it, and reviewed it to see how your company performed? I don't think many L&D staff are interested in statistics. How many of us read the CEO's welcome letter? This mentality has been noted in certain L&D specialists who are more devoted to the L&D profession than their business.
Be familiar with your client, internal customers, or company. Whether you've been with the firm for a year, ten or twenty years, you must be familiar with your client, internal customers, or organization. That is a no-brainer.
However, one factor that is sometimes forgotten is the importance of branding oneself and your L&D fraternity in general.
WHAT IS THE ROAD MAP FOR ELEARNING CHAMPION?
The road map is everything you need to know about organizing, training, and branding yourself.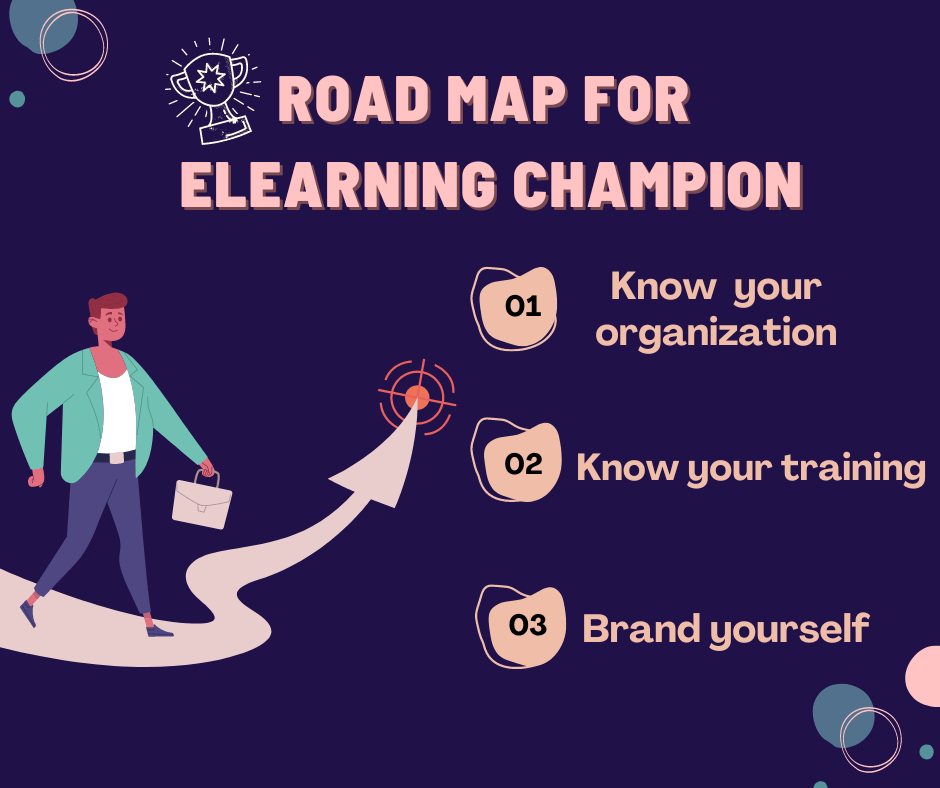 Know your organization's:
Products
Customers
Competition
Challenges
Focus & Plans
Know your training:
Effective Learning Elements
Training Needs Analysis
Delivery Formats
Training Platforms
Measurement & Analytics
Brand yourself:
Be active on social media
Follow influencers in your domain
Network with peers
Invest in personal development
Attend conferences & events
The road map will teach you all you need to know about organizing, training, and branding yourself – being an L&D professional, training manager, Instructional Designer, LMS administrator, Subject Matter Expert or an eLearning enthusiast.