Hyderabad, India – Sep 15, 2020
CommLab India Celebrates 20 Years of eLearning Growth and Excellence!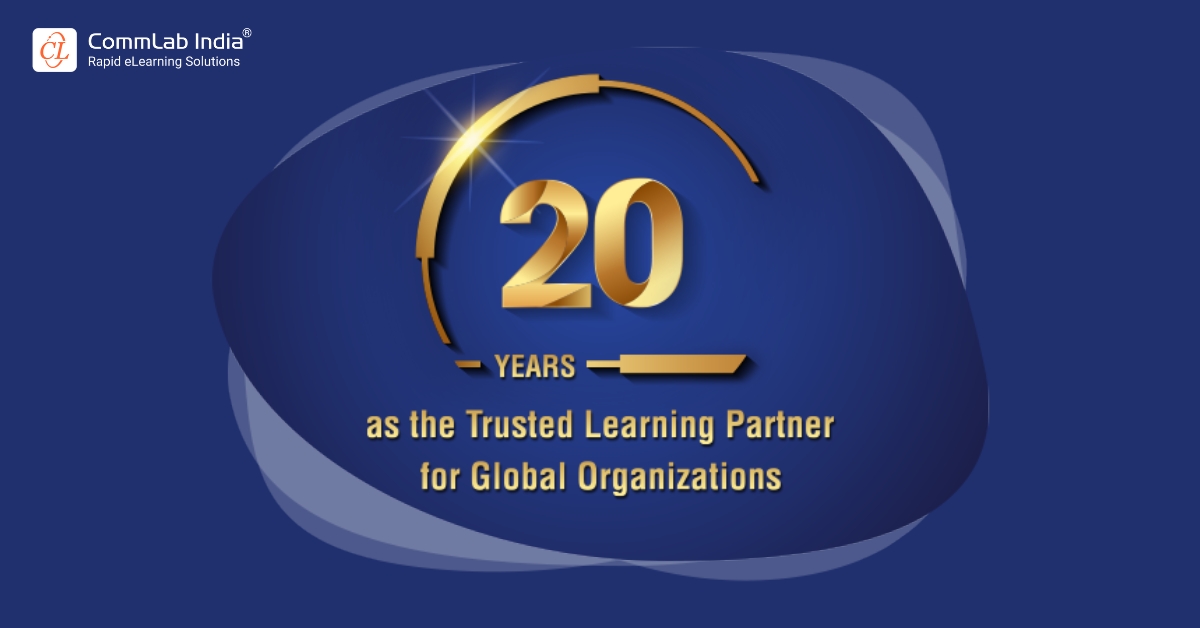 CommLab India, a favored eLearning partner for organizations across more than 130 countries and the global leader in rapid eLearning solutions, recently celebrated its 20th corporate anniversary.
Since its inception in 2000, the company has been catering to the online training requirements of corporates across the globe. It has been at the forefront of digital learning technology implementation, adapting and reinventing itself to stay relevant and competitive in the face of constantly changing industry requirements.
Commlab India has come a long way from its humble beginning with 3 staff members to the current 150 employees. The company has built a tradition of excellence in online training solutions and has worked with global conglomerates across various industries to design world-class training programs.
Apart from rapid eLearning, the company's key services include Flash to HTML5 conversion, classroom training to eLearning conversion, eLearning translations, and LMS services. The company has many firsts to its credit – it was the one of the first to promote rapid authoring tools for eLearning development and has extensive experience and expertise in most of the popular authoring tools used for content development. CommLab India's commitment to strong customer relationships makes them a reliable partner to meet customers' evolving business needs.
The company celebrates its anniversary every year by inviting all employees along with their families to an Open House event. This year too was no different, except that they moved the loyalty celebrations to a virtual platform. The event began with greeting the families followed by a speech from the company's CEO, Dr. RK Prasad. Each team then shared their achievements for the year followed by a virtual meetup with employees' families. A sumptuous 'at home' feast sponsored by the company for its employees and families preceded the virtual event.
CommLab India's founders Dr. RK Prasad and Dr. Ayesha Habeeb Omer had this to share. "We take great pride in what we have been able to accomplish in the last 2 decades. It is a significant milestone because it means our clients believe in the value of our work. We would like to express our gratitude to our employees, customers, and well-wishers, without whom we could not have achieved this success."
About CommLab India:
CommLab India, with more than two decades' experience in the learning industry serving 100 International customers in 30+ countries, is one of the most sought-after global leaders for rapid eLearning solutions. It has been ranked first among top providers of Rapid eLearning and Blended Learning Solutions for 2020 by eLearning Industry.
With its formidable authoring tool expertise and decades of experience in corporate training and instructional design, CommLab India offers rapid eLearning solutions for speed, scale, and value… with any authoring tool for:
Converting of ILT material into instructionally sound, visually appealing, engaging eLearning curriculums, virtual sessions, and other digital learning formats
Converting legacy courses (from Flash or any other authoring tool) to HTML5, even when source files are not available

Translating English eLearning courses into 35 international languages – both text and audio