Hyderabad, India – January 02, 2020
Join CommLab India for a Live Webinar on the Real eLearning Trends for 2020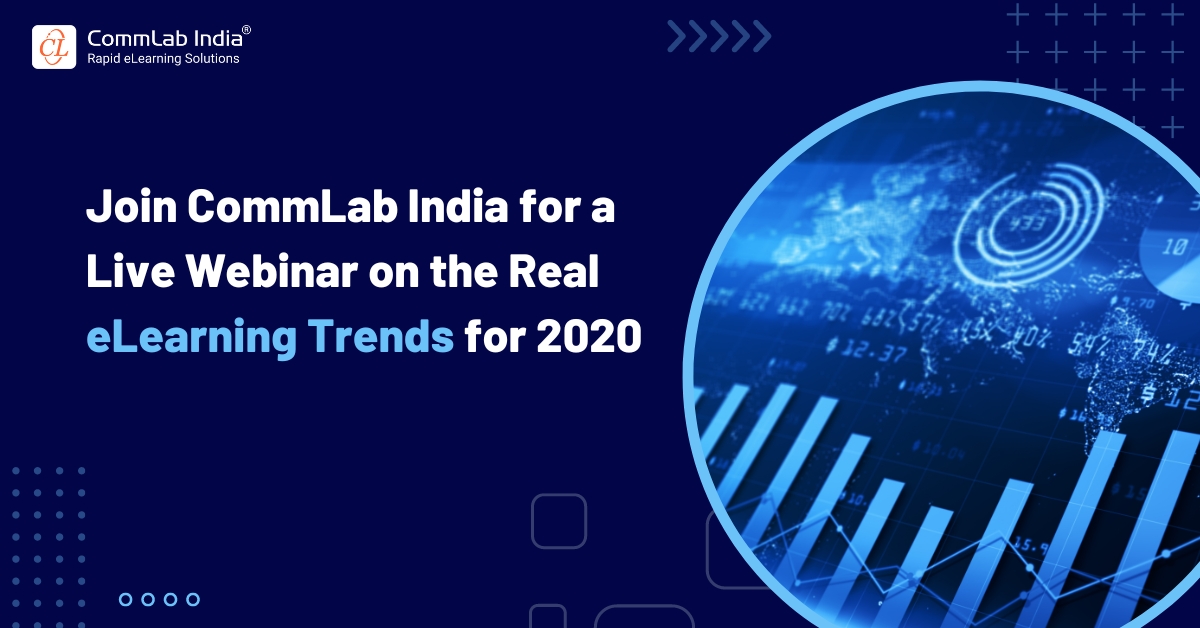 CommLab India, the most sought-after provider of rapid eLearning solutions and authoring tools expert is all set to help the L&D community kickstart a successful 2020 by hosting a live webinar on the eLearning trends for 2020. The webinar being held on January 23 focuses on the real trends being adopted by top-performing organizations across the globe.
The webinar will talk of trends that are becoming the norm as well as those making their presence felt. Trends are not just shiny new baubles. It's not about adopting technologies such as Artificial Intelligence (AI) only because everyone else seems to be doing so. A trend should be about enhancing learner engagement and facilitating effective knowledge transfer in today's highly competitive, dynamic environment that's open to several distractions.
And that's precisely the reason best-in-class organizations are adopting new learning strategies to address the right brain aptitudes, embracing the mobile-first approach in design, and adopting microlearning for culture building. Technology is helping organizations enhance the value of training in the form of mobile apps that offer offline access to knowledge resources and streamline multi-level operations. AI is being used to generate subtitles and vocabulary matches that go a long way in reducing eLearning translation costs, not to mention the reduction in time and effort.
The webinar also highlights how the humble LMS can be customized to enable learning analytics. In fact, the latest LMS standards such as xAPI are being increasingly used to track learning activities – online and offline – to yield a composite view of each individual's learning path.
There's so much more in store as the webinar explores the unique spin being given to onboarding, blended learning, assessments, explainer videos, and more. Organizations needn't start from scratch – they can get started with what they have.
So if you are looking to bolster your eLearning initiatives this new year, make it a point to attend the webinar 'The Real eLearning Trends for 2020' hosted by CommLab India on January 23, 11:00 AM EST. Visit Commlab India Webinars for more details and to complete the simple registration process.
"Through this webinar we hope to make the overcrowded arena of eLearning trends less hazy for organizations looking to offer their learners the best learning experiences. As these trends are based on our hands-on experiences, we are uniquely qualified to not just tell where each trend will work, but also to help participants match the best solution with their training requirements." said Dr. Ayesha Habeeb Omer, COO & Co-Founder, CommLab India about the webinar.
About CommLab India:
CommLab India is the most sought-after global leader for its rapid eLearning solutions. The company has 100 International customers in 30+ countries. It has adjudged winner of the Silver Award among the top eLearning content development companies for 2019 by eLearning Industry.
With our formidable authoring tools expertise and decades of experience in corporate training and instructional design, we offer rapid eLearning solutions for speed, scale and value with any authoring tool:
ILT material conversion into instructionally sound, visually appealing, engaging eLearning curriculums and other digital learning formats.
Legacy Course Conversions from Flash or any other authoring tool to HTML5, even if you do not have source files.
eLearning Translation of English eLearning course into 35 international languages – both text and audio.