Hyderabad, India – April 19, 2021
CommLab India Thanks Employees for a Healthy Performance in 2020-21 with Increments and Bonuses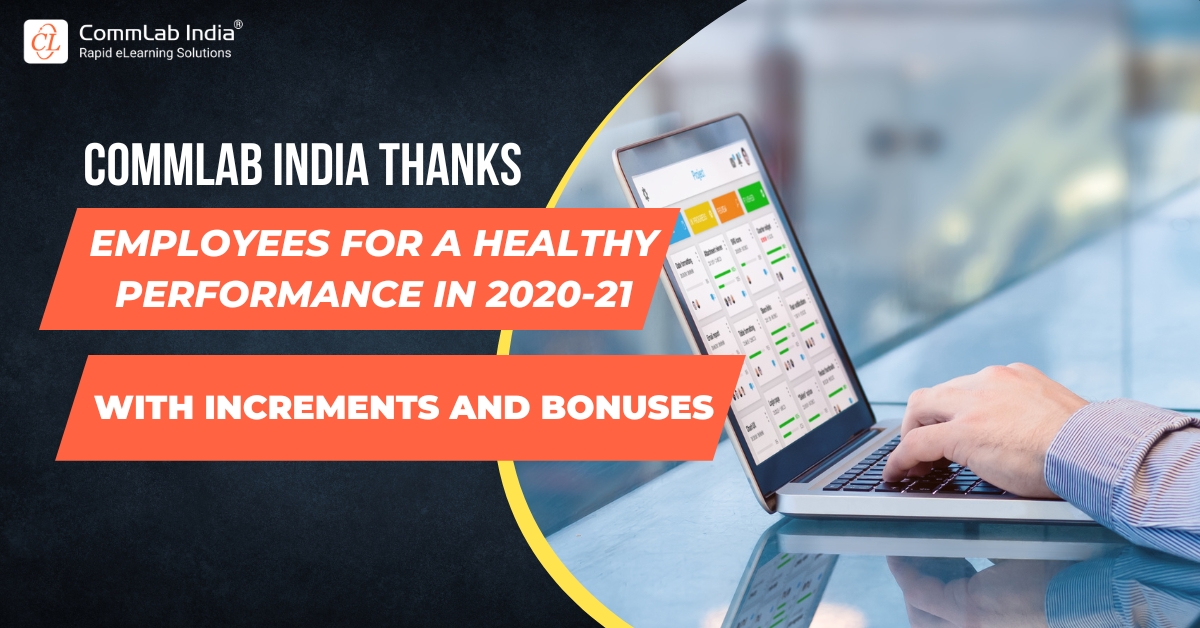 CommLab India, the global leader in offering rapid eLearning solutions for corporate training posted a healthy 28% growth in sales in 2020-21. CommLab India also added 15 new customers from US and Europe to their list of loyal customers. New customers belong to the medical devices, farming, hospital & healthcare industries. CommLab India was also recognized as the top rapid eLearning solutions provider for 2021 and ranked second among the top microlearning and virtual training providers for 2020 – by eLearning Industry.
CommLab India thanked its employees for standing by them through the rough times. As a team we could deliver 990 hours of eLearning, 270 hours of legacy course conversion to HTML5, and about 220 hours of eLearning translations. CommLab India's work in helping its customers provide uninterrupted training to their employees earned it numerous accolades. And it onboarded 51 new talented employees in the last year to meet the growing need for eLearning.
CommLab India stayed true to its core values of employees first, for customer delight! To acknowledge the contribution of the CommLab India team, each employee was given a minimum 1-month salary as bonus and top performers were paid 2-3 times their salary as bonus. Employees also got increments of 15%-30% depending on their performance. CommLab India paid for the COVID-19 tests of employees and offered medical aid to those who were affected or hospitalized, and their families.
CommLab India also extended a helping hand to the underprivileged affected by COVID-19 by feeding 8500 of them through their annual thanksgiving event. They also sponsored 9200 meals in October and March in collaboration with their customers. They feed 300 people every month on a continual basis.
Speaking at the end of the financial year 2020-21, Dr. Ayesha Habeeb Omer, COO & Co-Founder of CommLab India, said, "We are happy to have sustained and grown during the last year. We thank all our customers and employees who have stood by us. We are confident of witnessing a positive growth in the coming year too, and foresee a spurt in demand for blended learning services including virtual instructor-led training, microlearning, and eLearning translations. We hope the coming year will turn out to be better for all of us!"
About CommLab India:
CommLab India, with more than two decades' experience in the learning industry serving 100 International customers in 30+ countries, is one of the most sought-after global leaders for rapid eLearning solutions. It has been ranked first among top providers of Rapid eLearning for 2021 and Blended Learning Solutions for 2020 by eLearning Industry.
With its formidable authoring tool expertise and decades of experience in corporate training and instructional design, CommLab India offers rapid eLearning solutions for speed, scale, and value… with any authoring tool for:
Converting classroom material into instructionally sound, visually appealing, engaging eLearning curriculums, virtual sessions, and other digital learning formats.
Converting legacy courses (from Flash or any other authoring tool) to HTML5, even when source files are not available.

Translating English eLearning courses into 35 international languages – both text and audio.