Hyderabad, India – May 26, 2022
It's Synergy Time – L&D Pros, Join LearnFlux by CommLab India [June 21-23, Virtual]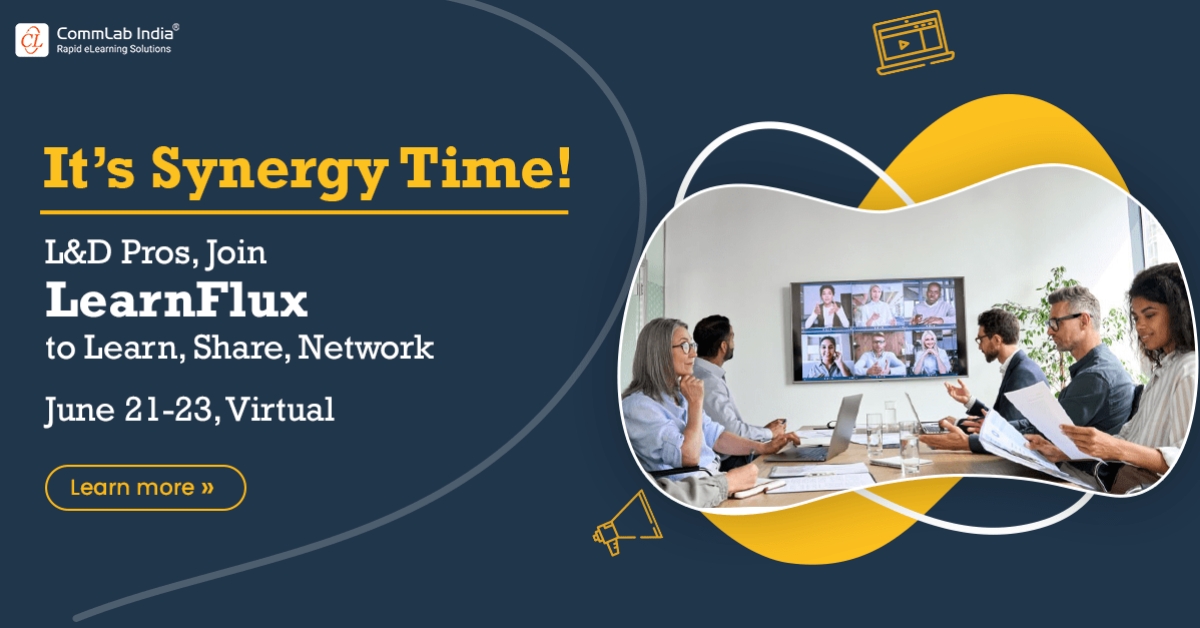 It's that time of the year again! CommLab India, the global leader in rapid eLearning solutions, invites L&D pros and the corporate training fraternity for the second edition of their eagerly awaited event – LearnFlux 2022, from June 21-23. And the icing on the cake? The fact that CommLab India has just been named the 2022 Custom Content Development Watch List Company by Training Industry!
LearnFlux is CommLab India's virtual learning hub that aims to help L&D professionals maximize the impact of their training solutions. Training that is so crucial to improve organizational productivity, ensure customer satisfaction, improve employee retention, and more – dealing with change management, tools and process training, and everything in between. And L&D is now more than ever, expected to play a major role in building and making multi-generational hybrid workforces more effective and efficient.
If you are an L&D pro, interested in virtual learning, sharing, and networking, join LearnFlux – to strengthen your training initiatives through adopting best practices, get inspired by success stories, revisit the basics, explore the latest trends, and more.
When you join LearnFlux, you'll get to:
Meet L&D peers across domains
Explore an eclectic range of topics – from training needs analysis and L&D strategies, to revitalizing learner engagement in the online format, designing visual engagement, designing eLearning games, and much more
Avail the free 'Welcome Kit'
Contribute to a noble cause (as has been the norm, CommLab India will sponsor 20 meals for each registration)
Get access to all session recordings and handouts/resources
To top it all, you also get to join the LearnFlux LinkedIn group for unlimited networking!
What are you waiting for? Register today and save the dates June 21-23!
This is what Dr Ayesha Habeeb Omer – COO & Co-Founder, CommLab India, had to say on being put on the Watch List, "This is a testimony to the value we offer our customers through online training that's engaging and learner-centric, maximizing ROI. Our training solutions are instructionally sound, and in sync with learner preferences & stakeholder requirements. To explore how online training can become your employees' steppingstone to success and elevate L&D to the next level, join us in LearnFlux – June 21-23, 2022!"
About CommLab India:
CommLab India, with more than two decades' experience in the learning industry serving 100 International customers in 30+ countries, is one of the most sought-after global leaders for rapid eLearning solutions. It has been ranked first among the top providers of Rapid eLearning and Blended Learning Solutions since 2020 by eLearning Industry.
With its formidable authoring tool expertise and decades of experience in corporate training and instructional design, CommLab India offers rapid eLearning solutions for speed, scale, and value… with any authoring tool for:
Converting ILT material into instructionally sound, visually appealing, engaging eLearning curriculums, virtual sessions, and other digital learning formats.
Converting legacy courses (from Flash or any other authoring tool) to HTML5, even when source files are not available.

Translating English eLearning courses into 35 international languages – both text and audio.