Hyderabad, India – January 22, 2020
Learning Analytics 101 eBook – CommLab India's Latest Launch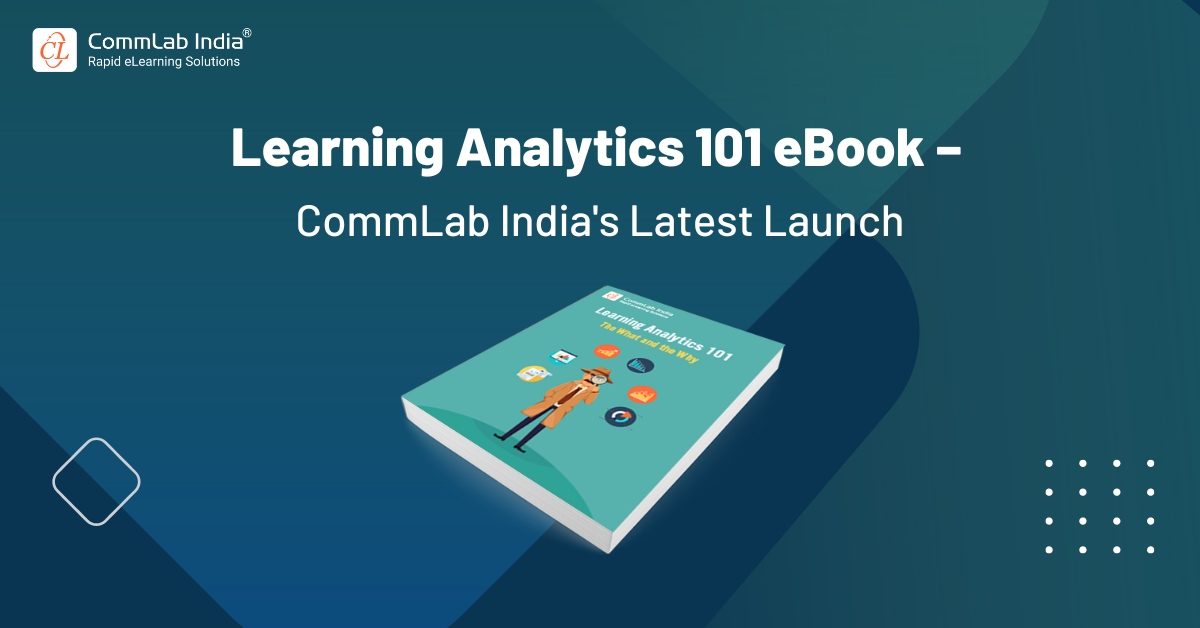 CommLab India, a global industry leader in rapid eLearning solutions has launched an eBook titled 'Learning Analytics 101' that's aimed at providing beginners in learning analytics with the essentials on this topic.
With organizations and businesses moving toward a data-driven structure to measure and monitor various aspects of the business, it has impacted the field of learning as well. Organizations that are looking at personalized learning solutions would prefer to know how training has impacted their bottom line. Learning analytics provides the key, and this eBook aims to present the essence of learning analytics in a manner that's easy enough for beginners to understand.
This eBook represents the culmination of CommLab India's experiences in working with training managers and L&D leaders across industries and verticals. With measuring the effectiveness of learning and ROI on learning being a chief concern for most organizations, strategically implementing learning analytics has become a game-changer in organizational learning and development.
The 'Learning Analytics 101' eBook takes readers through the fundamentals of learning analytics and answers the following questions:
What is learning analytics?
What are the elements involved in learning analytics?
What are the different types of learning analytics?
How does one implement a data-driven learning culture?
How can implementing learning analytics enhance the ROI of training?
Organizations that are just getting started with learning analytics can benefit highly from this eBook as it explores the option of using the LMS as a gateway to implement learning analytics.
For readers who are aware of learning analytics, this eBook is a good reference point to understand the different types of learning analytics and evaluate which level meets their training needs. The eBook also reiterates the fact that data is of no use if you fail to act on it. The ultimate goal of implementing learning analytics is to take effective decisions based on the actionable insights gathered.
'Learning Analytics 101' eBook can be downloaded using this link.
Dr. Ayesha Habeeb Omer, COO and Co-Founder, CommLab India, shares her thoughts on this eBook, "We realize that a lot of organizations have a tough time evaluating their L&D programs. With this eBook we'd like to reiterate that learning analytics can be used to not just measure the effectiveness of training, but also to improve ROI in the long run. And contrary to beliefs, it is not necessary to invest in expensive analytics tools. If you're just getting started with learning analytics, the LMS within your organization can serve as a good source of data."
About CommLab India:
CommLab India is the most sought-after global leader for its rapid eLearning solutions. The company has 100 International customers in 30+ countries. It has adjudged winner of the Silver Award among the top eLearning content development companies for 2019 by eLearning Industry.
With our formidable authoring tools expertise and decades of experience in corporate training and instructional design, we offer rapid eLearning solutions for speed, scale and value with any authoring tool:
ILT material conversion into instructionally sound, visually appealing, engaging eLearning curriculums and other digital learning formats.
Legacy Course Conversions from Flash or any other authoring tool to HTML5, even if you do not have source files.
eLearning Translation of English eLearning course into 35 international languages – both text and audio.