Hyderabad, India – October 26, 2023
LearnFlux Edition 9 Concludes with the Launch of CommLab India Academy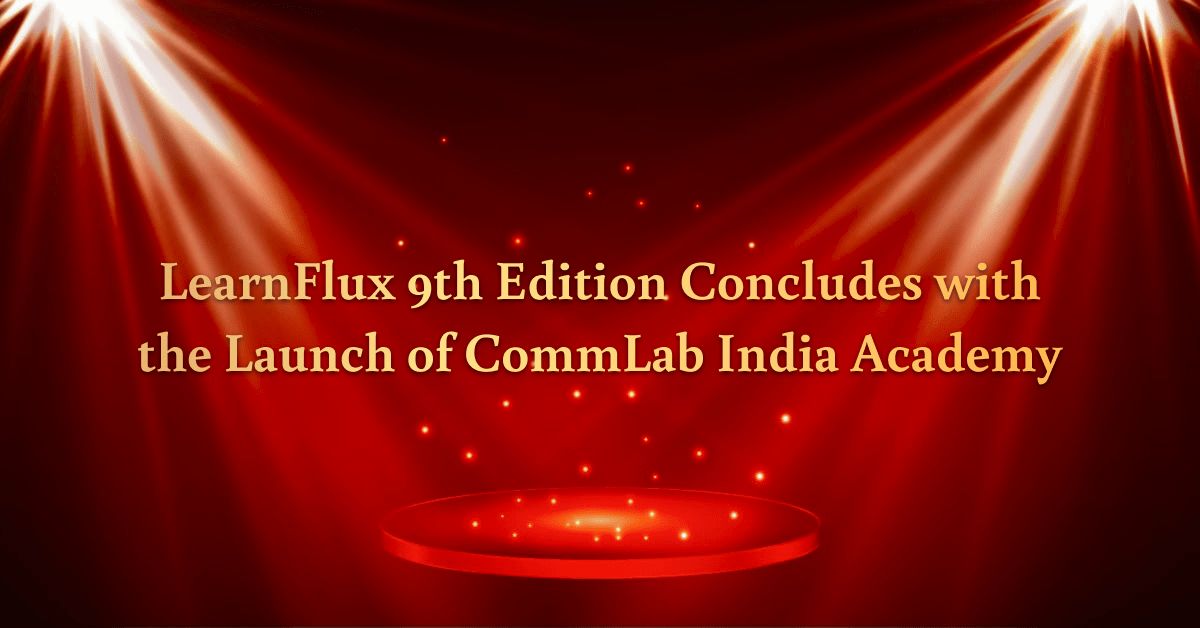 What a whirlwind of achievement! LearnFlux, the leading platform for Learning and Development (L&D) professionals, is excited to announce the triumphant conclusion of its 9th edition, an exclusive event tailored for customers. This virtual extravaganza unfolded on October 17, 18, and 19 and has been hailed as a significant triumph. LearnFlux now extends a warm invitation to all professionals in the field to join its forthcoming 10th mega edition, which promises to be an even more expansive event.
This October edition of the event showcased a stellar lineup of distinguished speakers, including renowned figures from the L&D domain who focused on making today's learning architects future-ready – with sessions on the science of learning, microlearning, rapid eLearning, and AI, learning culture transformation, and video-based learning – to name just a few.
The event featured a diverse range of sessions covering trending topics, including the application of AI in corporate training, strategies for training in manufacturing and healthcare, and captivating product demos. These sessions included various formats such as presentations, product demos, chat sessions, fireside chats, panel discussions, and mini masterclasses.
With nine editions to its name, LearnFlux has consistently served as a unifying platform for L&D professionals, fostering collaboration, networking, and the exchange of ideas across various industries and regions.
LearnFlux is the perfect avenue for:
Sharing success stories in tech-driven learning
Exploring innovations in corporate training
Engaging in meaningful discussions about overcoming common challenges
Discussing topics related to behavioral change and employee well-being
Beyond knowledge exchange, LearnFlux places a strong emphasis on community support. Each registration contributes to the sponsorship of 20 meals in local communities, ensuring that the community benefits.
Ayesha Habeeb Omer, the COO and Co-Founder of CommLab India remarked that "with nine thriving editions, over 80 insightful sessions, a dedicated community of 1,200 participants, and the remarkable contribution of 30,000 meals for local communities, LearnFlux has made a profound mark on the L&D landscape."
But guess what? The excitement and happiness don't end there!
Drum rolls please ... Are you all in?
CommLab India announced the grand launch of CommLab India Academy, an ultimate destination to access resources for continuous growth and unparalleled learning.
Unlock a world of boundless knowledge, professional growth, and limitless possibilities with CommLab India Academy. This is where dreams meet opportunity, and ambition finds its path to success!
About CommLab India Academy
CommLab India Academy serves as a comprehensive hub for skill development, exclusively designed for CommLab India's valued customers. It provides exclusive access to a wide range of resources covering all aspects of L&D, featuring the latest learning technologies and learner-focused strategies. Moreover, it plays a pivotal role in enhancing the success of your L&D unit and organization, ensuring that training aligns with and positively influences your business goals. Keep an eye on the academy for a dose of the latest resources!
Dive into self-paced learning material on the current L&D trends, accessible in various formats. These resources are your ticket to upskilling, making a real impact, and staying ahead in the ever-shifting landscape of L&D.
Don't miss this chance to shape your future. Explore now and embark on a journey of learning, growth, and achievement. The future is yours to conquer!
About CommLab India
CommLab India serves 300 delighted international customers in 30+ countries, and ranks FIRST among the top providers of Rapid eLearning and Blended Learning Solutions by eLearning Industry.
With its expertise in corporate training, instructional design, and authoring tools, CommLab India offers rapid eLearning solutions for corporate training at speed, scale, and value.
CommLab India offers the complete spectrum of online training needs, including:
Converting classroom training to eLearning curriculums and virtual sessions
Designing and delivering microlearning assets
Developing video-based learning
Converting legacy courses to HTML5
Translating English eLearning courses into 35 international languages
Enhancing internal teams with its staff augmentation services
Offering LMS installation and admin support services