Hyderabad, India – March 18, 2020
Rapid eLearning Solutions to Ward Off Training Disruptions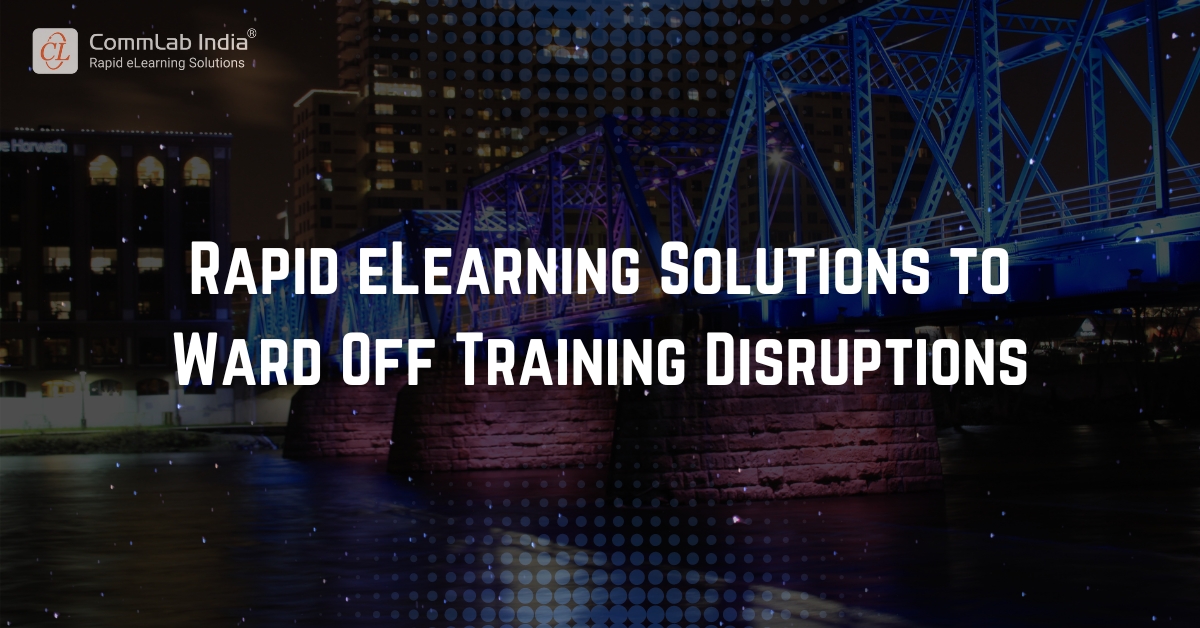 CommLab India, the global leader in providing rapid eLearning solutions is equipped to offer organizations on-demand training solutions to counter the disruptions caused by the COVID-19 virus. The company is fully equipped to support organizations looking for ways to counter interruptions to training.
The company will offer quick content conversion services from instructor-led training to rapid eLearning and support the conversion of classroom training material to digital assets that can be accessed online. This announcement comes in the wake of the COVID-19 virus outbreak that has brought corporate classroom training to a grinding halt.
To assist in these unplanned needs, the company leverages its pool of instructional designers, authoring tool experts, and eLearning developers. The unexpected disruption to classroom training that has left organizations at a disadvantage can be remedied with the rapid conversion of instructor-led training material to eLearning. These solutions need not have a short shelf-life as is normally expected from such training modules. They can continue to be used as part of the business' contingency plan for training.
Rapid eLearning initiatives guarantee decreased eLearning development time because of the use of rapid authoring tools with inbuilt templates. In addition to that, a successful training initiative can be rolled out while maintaining minimal interactions with SMEs. CommLab India's expertise in a range of authoring tools and strategies to support online reviews with multiple stakeholders make the development process truly rapid, without compromising on quality.
CommLab India has the experience of working with Fortune 500 customers from a wide variety of industries and has contributed to 10,660 hours of rapid eLearning for these organizations. With its forte in rapid eLearning development, CommLab India aims to help organizations with effectively scaling their corporate training without compromising on quality and speed of development.
Rapid eLearning services from CommLab India can also be utilized for quick updates to existing courses, translation of eLearning courses to meet the training needs of a global workforce, quick conversion of Flash-based eLearning to HTML5, performance support solutions, and LMS administration.
To avail CommLab India's rapid eLearning solutions or receive quick help with emergency training needs, contact them using this link.
Organizations can leverage CommLab India's expertise in authoring tools, new-age instructional design, and remote project management to deliver cost-effective training solutions. For organizations that have never implemented eLearning, CommLab India can help with taking the crucial steps for eLearning implementation, thereby enabling them with the required resources to handle any training contingencies that may likely arise in the future.
Dr. Ayesha Habeeb Omer, COO and Co-Founder, CommLab India said "In wake of the recent epidemic that has hit businesses worldwide, we would like organizations to give a serious thought to moving training online, if they haven't already done so. Though we agree that classroom training will always hold a special place in corporate training, it is better to be equipped with workaround solutions in case of emergencies such as this one."
About CommLab India:
CommLab India is the most sought-after global leader for rapid eLearning solutions. It has been ranked the top rapid eLearning provider for 2020 and is the winner of the Silver Award among the top eLearning content development companies for 2019 by eLearning Industry. The company has 100 International customers in 30+ countries.
With its formidable authoring tools expertise and decades of experience in corporate training and instructional design, CommLab India offers rapid eLearning solutions for speed, scale and value with any authoring tool:
ILT material conversion into instructionally sound, visually appealing, engaging eLearning curriculums and other digital learning formats.
Legacy Course Conversions from Flash or any other authoring tool to HTML5, even if you do not have source files.
eLearning Translation of English eLearning course into 35 international languages – both text and audio.