Hyderabad, India – July 20, 2018
CommLab India Launches the First Collaborative Instructional Design Certification Program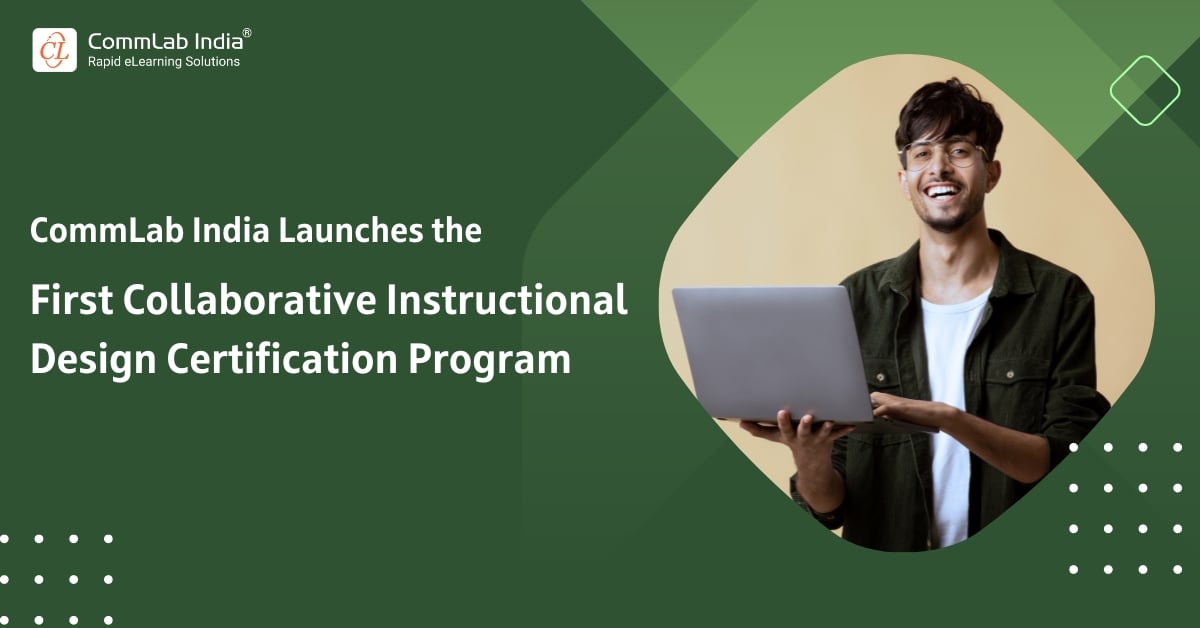 CommLab India, a global leader in offering custom e-learning solutions that transform the way organizations train their workforce since 2000, has launched a power packed Instructional Design Certification Program. This program is designed by industry veterans with decades of experience designing and developing thousands of training programs for clients around the world.
The program is a unique combination of online courses, a live workshop, and hands-on activities, designed to give participants the complete spectrum of experience – right from self-paced learning to collaborative exercises, and the guidance of experts. With access to likeminded professionals, group discussions, peer-reviews, and practical assignments, this program stands out from the rest in offering a true hands-on, interactive, enriching learning experience.
The program structure is quite intuitive, with a simple 3-step path to certification – (i) learners complete a set of 8 self-paced online courses and (ii) online assignments to (iii) become eligible for the 3-day instructor-led workshop. Overseas participants have the flexibility to participate in webinar sessions. Enrollments are on for the first ILT workshop that commences in November 2018.
"The key to counter dropping course completion rates and get employees with time constraints interested in training programs is by ensuring training is learner-centric. It should resonate with them, address their needs, and capture & sustain their attention. Our Instructional Design Certification Program offers comprehensive coverage on these aspects, equipping participants to design learner-centric courses that enhance learning and accelerate performance. This will surely makes training a firm enabler, helping organizations reach their business goals" said R K Prasad, CEO, Co-Founder, CommLab India, at the launch.
The certification is not just restricted to instructional designers – anyone involved or interested in training and development can enhance their skill of developing learner-centric training programs. It gives learners access to lots of valuable resources such as guidelines, templates, and checklists.
Explore the program here: Instructional Design Certification
About CommLab India:
CommLab India LLP is a leading learning solutions company with expertise in design and development of eLearning courses, since 2000. It caters to 100+ clients in more than 30 countries. Its learning solutions include eLearning course development, mLearning solutions, conversion of legacy courses into the mobile compatible HTML5 format, translation of online courses and hosting and managing training materials on LMS.
CommLab India has worked with organizations in various industries such as finance, insurance, manufacturing and healthcare. Based in India, it is a preferred vendor to several Fortune 500 companies, such as Alcoa, Mettler-Toledo and Pepco Holding Inc. and has an ongoing relationship with organizations such as SAI Global and Unilever.