Hyderabad, India – November 26, 2019
CommLab India Hosts Webinar on New Age Learning Strategies in Collaboration with iSpring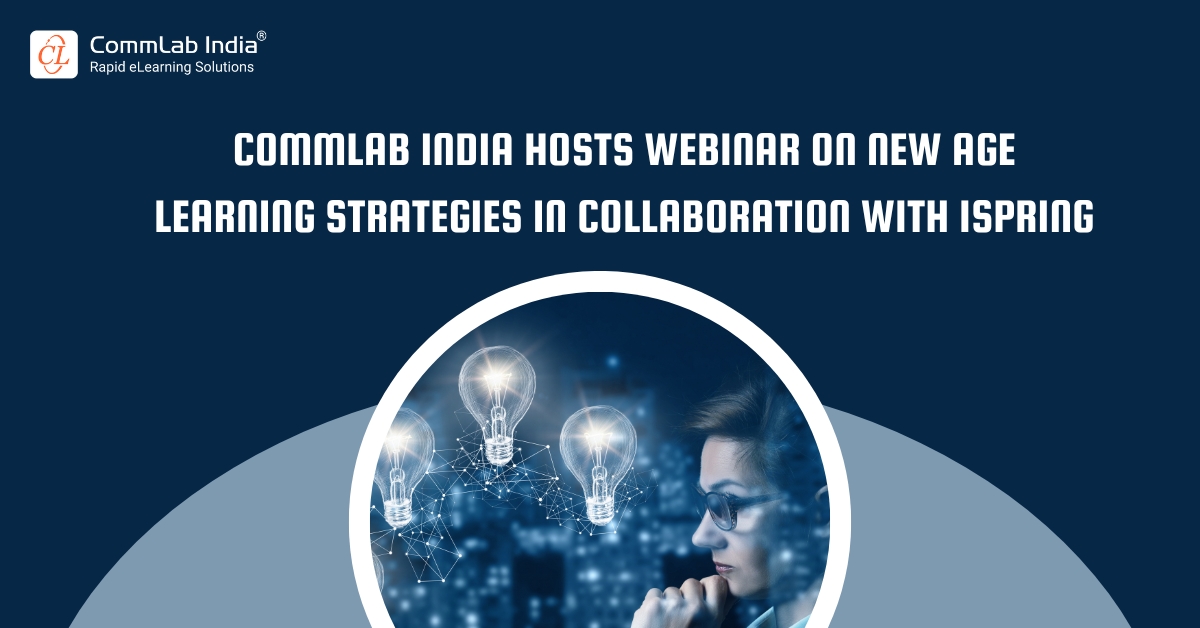 New age learning strategies focus on personalizing learning, offering choice, meaningful, contextual feedback, edutainment, an emotional connect, and more. They are based on proven right-brain aptitudes that help learners exercise their imagination, creative abilities, and sensitize them toward qualitative thinking.
This will help learners reflect on the learning, see its relevance to their daily work, synthesize information and skills to work on solutions – the core aim of any training – facilitating the successful transfer of knowledge and skills to application on the job.
These strategies are based on the right-brain aptitudes proposed by Daniel H. Pink in his bestseller 'A Whole New Mind'. The webinar interprets them in the context of training. Here's a quick overview:
Personalizing

learning by addressing learners by name
Building an

emotional connect through scenarios and anecdotes
Offering

edutainment

through the use of gamified elements
Showing them the

big picture

through mind maps
Empathizing

with learners by opening the navigation, highlighting their challenges
Showcasing

relevance

through learning objectives, assessments, and performance support
This collaboration between iSpring and CommLab India is based on their mutual commitment to rapid eLearning development using authoring tools such as the iSpring Suite 9.7, rooted in the basics of instructional design. In this webinar, Tarun Johnson, Director – Customer Experience (Americas), CommLab India will delve into the why and how of using these new age learning strategies.
It isn't rocket science and attendees will be amazed at the simplicity of these strategies, making them an ideal fit in eLearning – without any extra demands on development time or budget. For exclusive insights on the strategies, register for the webinar. For more details and registration, visit iSpring Webinars.
"This webinar is our endeavor to champion rapid eLearning and dispel the myth that it is monochromatic and lacks flavor. These simple-to-use, easy-to-develop new age learning strategies will showcase the true potential of rapid eLearning – the ability to wow learners, increase retention rates, and help them become active contributors. And we are delighted to partner with iSpring." said Dr. Ayesha Habeeb Omer, COO & Co-Founder CommLab India, talking of this webinar.
About CommLab India:
CommLab India is the most sought-after global leader for rapid eLearning solutions. The company has 100 International customers in 30+ countries. It has been adjudged winner of the Silver Award among the top eLearning content development companies for 2019 by eLearning Industry.
With our formidable authoring tools expertise and decades of experience in corporate training and instructional design, we offer rapid eLearning solutions for speed, scale and value with any authoring tool:
ILT material conversion into instructionally sound, visually appealing, engaging eLearning curriculums and other digital learning formats.
Legacy Course Conversions from Flash or any other authoring tool to HTML5, even if you do not have source files.

eLearning Translation of English eLearning course into 35 international languages – both text and audio.