Hyderabad, India – November 16, 2023
CommLab India's Thanksgiving Offers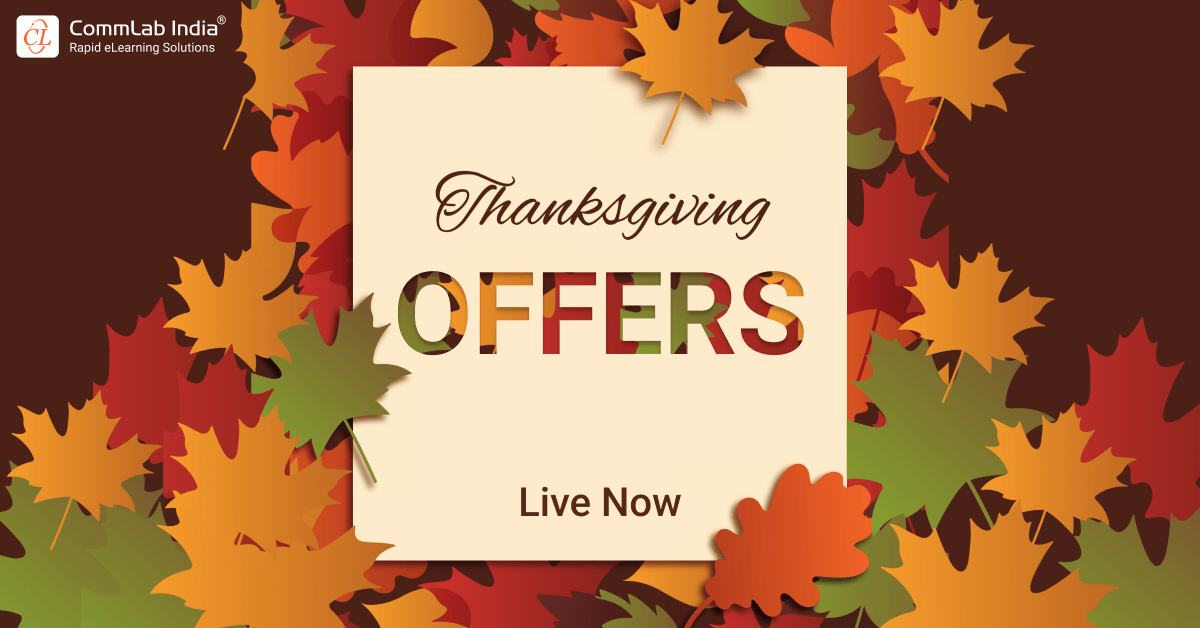 CommLab India's Thanksgiving Offers are Live!
CommLab India, a leading rapid eLearning solutions provider, has announced its two special Thanksgiving offers. The offers are — 5 microlearning videos for the price of just 3 and a 3-day workshop to help you master AI tools and enhance your skillset. These two offers are valid till November 28, 2023. CommLab India is not just offering discounts; it's delivering unparalleled value as a gesture to extend its heartfelt gratitude to all its cherished audience and empower individuals and businesses alike.
OFFER 1- Get 5 Microlearning Videos for the Price of 3!
To celebrate the feeling of abundance, CommLab India's "Get 5 for the Price of 3" is sure to multiply your joys. The offer applies to their revolutionary microlearning solutions where you get 5 developed microlearning videos for just $3750. You also get to select the preferred format and video development tool. Each video is 60 seconds in duration. Apart from these amazing benefits, you get to work with dedicated project managers and get FREE UNLIMITED edits!
It is a perfect deal for modern organizations with busy and on-the-move professionals. Employees can access bite-sized, relevant training lessons that fit into their busy schedules. This helps reduce the stress and anxiety associated with rigid training schedules and enables employees to make the most of their free time at hand. Moreover, microlearning videos promote better learning, understanding, and retention by imparting information in an engaging and interesting manner.
Microlearning also plays a vital role in facilitating just-in-time information as learners can revisit the short videos to refresh the forgotten concepts. This boosts learner confidence, enhances productivity, and improves overall performance.
Whether you're looking to provide information in an engaging manner or sharpen your employees' professional skills, CommLab India's microlearning solutions are sure to help you out. You get to save both time and money. So grab the offer today!
OFFER 2 - A 3-Day Workshop to Master AI Tools and Enhance Skillset
Artificial Intelligence is transforming industries, and CommLab India wants its clients and customers to be at the forefront of this revolution. A 3-day workshop to master AI tools and enhance skillset priced at only $799 is an attempt to ensure that. This immersive workshop promises to elevate attendees' expertise in most popular AI tools, such as ChatGPT, Synthesia, and Vyond Go.
Each tool stands at the pinnacle in its respective fields. ChatGPT is a game-changer for text-based responses. So, whether you need assistance with framing learning objectives or creating assessments, ChatGPT can help. Synthesia and Vyond Go are redefining the video based learning category – Synethesia allows users to easily turn text into videos and Vyond Go simplifies the process of creating engaging animated videos.
However, at times, in the fast-paced, quick-response world driven by AI, getting relevant responses can be a little tricky. Therefore, having a good understanding of prompts is the key to efficient and effective results. This workshop covers you on that front too as attendees get their hands on bonus learning materials like an eBook on using ChatGPT for instructional design, how-to videos on Vyond Go and Synthesia, and best practices for implementation.
Join CommLab India's experts and experience learning like never before. Interactive sessions, hands-on experience, industry experts, and like-minded individuals - this workshop is a not-to-be-missed opportunity to cultivate insights and acquire a wealth of knowledge that extends beyond the Thanksgiving season. The workshop will take place from Monday to Wednesday for 2 hours each. Enroll today to book a slot and embark on a journey to becoming an AI champion!
Visit CommLab India's website to know more about such amazing opportunities to invest in your professional development. You can also explore a plethora of learning resources to ensure continuous learning!
About CommLab India
CommLab India serves 300 delighted international customers in 30+ countries, and ranks FIRST among the top providers of Rapid eLearning and Blended Learning Solutions by eLearning Industry.
With its expertise in corporate training, instructional design, and authoring tools, CommLab India offers rapid eLearning solutions for corporate training at speed, scale, and value.
CommLab India offers the complete spectrum of online training needs, including:
Converting classroom training to eLearning curriculums and virtual sessions
Designing and delivering microlearning assets
Developing video-based learning
Converting legacy courses to HTML5
Translating English eLearning courses into 35 international languages
Enhancing internal teams with its staff augmentation services
Offering LMS installation and admin support services