Introducing Digital Learning
While the world was picking up pace in adopting digital technologies in every way possible, the Covid-19 pandemic jumped in as a catalyst and took the digital transformation to a whole new level. Going digital went from being an opportunity to grow to being a necessity for survival! And the L&D industry responded to this by accelerating technology adoption within the industry.
And the result? It can be well felt in the increased adoption of digital learning, VILT, microlearning, gamification, and blended learning.
Let us try to understand all about digital learning and how to leverage it to deliver corporate training.
What is Digital Learning?
Digital Learning, which falls under the umbrella of Online Learning, has gained a lot of popularity since the pandemic. However, this method has been in use since the early 2000s. digital learning can be defined as "any type of learning that uses digital tools and technologies".
A subset of online learning, digital learning involves the application of several practices including adaptive learning, virtual training, blended learning, mobile learning, and personalized learning.
The terms eLearning and digital learning are often used interchangeably. However, eLearning is just one modality of digital learning. On the other hand, digital learning encompasses all online learning methods.
Simply put, digital learning refers to the digitalization of the whole learning experience and it includes social learning, virtual discussions, online assessments, professionalization workshops, etc.
What Digital Learning is Not?
There is a common misconception that digital learning is about digitizing learning content. But that's far from the truth! Digital learning involves using tools and techniques to digitalize the whole learning experience. It uses technology at each learning step – instruction, learning materials, evaluations, and analytics. Therefore, digital learning is not just the use of digital devices, its use of technology goes much beyond. Simply put:
Digital learning is not just the digitalization of content.
Digital learning is not just the use of digital devices.
Digital Learning — The New Normal
The question arises "Why Digital Learning?" Let's find out!
With remote working becoming the new normal, L&D professionals have been focusing on ways to make corporate training more accessible. Enter Digital learning!
Digital learning uses technology in every aspect of the learning journey. This includes the mode of instruction, the availability of the learning materials, and tracking and analyzing the progress. And the use of technology makes learning more accessible – it is made available anywhere and anytime.
Affordability has always been one of the major concerns for L&D professionals. Digital learning addresses this very concern. How? You ask!
With digital learning, the time and costs of transportation, infrastructure, and the cost of upgrading digital materials significantly decrease. The hours saved can be utilized productively. This way, digital learning is not just affordable but also offers improved ROI.
Handling their job and focusing on learning and development can be a little difficult for employees. Managing both can be much easier when the learning is made more flexible. Thanks to digital learning for offering this very adaptability!
With digital learning, learning is not only available whenever required, but the learner is also able to decide the pace of their learning and revise as and when required. This adaptability makes learning more efficient.
Preferred Digital Learning Formats
Here Are a Few Popular Digital Learning Formats
Microlearning
Mobile Learning
Gamification
Simulation
Video-based Modules
Virtual Instructor-led Training
There are several formats that can be used to impart digital learning. Some of the most engaging formats include:
| | |
| --- | --- |
| Microlearning | Microlearning is a digital learning format that involves delivering information in bite-sized digestible learning modules where each module focuses on a single learning objective. This way, the employees can learn at their convenience. |
| Mobile Learning | Mobile learning is accessible and flexible, and L&D professionals can leverage the same to deliver training modules that can be accessed with ease at any place, any time using any device. |
| Gamification | Gamification is utilizing game elements and interactivities for training and learning. It helps make learning fun, engaging, and interactive for learners. Learners are motivated due to a healthy competitive learning environment. |
| Simulations | The use of simulations is another engaging way to impart training. Simulations provide learners with an opportunity to practice real-life scenarios in a risk-free environment. This provides learners with hands-on experience on the subject. |
| Video-based Modules | Videos serve as powerful mediums to impart eLearning and capture the learners' attention to the subject being discussed. To deliver corporate training, videos – both animated ones or the ones with an instructor explaining the concepts – can be used. Video-based learning can also be made more engaging via the use of attractive visuals, voiceovers, and animations to break down complex subjects into immersive nuggets. |
| Virtual Instructor-led Training | Virtual classroom or virtual instructor-led training(VILT) is a popular digital learning format in which the instructors deliver training using different tools including video conferencing, video recording, digital whiteboards, chats, and participation controls, to interact with the learners in real-time. |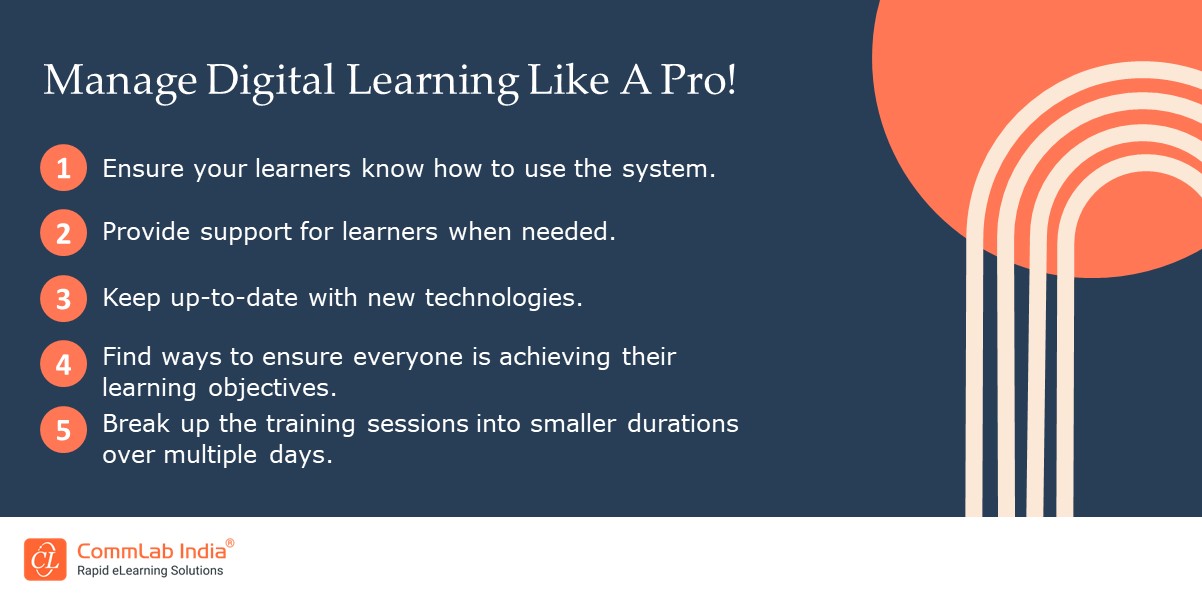 Digital Learning Trends to Watch Out For
Digital Learning for Various Types of Training
6. Soft Skills Training
When digital learning is so impactful for technical training, why should soft skills training be left out, after all, they are equally important for an employee to be productive in this competitive environment? The major soft skills that are crucial for corporate employees are communication, teamwork, leadership, time management, critical thinking/decision-making, and emotional intelligence. There are more but their relevance is very specific to an employee's job profile and digital learning is a great solution to provide impactful and engaging soft skills training for corporate employees.
Creating microlearning assets for on-the-job training and performance support can help them gain these soft skills over time, and help them with information retention. Virtual classrooms are also a viable option for employees to interact with their peers and learn from each other. Employees can connect socially through social media platforms or online forums. Online workshops can also be of great help in improving this skill.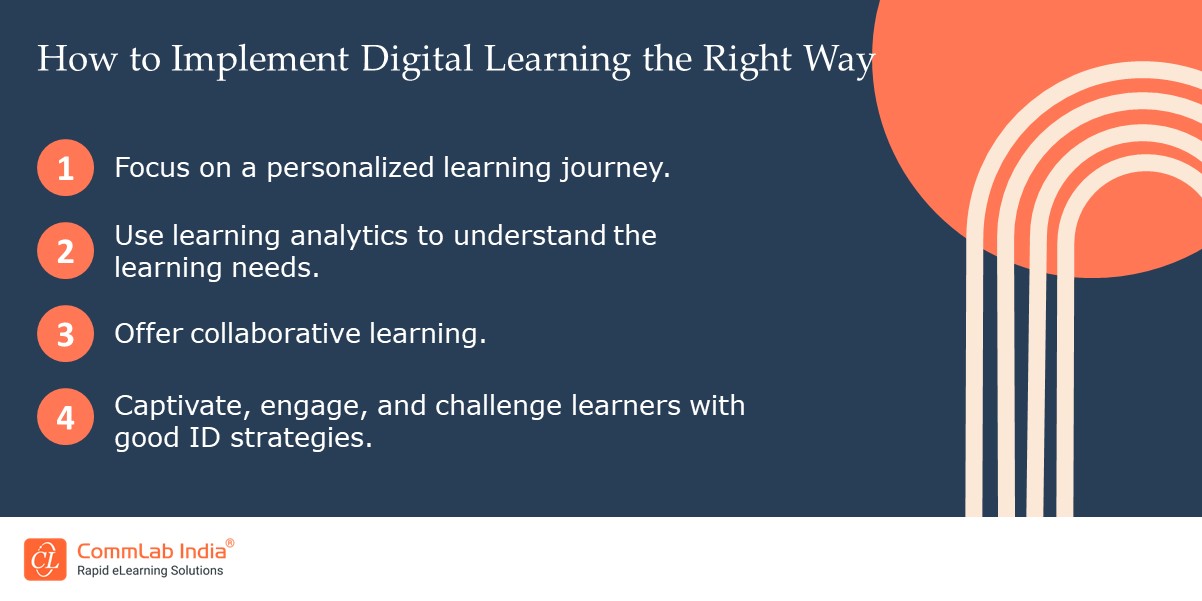 Roadmap for Successful Implementation of Digital Learning
1. What you need
Understand the need for digital learning:
Implement digital learning only when you have ensured it will solve your various problems. Every industry has its own set of issues to tackle, so if digital learning sounds like a solution for your organizational issues, then go for it.
Pre-allocate the training budget:
Digital learning saves a lot of time and money, but it costs a bit to get started as well. Make sure your organization has set a pre-allocated budget to start the implementation. Consider the aspects like the type of your target audience, the average number of trainees, and a separate team to manage learning and development queries.
2. Key decisions to be taken
Whether to develop in-house or outsource the process:
If you have a well-structured team that has the expertise to develop engaging and interactive digital learning modules then go for in-house development. But if you lack any of the various requirements, it's best to opt for outsourcing. You can either outsource selective aspects like eLearning translations and instructional design, or you can just outsource everything A-Z to save yourself from the hassle. And who could be the trusted partner? The answer is CommLab India!
What design and development strategies to follow:
Once you have decided to outsource or not, you need to decide how your course looks and proceeds. There are different types of learners, and your learning analytics report will help you figure out what suits your learners the most, and then decide the perfect instructional design strategy.
How to increase awareness within the organization
Everyone in the organization needs to be on the same page so that things run smoothly. It's important to decide how the L&D teams will make everyone in the organization aware of the importance of adapting to digital learning by discussing its various benefits.
3. Infrastructure requirements
When it comes to infrastructure, there are a few basic requirements like stable internet, device availability, constant electricity in the workplace, network security, and other hardware are mandatory.
Organizations should also provide a help desk for all sorts of technical support for the employees so that their issues can be resolved as soon as possible without disrupting the workflow.
4. How to convince your key stakeholders
Explain to the Stakeholders About its Impact:
Business leaders come forward to make an investment only when they know that the step guarantees high returns. So, in order to convince them to invest in digital learning, the first step would be to highlight its benefits and how it will have a positive impact on the business.
Identify the Points Causing the Resistance:
If the stakeholders are against the plan, then it is important to identify the reasons holding them back and these reasons should be addressed and eliminated. They should be explained how digital learning could be eliminating their problems.
Make use of real-time examples:
Case studies highlighting the benefits, ROI, increase in employee productivity, and business profits can make an excellent case.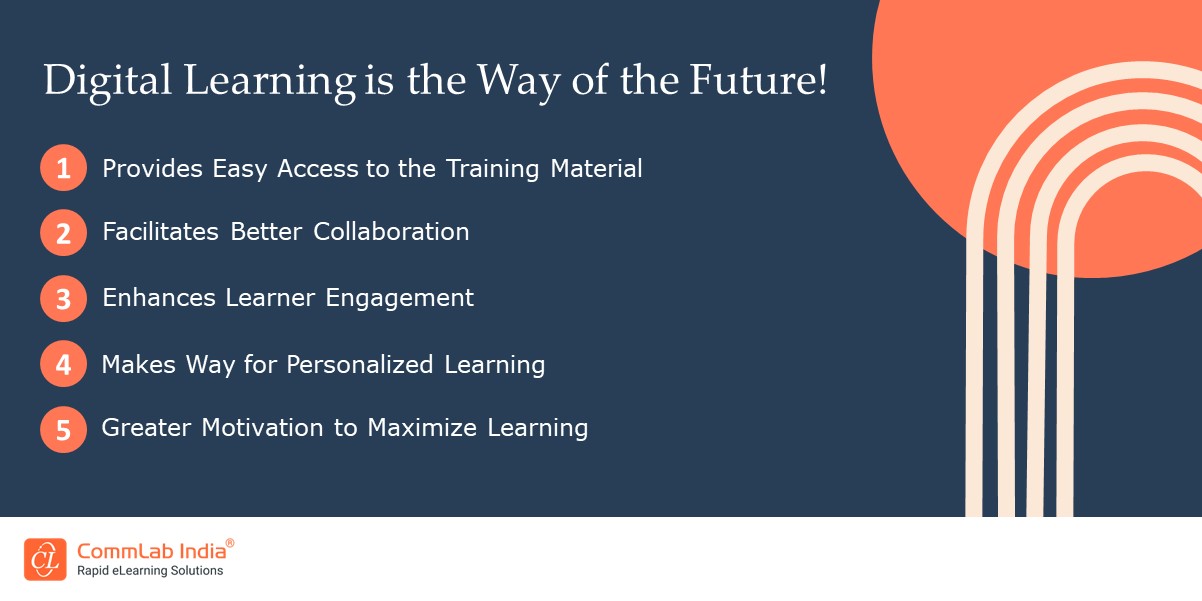 Best Practices for Digital Learning
Tips For Successful Digital Learning
Always Focus on Accessibility.
Aim to Develop a Connection with Your Learners.
Ensure Collaboration, Make Use of Collaborative Tools.
Here are a few best practices/ tips that would add value and take digital learning initiatives to the peak:
Focus on accessibility
Accessibility is among the three pillars on which digital learning is based. Considering this, it is crucial that the solutions created are accessible to all the stakeholders involved including the SMEs, instructors, employees, and learning managers. The solutions should be accessible with respect to availability, and usability irrespective of the users' demographics.
Develop a connection with the learners
Digital learning means that your employees wouldn't have to spend a lot of time inside a classroom. Most of the learning and training happens through online mediums. Because there is comparatively less human interaction, it is important to make a connection with the learners and build a learning culture within the organization. The course objectives and goals, delivery mediums, level of interactivity, and everything can be planned accordingly.
Ensure collaboration
As discussed earlier, human interaction is less in an online learning environment. The use of collaborative tools can address this concern. There are several tools that help the eLearning stakeholders collaborate and interact. Collaborative platforms such as Articulate 360 or Miro serve the purpose as the enable conversations, sharing feedback, content library, etc.