Hyderabad, India – November 2, 2023
CommLab Ranked #1 for Blended Learning – 5th year in a row!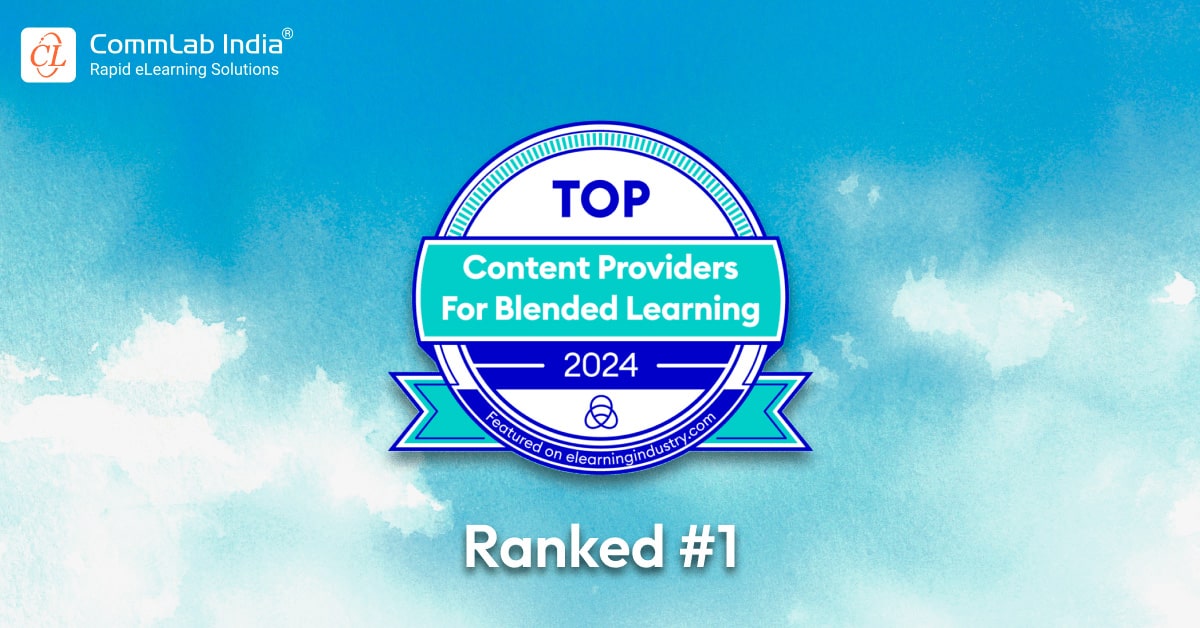 CommLab India retained the #1 spot as the Top Content Provider in 2024 for Blended Learning Services. This is the 5th time in a row that the company has been listed in this category. The CEO and Co-founder of CommLab India, RK Prasad remarked, "We are very proud to announce our latest awards and achievements as this showcases our continued commitment to excellence in the eLearning industry. These accolades reflect our dedication to providing top-quality learning solutions to clients across the globe."
Earlier this year, CommLab India received top content provider badges for microlearning, and mobile learning, further establishing their expertise and excellence in these domains. This remarkable recognition comes on the heels of the launch of the CommLab India Academy, which aims to empower learners and organizations with the latest in eLearning and training solutions.
Ayesha Habeeb Omer, the COO and Co-founder stated, "We are thrilled to retain our #1 position in the "Top Blended Learning Content Providers List" for 2024 by eLearning Industry. This achievement reaffirms our position as a leader in delivering blended learning solutions. CommLab India's EffectusLMS has also been featured as one of the 'Top Mobile Learning Platforms' in the 2024 update by the eLearning Industry. This recognition highlights our ongoing efforts to deliver cutting-edge mobile learning solutions and underscores our commitment to delivering exceptional learning management systems."
CommLab India, a leading name in the eLearning industry, is elated to share its outstanding accomplishments in the year 2024, marking a year of significant growth and expansion. The company has been on an exciting journey, reflecting its dedication to excellence and innovation.
This year has been exceptionally fruitful for the company, marked by two significant milestones. CommLab India expanded its global footprint by opening its first branch in the United States. This strategic move allowed the company to better serve its growing clientele in North America and strengthen its presence in the global eLearning market.
In addition to geographical expansion, CommLab India proudly launched the CommLab India Academy, a platform designed to provide learners and organizations with the latest eLearning and training solutions. The Academy reflects the company's commitment to empowering clients and learners with cutting-edge educational resources and technology.
The year 2024 has also witnessed valuable partnerships for CommLab India. Notably, the company has formed collaborations with industry leaders such as Qstream and Synthesia. These partnerships are a testament to CommLab India's commitment to staying at the forefront of eLearning technology and innovation.
Ayesha Habeeb Omer, the COO and Co-founder of CommLab India, expressed her excitement and gratitude for the company's remarkable year, stating, "This year has been a significant milestone for CommLab India. Our expansion into the US, the launch of the Academy, and our valuable partnerships highlight our dedication to providing the best eLearning solutions to our clients. We are committed to continuing our journey of innovation and excellence."
CommLab India remains dedicated to delivering exceptional eLearning solutions, further enhancing its position as a global leader in the industry. The company looks forward to continued growth, partnerships, and achievements in the years to come. RK Prasad extended his gratitude to their clients, partners, and the entire team at CommLab India for their continued support and dedication, which have been instrumental in achieving these accolades.
He reinforced that the company remains committed to delivering innovative and high-quality eLearning solutions and serving its clients with the best-in-class learning experiences in the years to come.
CommLab India's vast experience in understanding an organization's training requirements and business goals to provide rapid eLearning solutions using the latest technologies makes it an ideal choice of vendor to partner with for developing blended learning programs.
About CommLab India
CommLab India serves 300 delighted international customers in 30+ countries, and ranks FIRST among the top providers of Rapid eLearning and Blended Learning Solutions by eLearning Industry.
With its expertise in corporate training, instructional design, and authoring tools, CommLab India offers rapid eLearning solutions for corporate training at speed, scale, and value.
CommLab India offers the complete spectrum of online training needs, including:
Converting classroom training to eLearning curriculums and virtual sessions
Designing and delivering microlearning assets
Developing video-based learning
Converting legacy courses to HTML5
Translating English eLearning courses into 35 international languages
Enhancing internal teams with its staff augmentation services
Offering LMS installation and admin support services