Hyderabad, India – November 9, 2023
CommLab India Platinum Winner: Best eLearning Content Development Company of 2024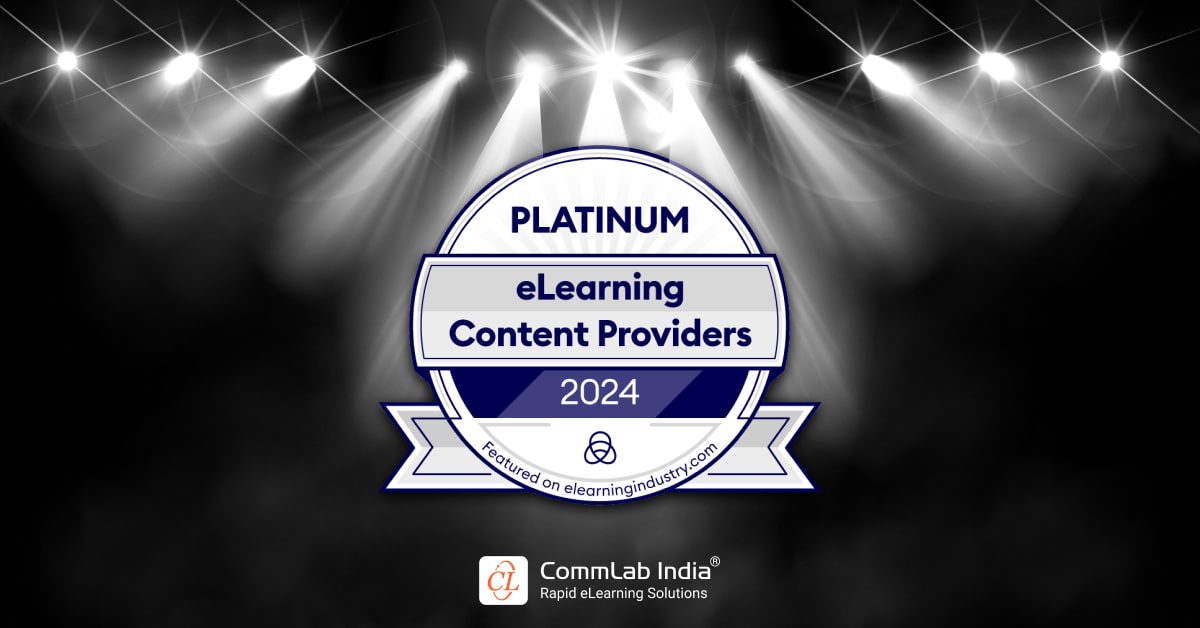 CommLab India, the leader in the eLearning industry, has been crowned as the Platinum Winner of the Top eLearning Content Development Companies for 2024. This recognition highlights CommLab India's unwavering commitment to excellence and innovation in the eLearning domain, driven by its expertise in authoring tools, including cutting-edge AI tools.
Elearning Industry stated that this accolade is a testament to the CommLab India's dedication to delivering top-tier eLearning solutions that exceed client expectations, powered by the latest in AI technology. This esteemed recognition comes as the latest addition to CommLab's impressive list of accomplishments already bagged for 2024.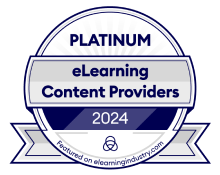 "The Platinum Winner title showcases CommLab India's relentless pursuit of excellence and its ability to consistently provide innovative, high-quality eLearning solutions to organizations across various industries, thanks to its expertise in AI authoring tools."
– RK Prasad, CEO & Co-founder, CommLab India
The year 2023 was quite an eventful year for the eLearning giant, including opening its first branch in the United States, launching the CommLab India Academy, and forming valuable partnerships with industry leaders like Qstream and Synthesia. The eLearning industry's grand reveal of CommLab winning the Platinum Award in the Top eLearning Content Development Companies category for 2024 is a moment of pride and celebration for the company and its global team.
Ayesha Habeeb Omer, the COO and Co-founder of CommLab India, expressed her gratitude and excitement, stating, "We are truly honored to be recognized as the Platinum Winner of the Top eLearning Content Development Companies for 2024. This award reflects the hard work and dedication of our team and our commitment to pushing the boundaries of innovation, particularly through the use of AI tools. We are eager to continue raising the bar for eLearning excellence."
Earlier this month, CommLab India retained the #1 spot as the Top Content Provider in 2024 for Blended Learning Services. This is the 5th time in a row that the company has been listed in this category. Earlier this year, the company received top content provider awards for microlearning, and mobile learning, further establishing their expertise and excellence in these domains.
CommLab India's Effectus has also been featured as one of the 'Top Mobile Learning Platforms' in the 2024 update by the eLearning Industry. This recognition highlights the organizations' ongoing efforts to deliver cutting-edge learning solutions and underscores their commitment to delivering exceptional learning management systems.
CommLab India remains devoted to delivering exceptional eLearning solutions, and this Platinum award further solidifies its position as a global leader and a frontrunner in the industry, driven by its expertise in AI authoring tools. The company looks forward to continued growth, partnerships, and achievements in the years to come.
About CommLab India
CommLab India serves 300 delighted international customers in 30+ countries, and ranks FIRST among the top providers of Rapid eLearning and Blended Learning Solutions by eLearning Industry.
With its expertise in corporate training, instructional design, and authoring tools, CommLab India offers rapid eLearning solutions for corporate training at speed, scale, and value.
CommLab India offers the complete spectrum of online training needs, including:
Converting classroom training to eLearning curriculums and virtual sessions
Designing and delivering microlearning assets
Developing video-based learning
Converting legacy courses to HTML5
Translating English eLearning courses into 35 international languages
Enhancing internal teams with its staff augmentation services
Offering LMS installation and admin support services